Just a look back at the last month's worth of home meals (that weren't intended as experiments for Casa SaltShaker).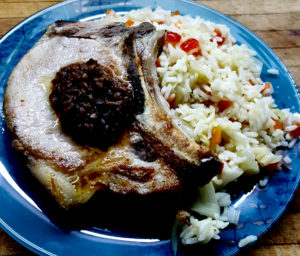 Pan seared pork chop with vegetable rice and homemade XO sauce
Split pea soup with white cheddar and serrano chili biscuits (actually, the biscuits were a trial run for Casa S)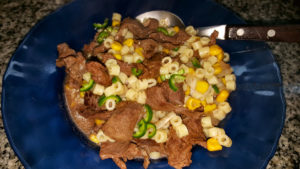 Anticuchos de corazón tossed with ditalini pasta, corn, and serrano chilies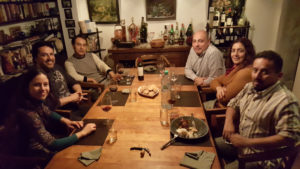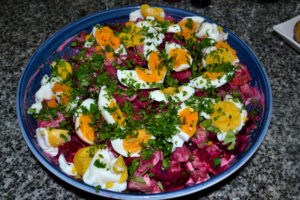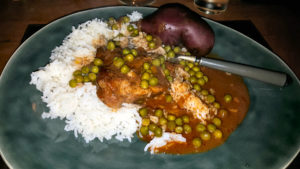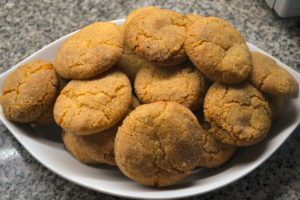 Dinner with friends – Ensalada Rusa Peruvian style (beets, potatoes, carrots in spiced mayonnaise, hard-boiled eggs); Adobo de chancho (slow cooked pork shoulder in chili sauce, peas, sweet potato, rice); sugar cookies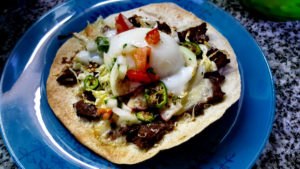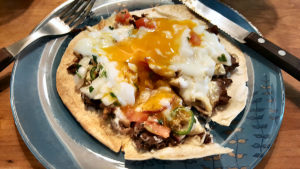 Huevos Rancheros!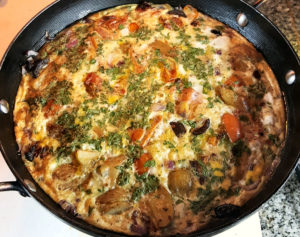 Frittata with Andean potatoes, cherry tomatoes, sun-dried tomatoes, black olives, herbs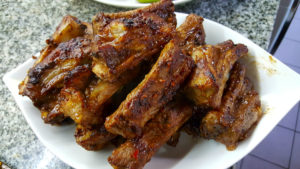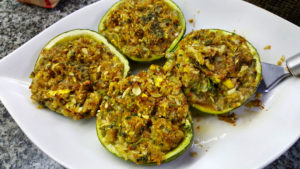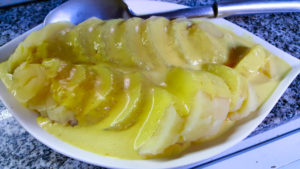 Szechuan spiced spareribs; zapallitos rellenos (vegetable stuffed globe zucchini); papas a la huancaina (potatoes in a yellow chili, walnut, and cheese sauce)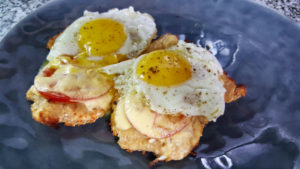 Milanesas de pollo – chicken schnitzels basically – topped with tomatoes, red onions, garlic, chilies, cheese, fried eggs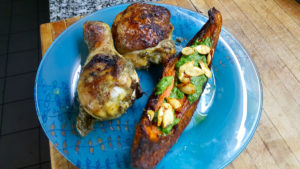 Caribbean style roast chicken – whole chicken, marinated in homemade Bajan seasoning (onion, green onion, garlic, hot chilies, thyme, parsley, marjoram, vinegar, Worcestershire, cloves, pepper, salt), then roasted and basted with the spice mixture; served with a wedge of roasted squash topped with a spicy cilantro yogurt and toasted pumpkin seeds.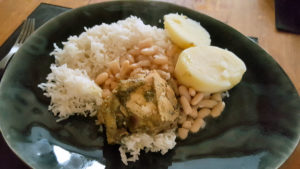 Every now and again, Henry cooks – seco de pollo, a traditional chicken dish with the chicken slow cooked in a spicy cilantro sauce; with rice, white beans, and potatoes, because in traditional Peruvian cooking, you can never serve just one starch.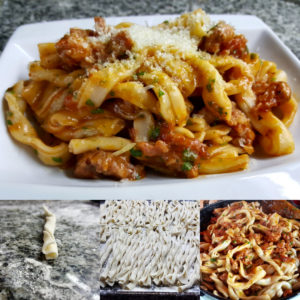 And, of course, from my previous post, homemade strozzapreti with an Italian sausage ragú. Admittedly, this one was aimed somewhat at Casa SaltShaker, as part of a class, and a lead in to using this form of pasta in other dishes.
We do eat well around here!