June 21-23 – 2017 – 21-23 de Junio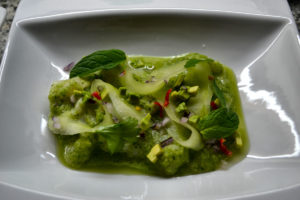 Sole in "Chili Water" – sole cured in lime juice, cucumber, onion, garlic, serrano chili, cilantro and mint, salt; cucumber strips; finely diced salad of avocado, red onion, piri-piri chili; mint and cilantro leaves.
Aguachile de lenguado – lenguado curado en jugo de lima, pepino, cebolla, ajo, ají serrano, cliantro y menta, sal; tiras de pepino; ensalada de daditos de palta, cebolla morada, ají piri-piri; hojas de menta y cilantro.
Viniterra "Omnium" Extra Brut, Mendoza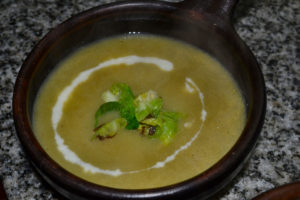 Brussels Sprout Bisque – Pureed soup of brussels sprouts, onion, garlic, potato, smoked merquén chili, vermouth, vegetable broth; salted yogurt, chili oil, chives.
Bisque de Repollitos – Crema de repollitos, cebolla, ajo, papa, merquén, vermut, caldo de verduras; yogúr salado, aceite de ají, ciboulette.
Luigi Bosca "La Linda" Viognier 2016, Luján de Cuyo
Griddled White Asparagus with Homemade XO Sauce – white asparagus brushed with charcoal infused olive oil, browned on the griddle; saute of toasted peanuts and green onions; homemade XO sauce; limo chliies.
Esparragós Blancos a la Plancha con Salsa XO Casera – esparragós blancos cepillados con aceite de oliva infusado con carbón, dorado por la plancha; saltado de maní tostada y verdeos; salsa XO casera; ajíes limos.
Santa Julia Syrah Rosé 2016, Maipú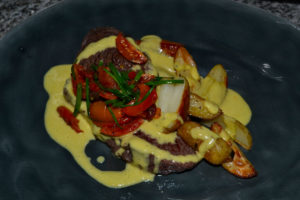 55° Rib-Eye, Peruvian Yellow Chili Sauce – Boneless rib-eye cooked sous vide at 55°C to medium rare, then seasoned and seared; olive oil and thyme roasted Andean potatoes; "huancaina" sauce – yellow chili, fresh cheese, walnuts, milk, turmeric, garlic, onion; warm salad of cherry tomatoes, sun-dried tomatoes, black olives, yellow chili, chives.
Ojo de Bife de 55°, Salsa Huancaina – Ojo de bife deshuesado y cocido al vacío hasta 55°C – al punto, luego sazonado y dorado; papines andinas asado en aceite de olive y tomillo; salsa huancaina – ají amarillo, queso fresco, nueces, leche, curcuma, ajo, cebolla; ensaladita tibia de cherys, tomates secos, aceitunas negras, ají amarillo, ciboulette.
Quara Malbec "Viña Cabra Corral"2014, Valle de Cafayate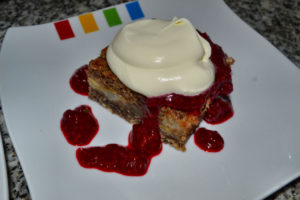 Pear & Burnt Butter Brownie, Raspberry Sauce – brownie of flour, oats, brown butter, brown sugar, vanilla, cinnamon; filling of pears in brown butter, sugar, cinnamon, nutmeg, flour, egg, vanilla; sauce – raspberries, lime juice, sugar, raspberry vinegar, olive oil, chamomile, salt; honey and salt whipped cream.
Brownie de Pera y Manteca Quemada, Salsa de Frambuesa – brownie de harina, avena, manteca quemada, azucar negra, vainilla, canela; relleno con peras en manteca quemada, azucar, canela, nuéz moscada, harina, huevo, vainilla; salsa – frambuesas, jugo de lima, vinagre de frambuesa, aceite de oliva, manzanilla, sal; crema batida con miél y sal.
Caelum "Nuvola Dolce" Torrontés 2013, Luján de Cuyo