Let's start with a sort of "lead restaurant" for this edition….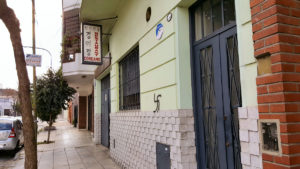 Kyung Mi Jong, Pumacahua 730, Parque Chacabuco – A bit off the beaten path from the two Koreatowns. I'm not sure if it used to be called "Galbi", as it shows up on some maps that way, or it's changed names/owners – my guess is it was just a gringo mistake, because galbi or kalbi are the Korean barbecued shortribs that are part of the traditional Korean tabletop barbecue, and it may be someone just didn't know what to call the place. Regardless, its name is Kyung Mi Jong and its specialty is galbi, as part of the whole spread of an asado coreano. The name itself, depending on how the three characters are actually spaced means either "pending", "light", or "lightning". I like the last.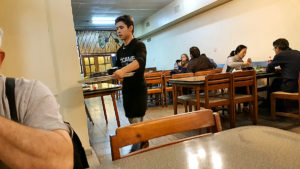 We were definitely the only non-Korean folk eating there. I don't know if it was the particular day, or just that it's not located in Koreatown, so isn't as well known. We did have a cute little Paraguayan waiter, and yes, his t-shirt says, in Spanish, "Touch me, I'm real". I mean, come on, open invitation….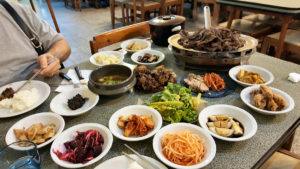 Nice array of ban chan, as well as the aforementioned shortribs. Unlike many of the places we've tried, here the meat comes already cooked – there's a big parrilla out in a rear courtyard and someone out there grilling up the ribs (most of the meat is already sliced off the bone), and it's served on a little tabletop grill with a few coals underneath to keep the meat hot. There's also a plate of perfectly cooked and delicious oxtail, some fried fish, fried chicken wings, and more, including probably the best soup we've had at one of these restaurants. The one thing we both agreed on that was that while there were perhaps a few fewer dishes than at some of the others, there wasn't a single misstep. Each and every dish fell somewhere between good and excellent. And, that more than justifies the slightly higher price of 350 pesos/person instead of the more typical 300. Put this one at the top of your list for Korean barbecue in town.
---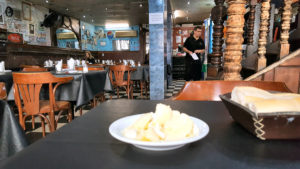 Don Ernesto, Carlos Calvo 375, San Telmo – I had this idea for a bit of a trek, sort of a sweeping review of parrillas, steakhouses, along Carlos Calvo, that I was going to call something like "Steaks with Bald Charlie" (that's what Carlos Calvo translates as). And I might still, but at the same time, I realized as I started looking at the length of the street and what's along it, that this would be way too much time spent in steakhouses. We'll see what I do with the idea – it's still percolating. And, for some reason, the very first steak place, which is really more of a hole-in-the-wall lunch counter, called Parrilla Polo, at #287, I've never reviewed, nor do I have pictures of it in my files, despite having eaten there twice – then again, it's pretty mediocre, so I may have just decided not to bother.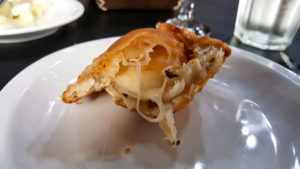 Highly recommended as a starter were Don Ernesto's cheese and onion empanadas (here with a big bite out of it already to see the innards). Fried, which is unusual around these parts. Delicious, and deserving of the recommendation.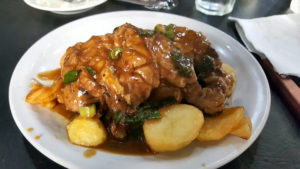 Now, maybe I should have gone with the highly recommended, in several forums, bife de chorizo, basically a porterhouse steak, but my eyes were first drawn to the short listing of house specialties, one of which was roasted sweetbreads in garlic sauce. I do love sweetbreads. I don't necessarily love them this much – there's got to be well over half a kilo of them on the plate, and I barely made it through half of that – they're just too rich. They were cooked perfectly. On the other hand… the sauce – you could barely tell there was garlic in it, and it was completely, really, completely, unseasoned. No salt, no pepper, no herbs – as best I could tell it seemed to be a small amount of garlic cooked in butter and then thickened with some cornstarch dissolved in water. Even adding salt and pepper didn't really do it. The "spanish potatoes" were also cooked perfectly, and just as unseasoned. Given the hefty price tag – empanada, sweetbreads, water, glass of wine, tip, coming in at 800 pesos, I'd pass on this one. Or maybe go back and try that steak. Perhaps. Some day. Nah.
---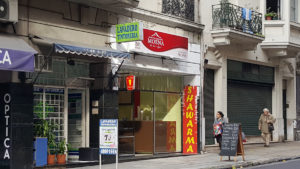 Moena, Junín 1487, Recoleta – I go away for 10 days and come back to find that what has been an empty storefront since the departure of a neighborhood locksmith a good two years ago is suddenly open as a little Middle Eastern restaurant. Right around the corner from us. The negative side of that is that I asked the owner over a year ago about putting in a small cafe/bistro there and he was adamant about not allowing anything food related in the space. Dammit. When it stayed vacant I should have given it another shot.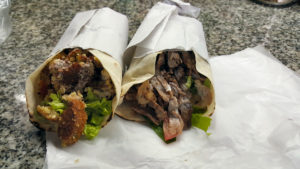 Ordered up one falafel and one shawarma to go and brought them back here for our lunch (they do have a couple of tables inside too). Okay, second negative. They're just not all that good. They're okay. The falafel are dry and weirdly, they smash them into a sort of crumbly pulp inside the wrap rather than leaving them whole (70 pesos). The shawarma is barely seasoned and with little more than salt, and is a bit gristly (80 pesos). The lettuce and single piece of tomato you can see at the open end of each is all there is. The only sauce available is a sort of tahini yogurt combo that's way too liquid. What a shame, I was really hoping to have a good spot right close to home. Then again, it's only a ten minute walk to Arabisk.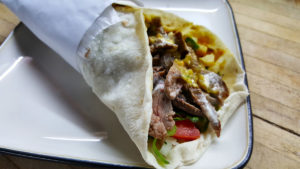 Edit: Doesn't that look prettier? I figured that since I'd tried Moena literally the day after it opened, and it's also only a block from the house, I'd give it another try 3 months on. Far, far, far better. In fact, they're doing pretty much everything right with the shawarma now. Plenty of vegetables – lettuce, tomato, and onions tossed with lemon and herbs, the meat is seasoned right (and I only encountered one piece of gristle), and, the yogurt-tahini sauce is now a proper consistency, plus they have a rocking good hot sauce. Yay!
---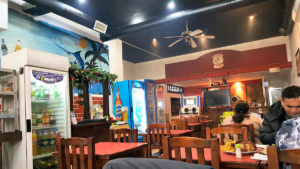 El Pollo Rico, Olleros 4172, Chacarita – A revisit, but it's been three years, and Henry and I had only stopped in one night when Albamonte looked too crowded to deal with, and all we tried was the classic pollo a la brasa, which this place is justly known for. We happened to be in the area (went to the blowout sale of all the stuff from the closure of Casa Felix). It's not exactly close to home.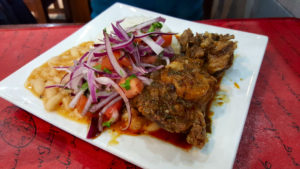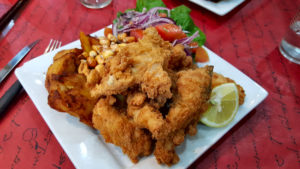 Tried a couple of main courses – Henry went with one of his favorites, seco de cordero (230 pesos) the lamb beautifully cooked, the seasoning just right, good rice and beans, and a nice red onion salad to accompany. I went with one of my litmus tests, the chicharrón de pollo (150 pesos) or fried chicken, basically, and one of the better versions I've had in town, along with fantastic crisp surfaced, soft inside, roasted potatoes instead of the more common french fries. Yum. Worth the trip, and justifying it's already held position in our highly recommended Peruvian restaurants.