June 13-15 – 2017 – 13-15 de Junio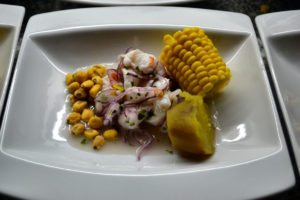 Classic Sole Ceviche – Sole, cured in lemon and lime juice, salt, limo chilies, cilantro, red onion, ginger, garlic, black pepper; sweetcorn; sweet potato; toasted, salted corn kernels.
Ceviche Clásico de Lenguado – Lenguado, curado en jugos de limón y lima, sal, ajíes limos, cilantro, cebolla morada, jengibre, ajo, pimienta negra; choclo; batata; maíz tostada y salada.
Cruzat Extra Brut, Luján de Cuyo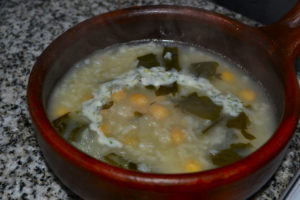 Chicory, Rice, & Chickpea Soup – Dashi (seaweed, dried tuna stock) with roasted garlic and onion; chicory; chickpeas; rice; basil yogurt.
Sopa de Achicoria, Arroz, y Garbanzos – Dashi (caldo de algas y atún seco) con ajo asado y cebolla; achicoria; garbanzos; arroz; yogúr con albahaca.
Luigi Bosca "La Linda" Viognier 2016, Luján de Cuyo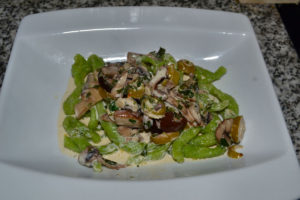 Parsley Umbricelli with Mushrooms and Olives – Handrolled umbricelli – thick semolina noodles, infused with parsley; cream sauce with green and black olives, button and portobello mushrooms, peperoncino, garlic, parmigiano.
Umbricelli de Perejíl con Hongos y Aceitunas – Umbricelli hecho a mano – fideos gruesos de semolín, infusado con perejíl; salsa cream con aceitunas verdes y negros, hongos comunes y portobelos, peperoncino, ajo, queso parmesano.
Escorihuela Gascón Rosé 2016, Mendoza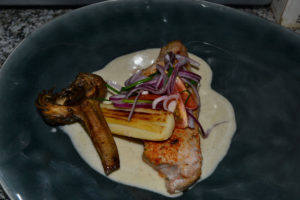 Pork Loin in Garlic-Chili Sauce – Togaroshi rubbed pork loin, pan roasted; broiled palm hearts brushed with chili oil; artichoke "escabeche"; emulsified bacon veloute with garlic and rocoto; salad of red onion, cherry tomatoes, chives.
Carré de Cerdo al Ajillo – Carré de cerdo rociado con togaroshi; palmitos asados y cepillado con aceite de ají; escabeche de alcachofa; velouté de panceta emulsificado con ajo y rocoto; ensaladita de cebolla morada, cherys, ciboulete.
Casa Boher Cabernet Franc 2015, Luján de Cuyo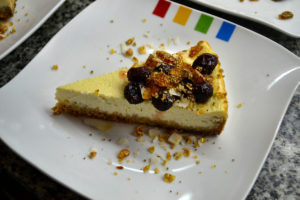 Coconut & Vanilla Cheesecake – Coconut cookie crust; filling of homemade ricotta, coconut milk, egg, vanilla, sugar, chopped crystallized ginger; dried cranberries rehydrated in Hesperidina (sour orange liqueur), toasted coconut flakes, puffed amaranth seed brittle.
Cheesecake de Coco y Vainilla – Masa de galletitas de coco; relleno de ricota casera, leche de coco, huevo, vainilla, azucar, jengibre cristalizado picada; arandanos rojos rehidratados en Hesperidina (licór de naranja agria), escamas de coco tostadas; caramelo crocante de amaranta inflada.
Amalaya Blanco Dulce de Corte 2016, Valle Calchaquí