June 9-10 2017 9-10 de Junio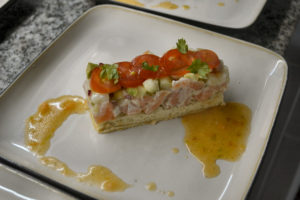 Salmon Tartare – crust of potato chips, flour, butter, romano cheese; diced salmon and red onion in mayonnaise made from egg yolk, sesame and prickly oils, lime juice, cilantro; fine dice of avocado, cucumber, radish in Torrontés wine vinegar and salt; cherry tomato slices and cilantro; tomato seeds whisked with olive oil.
Tartare de Salmón Rosado – masa de papas chips, harina, manteca, queso romano; daditos de salmón rosado y cebolla morada en mayonesa de yema, aceites de sésamo y prickly, jugo de lima, cilantro; daditos finos de palta, pepino, rabanito en vinagre de Torrontés y sal; rodajas de cherys y cilantro; semillas de tomate batida con aceite de oliva.
Codoniú "María" Extra Brut, Maipú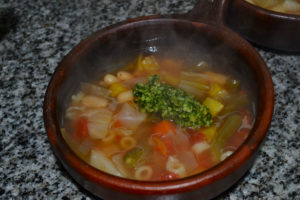 Vegetable Soup with Pesto – Vegetable broth with carrots, sweet potato, cabbage, green beans, white beans, tomatoes, rocoto chili, ditalini pasta, smoked salt; pesto of chive, basil, walnuts, romano cheese, garlic, peperoncino.
Sopa de Verduras con Pesto – Caldo de verduras con zanahoria, batata, repollo, chauchas, alubias, tomates, rocoto, pasta ditalini, sal ahumado; pesto de ciboulette, albahaca, nueces, queso romano, ajo, peperoncino.
Quara Torrontés Reserva 2015, Valle de Cafayate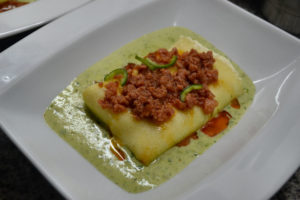 "Loretano" Crepe – Semolina crepe; filling of homemade cream cheese, sopressata, parsley, black pepper; sauce of thickened fish stock, cream, cilantro, parsley; chorizo oil; jalapeños.
Panqueque "Loretano" – panqueque de semolín; relleno de queso crema casero, sopressata, perejíl, pimienta negra; salsa de caldo de pescado espesado, crema, cilantro, perejíl; aceite de chorizo; jalapeños.
Clos du Moulin Cabernet Sauvignon – Pinot Noir 2015, Luján de Cuyo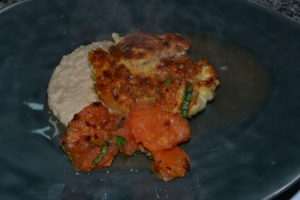 Fried Chicken, Cannelini Hummus, Sauteed Tomatoes – Not the prettiest plate, that needs some work – butterflied chicken breast marinated in lime juice, salt, black pepper, coated in panko crumbs, fried; puree of white beans, garlic, cumin, tahini, lemon, hot paprika, salt, olive oil; seeded tomatoes sauteed and tossed with basil and crisp chicken skin seasoned with merquén (smoked chili); reduced chicken jus.
Pollo Frito, Humus de Alubías, Tomates Saltados – No es el plato mas lindo, se necesita laburo – pechuga de pollo mariposa marinada en jugo de lima, sal, pimienta negra, apanada en migas de panko, frito; puré de alubías, gjo, comino, tahini, limón, pimienton picante, sal, aceite de oliva; tomates despepitados y saltados con albahaca y piél de pollo crocante sazonado con merquén (ají ahumado); reducción de jugo de pollo.
Ricardo Santos Cabernet Sauvignon 2015, Maipú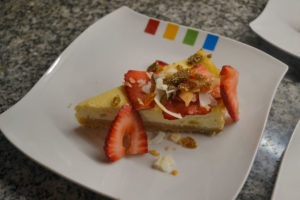 Coconut & Vanilla Cheesecake – Coconut cookie crust; filling of homemade ricotta, coconut milk, egg, vanilla, sugar, chopped crystallized ginger; strawberries, toasted coconut flakes, puffed amaranth seed brittle.
Cheesecake de Coco y Vainilla – Masa de galletitas de coco; relleno de ricota casera, leche de coco, huevo, vainilla, azucar, jengibre cristalizado picada; frutillas, escamas de coco tostadas; caramelo crocante de amaranta inflada.
Amalaya Blanco Dulce de Corte 2016, Valle Calchaquí