Where were we…? Oh yes, flying back to NYC from Boston. Landing at LaGuardia. Plans to meet my friend Fabiana from Uruguay who was in town for a wine event. I've seen her numerous times since you guys last did, way back in 2005 on my first visit to Pisano (she's no longer with them). Only a) she'd gotten started early with some other friends and they were well into the bottles of wine, and b) I got delayed by some sort of construction and it took an hour and a half to get into Manhattan from LGA, and then still had to check into my hotel. So by the time I was ready, she'd had to call it a night. In fact, much of Manhattan (Where's that city that never sleeps spirit? It's not even on the scale of BA when it comes to things like restaurants being open late.) was already closed or closing. Settle in, this is a long post.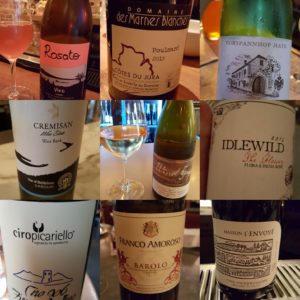 I decided to pop down to the West Village, wander through and see what I could find open. The village just ain't what it used to be. Squeaked into the bar at Loring Place, 21 W. 8th Street, as the dining room had stopped serving, but they said they could still serve at the bar. An unusual wine list too (I'm so happy to see so many really interesting and creative wine lists on this trip, particularly the by the glass selections). Chose a glass of Ildewild "The Flower" Rose 2016, a blend of 51% Dolcetto, 25% Nebbiolo, and 24% Barbera. Now that, was a delicious wine.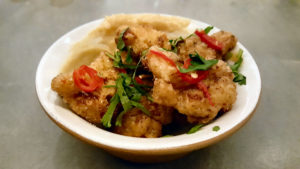 I decided to just order a couple of the small plates. Here, amazing, seriously amazing, crispy spiced cauliflower with meyer lemon jam and chilies. I love cauliflower. I need to play around with some more ideas. Something like this I could eat all the time.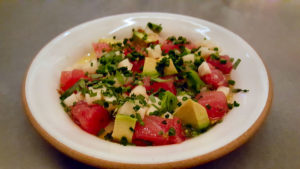 And a quite delicious tuna tartare, zingy with citrus, creamy with avocado – loved it. But that cauliflower.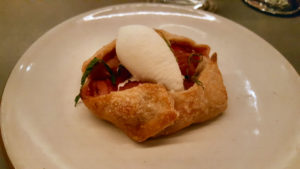 I was going to order a third plate, but by that point the "hot kitchen" had closed. I wouldn't normally order a dessert but, a) still slightly hungry, b) the first two dishes had been fabulous, and c) I love rhubarb, it's something I grew up on, and so a rhubarb crostata with buttermilk ice cream and mint just begged to be ordered. Yum. Wow. Anytime.
This is my kind of food for bar snacking. If it's still there next time I'm in town, a return for dinner!
---
Monday lunch with friend Michael, a wine guy, who with his wife also owns an apparently fabulous cheese shop up in Pound Ridge, NY (here, I'll pimp for Plum Plums Cheese shop, if you're up there, go there). We'd decided to try Paowalla, 195 Spring Street, a place I'd wanted to check out last year, but it hadn't quite opened yet – the latest restaurant from famed chef Floyd Cardoz, whom I'd last seen at North End Grill, five years ago. This is a much more casual spot….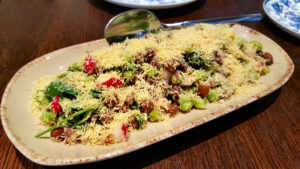 Floyd wasn't in yet, so we missed him, but this first plate started us off right – Roasted Green Chickpea Chaat, Sweet Onions, Chillies, Tamarind. Bright, zingy, packed with flavor, something I could eat anytime – we devoured it. Glass of, and I think I remember correctly, because I didn't write it down and it's not on their online wine by the glass list, was the Markgraf Von Baden Pinot Noir from the Bermatinger vineyards in the Bodensee area of Germany. Light and simple, but made for a decent "lunch wine".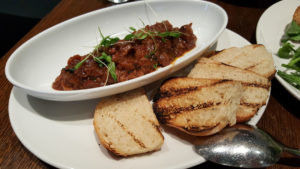 But then this weird sort of chicken liver dish that was offered up as his "offal plate" (yes, of course, technically chicken livers are offal, but if you're going to call it that, there ought to be more to it). It tasted like a sloppy joe sandwich – sort of sweet and tangy and tomato-ey, and had the texture of warm jelly. It was not a winner.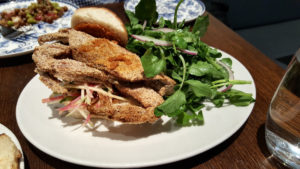 A fried soft shell crab sandwich with a big pile of watercress, mango slaw, and supposedly a coconut sauce – perhaps a schmear of it somewhere, was perfectly fine, but nothing all that interesting.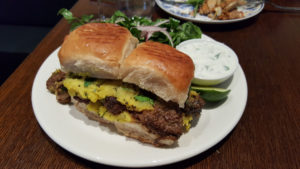 And the soft lamb sandwich with a cucumber raita (no real spice to it, just yogurt, a few pieces of chopped cucumber, and some herbs), was overwhelmed by the thick, gluggy paste of a turmeric potatoes both above and below the few pieces of lamb on the sandwich. We kind of pushed it around, nibbled on the lamb, and called it quits.
Quite disappointing over all. I'd happily eat that green chickpea salad again, and I'm already thinking about some ideas to do something in a similar vein here with Andean flavors – much experimenting to be done. But I wouldn't eat one of the other three dishes again. We passed on dessert and headed out.
---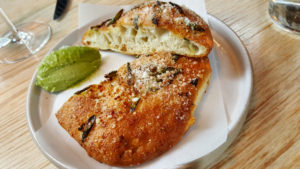 Dinner with friends John and Tom out at the new Lilia, 567 Union Avenue in Williamsburg, where chef Missy Robbins is serving up creative Italian comfort food in her own digs (we last saw her on these pages as the chef at A Voce Madison years ago when Tom was the maitre d' there (Henry and I also went again on our trip in 2014, but really didn't have dinner as neither of us was up to a full meal). I'm not going to show everything we ate – it was all delicious, some more than others, so I'm picking and choosing, but over the course of the meal we had eleven different plates on the table. We started with excellent garlic focaccia, and also some tasty little "doughnuts" or fritelle dusted with cheese and pepper.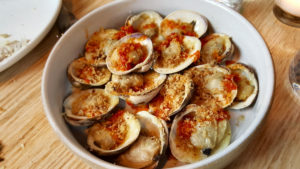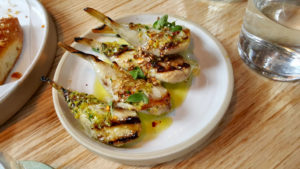 On to a trio of dishes from her "small fishes" selection – standouts were the Calabrian chili spiked clams and the coriander crusted blowfish tails. Good, but a little heavy feeling, the scallops in yogurt and walnuts.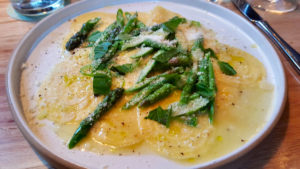 Her specialty is still pastas, and these corzetti with chilies and aspargus didn't disappoint. Neither did the lamb fettucine, nor the tortelli. And one non-pasta main course, the roast chicken with lemon and fingerling potatoes was just as good.
We finished up with a strawberry crostata (tasty, if a bit too sweet for my tastes, and I still had that rhubarb one in mind from the night before), and the dessert menu features various iterations of soft serve gelato, we went with chocolate and hazelnut, which was just one of those happy making dishes.
Overall, delicious food, great new digs, and the place was jammed to capacity with people waiting all evening long, on a Monday night, and several blocks off the main drag of Williamsburg. Make the trip!
---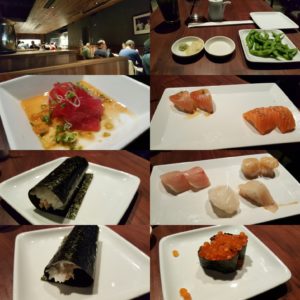 I ended up solo next day for lunch – I'd hoped to hook up with Fabiana again, but turned out that Tuesday was the day of the big wine event (which she got me a pass for, and I spent an hour or so in the afternoon tasting wine and running into some old friends from the business, and, at least, got to see her). I hadn't really had a good sushi meal on this trip, so I decided to give a shot at one that a couple of folk recommended, Sugarfish, 33 East 20th Street. Thanks to the power of Instagram's layout feature, you get to see it all on the photo above, click on it to blow it up a bit bigger.
The thing to do here is apparently their omakase, or chef's choice menu. But here it's a bit of a cheat, because it's a preset menu that basically doesn't change, other than maybe seasonally. When I think omakase, I think of the chef deciding in the moment, or at least each day, what they want to serve. This is a preprinted, online, menu, that's invariable other than, if you get the biggest of the three selections, one daily special.
The place is a bit frantic, and on a rainy Tuesday afternoon was filled to the gills with people. I was actually surprised that I got in at a table rather than the sushi bar. So was my waitress, who pointed out several times over the course of the meal how lucky I was to have a table. Especially one by myself. Leaving one seat open with no one in it who was eating. Thanks, ever so.
The sushi, all good. Very fresh. They have lots of rules. Is this a new thing, rules for eating sushi? Remember last year's trip to NY Sushi Ko? I guess I didn't give it much of a writeup because I just couldn't bring myself to. But then again, strangely, I did give it a writeup later on on TripAdvisor. Not sure why I didn't do it here on the blog, maybe it was because I sort of found myself still stewing about it a week or two later:
If Seinfeld had a Sushi Nazi

Oh boy, this is a tough one. Let's start with the positives. It's a cozy little spot on the Lower East Side, and chef Daly is turning out amazingly good sushi. Each piece is spot on delicious. And it's fascinating too, because he offers things like a series of an individual fish, from different parts of the fish, so that you can actually taste the difference, or, uni (sea urchin) from different parts of the world, one after the other. And once you're seated at his counter and started, you're in his world, and, he's amiable, even chatty. If that was all there was, this would be a five star plus experience.

But, that's not all that dining out is about. Until you actually have a seat at the ten seat sushi bar, you're a non-entity. You're less than that. I don't mind being told not to take photos, I don't mind the no cellphone policy, I don't mind that it's a "eat it the way I give it to you, no soy sauce, no, whatever…". I do mind that when I shifted something on my place setting slightly, he lunged across the counter, moved it back, and snapped at me "don't move that!". I do mind, watching as he had the waiters tell a walk-in couple to come back in an hour, and when they did, had them tell them to wait a few minutes, and then after another half hour went by, had the waiters close and lock the door and tell them "next time, make a reservation", and then having his regulars at the sushi bar cheering him for it. That's just rude, inhospitable, and honestly, enough that no matter how good the sushi is, I wouldn't set foot in the place again.
At Sugarfish, nothing is so egregious, but the menu tells you (with my commentary): Rice should be warm and loosely packed so it melts in your mouth (I found it odd – too warm, and so loosely packed that most of it fell apart when trying to pick it up); Each plate is served as soon as it is prepared, so don't wait to eat it (and if you do, your waitress will remind you that it's waiting); Handrolls should be eaten right away while the seaweed is crisp (if it's properly toasted, it should stay crisp for more than just a couple of minutes); Dishes that are sauced, except sweet shrimp, should not be dipped in soy sauce (I didn't get sweet shrimp, and hey, I'll decide if I want to dip it in soy – the four guys next to me had made sludgy bowls of soy and wasabi and were dipping everything in it – at least they didn't get admonished for it); We decline requests for extra sauce, salt, or additional rice (the first two are just inhospitable, the last – who orders extra rice for their sushi?)
Overall, good, but nothing special or out of the ordinary. There are far better places to have sushi in NYC. Good experience but not one I'd go out of my way to repeat.
---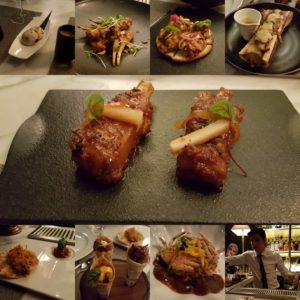 And, for a last dinner out before heading to the airport, dinner with my friend Claudio, at Indian Accent, 123 West 56th Street (after a cocktail and glass of wine at the bar at Trattoria dell'Arte where I'd hoped to see another friend, but it turned out to be his night off. Just to kick it off, fabulous, fabulous, place and I'm glad it was our choice for my last meal in town. This is the NYC branch of a highly acclaimed New Delhi modern Indian restaurant. It deserves every accolade it's gotten, from the space and decor to the really just nigh on perfect service. And the food. And the wine (glass, or two, of Maison L'Envoyé Two Messengers Pinot Noir 2014 from the Willamette Valley – fantastic wine).
In the dining room it's tasting menu only, I think. At the bar, there's a short a la carte menu and bar snacks, we went mostly with the latter. Let's see, from the top, and each dish as good as the previous one.
blue cheese naan with pumpkin soup (these were giveaways, but we ordered another round, which they happily brought)
crab claws, butter-pepper-garlic, cauliflower
bheja fry, goat brains, khasta roti (so good we ordered another plate of these, and Claudio had said upfront he doesn't eat offal, he does now)
pathar beef kebab, bone marrow nihari
sweet pickle ribs, sundried mango, onion seeds (some of the best bbq ribs you'll have)
phulka chili pork
mathri trio: smoked eggplant bharta; duck khurchan; chicken khurchan
soft-shell crab koliwada, malvani dried shrimp pulao
cute Ecuadorian waiter (wasn't on the menu)
Expensive, but worth every penny.
---
And thus ends this last gastro-trip! Lots of great food. Lots of new ideas. Back to our regular scheduled programming.