Seems like a guy who's losing an argument with his wife….

We started out fairly early again on Saturday morning headed over to the area that is vaguely sort of a Koreatown, though in practice, it seems to be sort of just a pan-Asian area, mixed with a lot of Latin American. The earliest place open was Kaju Tofu, 58 Harvard Avenue. Friendly service, clean, almost cafeteria looking space. Unfortunately, the food just wasn't up to snuff. The little mini shumai were kind of tasteless and dense, and we guessed that they may have been cooked from frozen. The kimchi pancake had no sense of kimchi in it – just strips of cabbage and a vague hint of chili in the pancake batter.

Next stop was the Super Eighty Eight market, 1095 Commonwealth Avenue – a combination grocery store and food hall. The food stands weren't quite open yet, so we went and wandered the aisles of the supermarket, looking at various Asian sauces and such, for a half an hour.

Then we hit a trio of spots in the food hall. First up was Kantin, where they seem to have one of the most extensive menus of various regional Chinese cuisines either of us have seen. But what caught our eyes were the roasted meats, and while the woman at the counter really wanted to turn them into dishes, like fried rice or with noodles, we decided to just sample some of the braised pork tongue, the roast duck, and the barbecued pork belly. All good, no wows. If we hadn't had the sort of day we had planned, a fried rice or noodle dish might have been the way to go.
Then it was Two Peck, a specialist in crispy chicken, though we ignored their specialty and tried their squid balls, pork balls, and turnip cake. You get to pick a dusting of a flavored powder from 8 or 9 options. We went extra spicy, and it was, but other than the dust (which was kind of like a really spicy Doritos or Cheetos powder), there was little to no flavor in these.
And finally, Pikaichi, which is actually outside the food hall, but still in the same building, a small Japanese restaurant where we grabbed some takoyaki, octopus dumplings, and shumai, to go. The former weren't bad, but were basically just filled with potato and some, but not all, had a teeny nugget of octopus in them. The shumai weren't what either of us really think of a shumai and held no interest. Basically, all of these spots, we ate about half and dumped the rest.

Our planned next to last stop was Jo Jo Taipei, 103 Brighton Avenue. Here we decided to start with something a little lighter and more vegetable based – the highly recommended sweet and sour lotus root salad was fresh and vibrant, but a tad too sweet. Adding chili oil to the mix fixed that. We ordered the crab soup dumplings which had a beautiful smoky flavor and were quite good. For some reason, our waitress (okay, the reason being that she spoke next to no English) brought us the pork soup dumplings too, rather than the much touted spicy chou sou dumplings. We decided to eat the pork ones, which were good, though not as good as the crab ones, while we waited for the ones we wanted. After all, it's not like we'd really been eating a lot of dumplings so far – which turned out to be fairly good, though not as spicy as we'd hoped.
And our last stop, Yoma, 5 N. Beacon Street, turned out to be a dinner only place, so we lopped it off and headed down the block to…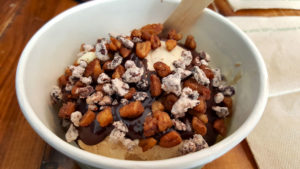 FoMu, 480 Cambridge Street, for some "Faux Moo" (that's our guess and we're sticking to it), or non-dairy ice cream sundaes. Reasonably good, I went with an espresso ice "cream" topped with hot fudge, spicy candied pecans, and candied cocoa nibs. It was way too big for a small sundae and I only made it about halfway through before giving up.

Then we wandered for a couple of hours, hit a shopping center or two, Boston's franchise of Eataly, and a kitchenware store, and saw some sights. Stopped in when we got peckish to Select Oyster Bar, 50 Gloucester Street for a glass of wine, some oysters on the half shell, and some white anchovies (boquerones) on tomato topped bread. A glass of a very interesting and unusual Trousseau Gris from Wind Gap, in California, worked beautifully for me, though David wasn't fond of it and went for a lovely rosé.

And, not too long after, went for an early dinner to finish off the day at Little Big Diner, 1247 Centre Street, Newton, a place that's a favorite of David's. Here we split a green papaya salad, some fried soft shell crab bao, and then I went for their house burger, while he went for a bowl of their spicy ramen. The papaya salad was the hands down winner, delicious, spicy, tangy. The soft shell crab was fine, but just sort of lacking in much of anything – it was cooked right, but served with a bare schmear of scallion cream cheese, and just one or two little pickled onion rings on it – it needed more umph. The burger was good, but a little too charred, as were the buns – the onion rings gave it a nice crunch, but I have to admit, that a pineapple sambal tasted of nothing but sugary stewed pineapple – I was expecting some heat. The ramen was excellent. I'd go back.
Finished off the (early) evening at sycamore, 755 Beacon Street, Newton, just a couple of blocks away, a very trendy, hip, cocktail bar and gastropub, with a couple of after dinner digestifs. David went for an amaro, and I had a glass of an excellent Bodegas César Florido "cruz del mar," oloroso sherry.