A little different, as following on the quick appetizer bites at Upland NYC in the last post, the following 30+ hours sort of became a gradual appetizer crawl, with different friends popping in and out for different parts….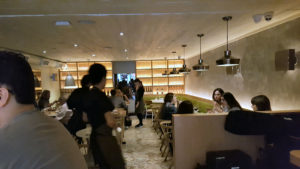 Nur, 34 East 20th Street – new, modern Israeli restaurant, getting lots of hype. Would it be worth it? I grabbed a seat at the bar shortly after they opened, and they quickly filled up, both the bar and the dining room. Short list of wines by the glass, with some nicely featured Israeli wines. I let the bartender pick something, and she offered a sample of the Cremisan "Star of Bethlehem" Dabouki 2014, from the West Bank. Now with all the time I've spent in the wine world, I have to admit, I've never heard of the grape Dabouki before – a little research shows it to be a native grape to Armenia (a place which I didn't know produced wine), and, it turns out, traditionally really wasn't used for winemaking, but rather, because it's quite aromatic, as a grape to be distilled into arak. Tasty stuff. Live and learn!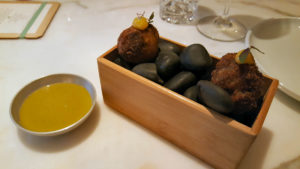 The menu is divided into three sections – different breads, a few different "small plates", and a larger selection of "large dishes" meant for sharing for 2-4 people. Being solo at this point, and wanting to try a few things, I went for a trio of the small plates. First up, "date doughnuts", which were a mix of spiced, smoked trout and almonds, wrapped, I think, in the dates, then breaded, fried, topped with a mandarin orange gel, and accompanied by a citrus curry vinaigrette for dipping. Two were not nearly enough, I could have just sat and eaten a platter of these.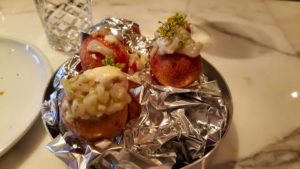 Likewise, the panipuri, a cousin to the Indian puri breads, here little puffs, filled with a yuzu cream, or foam, and topped with a scallop ceviche spiked with habanero chili, dried apricots, and crushed almonds. Another one that I could just sit and munch on. Presentation could use a little work, or perhaps the food runner needs more balance, as two of them had sort of toppled over, dropping their ceviche onto the crumpled foil.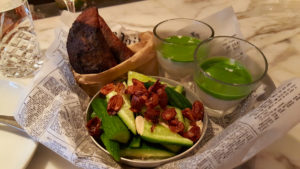 Interesting, but not at all what I expected from the description, the Damascus qatayef, which was described as a crisp Syrian style pancake filled with spiced lamb. Basically, it was a couple of lamb empanadas. Quite good lamb empanadas, with cups of yogurt topped with parsley puree to dip them in (I assume the idea of two cups being that the plate would be shared by two people). Although quite good, the cucumber salad seemed like something totally separate (and wasn't mentioned on the menu) – basically just spears of cucumbers tossed with green almonds and lemon, and then topped with the green almond skins which had been deep fried. I guess it gets you some vegetables, but they really seem like two separate dishes.
---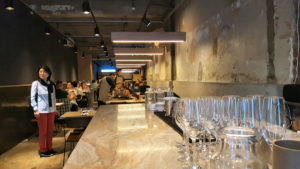 atoboy, 43 East 28th Street – The evening picked up as my appetizer crawl companion Evan joined me. Many moons ago we used to work together at Mondrian restaurant. This place, from the chef who brought NYC the high end modern Korean restaurant Jungsik, was recommended by my previous night's dining companions. Supposedly, it was sort of a casual, almost tapas style, Korean restaurant. A glass of Vorspannhof Mayr Grüner Veltliner 2016 from Austria was my other companion, and a quite good companion it was.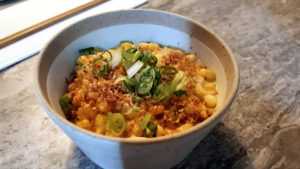 Here's the thing, other than here and there an ingredient from Korean cooking making an appearance, there doesn't seem to be much on the menu that fits the genre. This corn dish is listed as "corn, taleggio (cheese), bacon, doenjang" – the last being fermented soybean paste. Basically, it was a delicious, non-soupy corn chowder with the saltiness being provided by that. There is a Korean "cheese corn" dish that I guess is similar to this, called konchijeu, so in some ways, this might have been the most Korean of all the things we ate.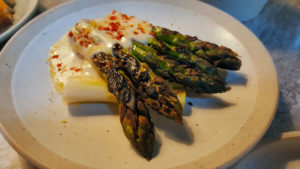 The asparagus were lightly grilled, and tossed with an emulsion, really a warm mayo, made from egg yolk and scallop, and then sprinkled with Korean chili flakes.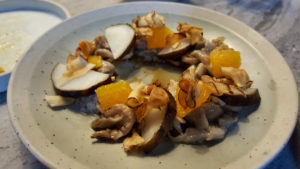 And this dish didn't even have a note from Korea, with sunchoke, oyster mushrooms, and orange segments accented by a shaving of black summer truffles.
The menu lists 18 items, broken up into 3 blocks, and says that for $36 you can pick any three. All three of these were from the middle block. Turns out that that's not allowed, you have to pick one from each block in order to get the "prix fixe" (ought to put that somewhere on the menu). As the blocks are apparently priced a la carte (also not anywhere on the menu) at $10, $13, and $16, we were told we'd have to pay $39. Okay. $3 extra is not a big deal, but that's not what the menu says, anywhere.
We liked all the food, I'd happily eat any of it again, and/or try more, but "modern Korean" it ain't.
---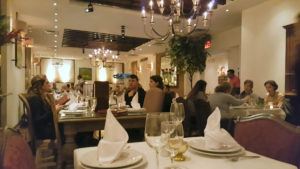 Almayass, 24 East 21st Street – Since I wasn't sure I was going to have a dining companion, I hadn't planned past those two spots. We decided to wander in the neighborhood and see what looked interesting. We stumbled across this spot, very elegant looking. They had a bar which we headed for, but it was closed for a private event, so they offered us a table. Traditional Armenian food. Not what I'd have planned out, had I done so, but intriguing nonetheless – we have a good number of Armenian spots in BA, and it's among my favorite cuisines. As I mentioned above, I was unaware that Armenia really produced any fine wine, so was interested to find a couple of offerings by the glass – I ended up staying with white wine and a Krasas Chardonnay – a little "flabby", but acceptable.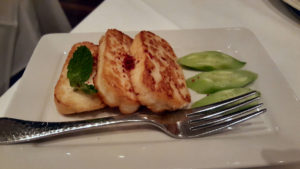 Staying with our simple trio of appetizers – we started with grilled haloumi cheese, lightly brushed with olive oil. A fave.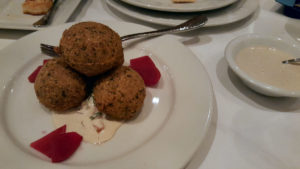 Then on to some quite good falafel with a tangy, creamy, tahini sauce and roasted peppers.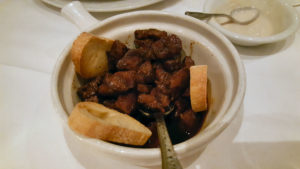 And, the real hit of the trio, sauteed chicken livers in pomegranate molasses. Though more well done than either of us preferred, it was utterly delicious. What a simple but great combo.
Beautiful room, lovely service, and while not a particularly modern or creative menu, tasty, traditional food.
---
With just two of us, we called it a night after hanging out chatting awhile. I picked up the general theme the next day, meeting up with my friend Peter, from the wine world.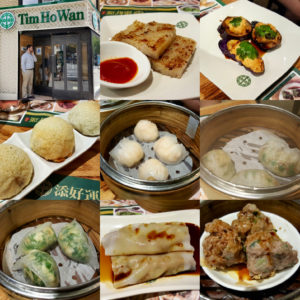 Tim Ho Wan, 85 4th Avenue – This is the famed in foodie circles dim sum spot that showed up recently on the NYC stage. The original place, from Hong Kong, made a big splash in food world about 8 years ago, when in 2009 it became the most offbeat, and cheapest place to ever win a Michelin star. Now, I've not eaten at the original, so have no basis to comment on that, but if this is Michelin worthy dim sum or a restaurant experience, the guide needs new inspectors. I'm guessing this is in some ways, more of a knock-off of the original than the same.
It's wildly popular, and there's apparently nearly always a wait. At lunchtime we were told it would be 20 minutes for a table for two – turned out to be only about 10, but there are reports of people waiting for up to 4 hours. Lots of jammed together tables makes for a crowded and noisy experience. It's not the sort of dim sum place with carts that come around, but rather a simple menu of 28 items pictured on your placemat, both savory and sweet, and an order form and pencil to select the ones you want. We ended up picking six and then later another two.
Winning dishes, the eggplant stuffed with shrimp paste, the baked version of barbecue pork buns, and the chiu chao dumplings – spicy, and laced with peanuts and green onion. On the other hand, just good versions of the classic turnip cake, shrimp har gow, shrimp and chive dumplings, beef in rice noodles, and some rather forgettable steamed beef balls with bean curd skin. All the dishes run just a shade under $5, which is a little high for dim sum, not by a huge amount, but maybe 50-75¢ more per plate than the more well known dim sum parlors a few blocks south in Chinatown. And while averaging out to good to very good, it's by no means the best dim sum I've had in town.
---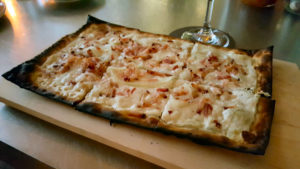 Gabriel Kreuther, 41 West 42nd Street – While this hot, relatively new spot on the north side of Bryant Park is on my list to check out, the tab to eat here runs just a bit higher than I aim to spend on dinner, even the appetizer crawling sort for the most part. But, throwing a touch of caution to the wind, I joined my friend John at the bar for a couple of "adult beverages" before heading on to meet other friends for dinner. We had to at least try one of the more reasonably priced bar menu items (it's telling that the bar is packed with people having bar food ($18-39/item) and cocktails ($19-45 each), but the dining room virtually empty (where dinner runs either $142 or $215 for the two menu choices, without beverages). The classic Alsatian tarte flambe is plenty delicious, even if it is the least expensive item on the menu. I'd happily eat it again, though I'd probably go elsewhere for good pizza instead.
---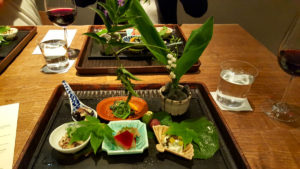 Kajitsu, 125 East 39th Street – I've reviewed this place, twice, on past trips, briefly in 2009 and in-depth in 2011, so I'm not going to again. More just to note that it's moved from the East Village to new digs. I have to say, I far preferred the old space, this one is minimalist to the point of stark, basically a square dining room of green-gold painted concrete with a single black and white drawing for art, and simple wooden tables and chairs. The food is still excellent, though, I thought that like the decor, it seemed less prettily presented, other than this one course of little sample bites. The cost has also near doubled, with those two menus, that just six years ago ran $50 and $70 now costing $95 and $125.