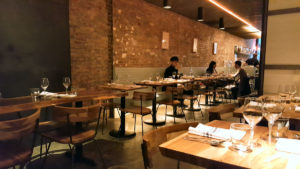 A little bit more of a refined dinner than a crabcake in a pub, dinner with friends Marc & Susan, both of whom work in the wine world, at Contra, 138 Orchard Street on the Lower East Side. Wow, when I was living here, there was nothing like this on the Lower East Side except for its run, the intrepid WD-50 from Wylie Dufresne. Now the whole neighborhood is trendy little restaurants and bars. Though more or less empty in this photo, just a couple having dinner up towards the bar and a young Japanese man using tweezers to pull apart each dish as he photographed in-depth everything he was eating, half an hour later there wasn't an empty seat in the house.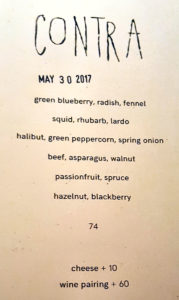 There's a set, six-course menu for $74, an option for a wine pairing. The menu doesn't give you a lot, it's one of those places that just lists 2-3 ingredients, so you have no idea what you're really getting. I'm not going to go through the menu plate by plate, just the ones that stood out. Service, for the most part, was great – fantastic bartender – I'd arrived early and was looking at the extensive, quirky wine list, and wines by the glass, and asked her just to pick out a glass for me that she thought was "unusual and fun". She poured me a glass of an unfiltered "natural" Aleatico rosé from Le Coste (Gianmarco Antonuzzi) that was earthy, funky, fruity, even a touch of a spritz to it, delicious. We were off to a good start. (And, I picked a bottle for the table to cover us through dinner, the Domaine des Marnes Blanches Poulsard 2015 from Côtes du Jura, a lighter, but very complex red that I thought would work through the various courses, without knowing exactly what they were. It did, thankfully!)
Our primary waitress was sort of another story – as we gathered at the bar, two of us already with wine/cocktail, the third just getting his, she approached and asked if we had a reservation (we'd already checked in with someone else). Then she gathered a trio of menus and asked us if we were ready to go to the table. The bartender said something to the effect of letting us finish our cocktails at the bar, to which she looked at us and said, "you know, your reservation IS for 6:30 p.m." (it was 6:29). So we gathered our drinks and followed her. She continued to be sort of snippy each time she came to the table, blurting out what the dishes were quickly, with a condescending tone as if she expected we wouldn't have a clue anyway and turning away without acknowledgement.
Things came to a head over bread. Each table gets a small loaf of bread, a sort of boule, to share, and some whipped butter. With three of us at the table, we went through it quickly, and asked her for another. She paused, and said, "if you want another, that will be $3". I'd had enough at that point and snapped back, "does that include more butter?" which set her back, and for the rest of the meal, we seemed to be more often attended to by other waiters. One note – I get that bread is a line item for restaurants. But you're serving the same sized boule to tables of one as tables for four, and for the former, it'd be plenty, for the latter, unlikely, and that's not really fair to bigger parties. Just something to think about, it's not like $3 was going to ruin any of us financially, but it was an off-note, especially when paying $74 for a menu. We did get sent an extra dessert to try by one of the other waiters…. all of whom, by the way, were delightful and friendly.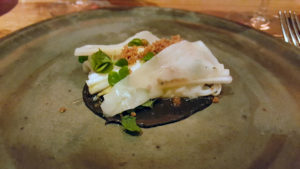 My favorite course – a smoked rhubarb puree on the bottom, then a tangle of lightly dressed calamari, topped with a thin julienne of white asparagus, thin sheets of lardo, and what we decided were some sort of seasoned breadcrumbs.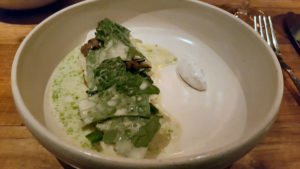 I think the favorite course of my companions, and a close second for me – perfectly cooked halibut with a green peppercorn sauce, a little quenelle of yuba emulsion (tofu "skin"), and the green planks are, if I followed correctly and my eyes don't deceive me, sort of sheets of scales made from pressed green onions.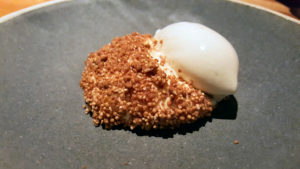 And, the extra dessert, which I liked more than either of the two regular desserts (though both were delicious as well) – a simple vanilla mousse topped with an amaranth seed toffee and accompanied by frozen yogurt.
Yum all around, and other than the one waitress who clearly wanted to be anywhere else but at work that evening (it wasn't just us, she was being that way with all the tables around us too), a great experience. I would note that we were still at least a little peckish at the end of the meal, though not really hungry. Worth the price? Yes, I think so, especially given that there are plenty of places in town that for a similar menu charge far more.
We did pop a few blocks away after dinner to Yopparai for a nightcap carafe of a tasty nigori, or unfiltered, sake (which I can't remember the name of now) and a few bar snacks.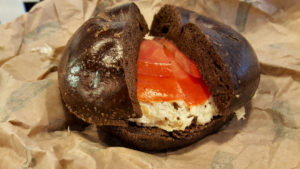 Up bright and early yesterday morning to continue my wanderings and visits. Started off at the much touted Zucker's Bagels & Smoked Fish, 370 Lexington Ave, for a large coffee and my bagel fix. Decided rather than my usual stack of lox and all the fixings, to go with something that I actually was more likely to have ordered when I lived here – toasted pumpernickel bagel, smoked white fish salad, tomatoes and red onions. Indeed a very good bagel (this place wasn't around when I lived here, nor close enough to home anyway to make it a spot to go to).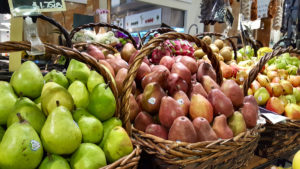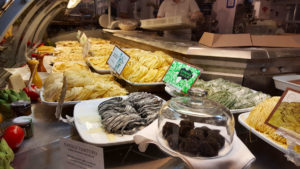 A stop in to Eataly, mostly because I was just nearby and killing time waiting for the place I was going for lunch to open (I realize I've just compressed an entire morning of wandering into a few seconds for you, but I didn't do anything of note, I was just wandering, doing a little shopping, and enjoying that the sun was finally out).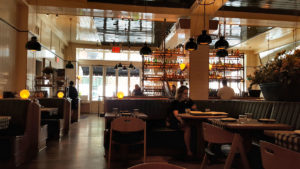 Lunch solo at Upland NYC, 345 Park Avenue South – "new American cooking". Great space, friendly service, all around the kind of place I'd love to come to regularly. The food – hearty, rustic, and still very creative.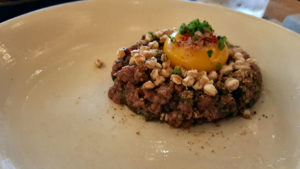 One of the best beef tartares I think I've ever had – flavored with black trumpet mushrooms and anchovies, topped with puffed farro, and an egg yolk. Spicy, tangy, yum – I could eat that again and again. Glass of Evesham Woods Pinot Noir 2014 from the Willamette Valley to accompany lunch.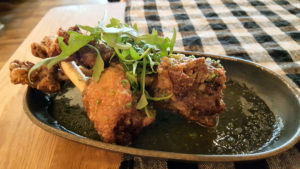 And, an order of "crispy duck wings" – each the drumstick of the wing, three of them, as big as a chicken leg. Tender, probably confited, coated in a spicy, peppery crust and then shocked with a good amount of yuzu, the Japanese citrus. A complete wow – I was nibbling those bones down to the nub, in fact asked the waiter to take the plate away before I ate the bones themselves.
Then I visited the Houdini Museum, 421 7th Avenue. I didn't even know there was such a thing, and it's been there a long time apparently. In reality, it's a magic shop, selling all the various things that amateur and professional magicians need for their work. And, they offer classes. The "museum" is mostly a wall of pictures and various bits and pieces from Harry Houdini's life – interesting for a visit if you're into magic!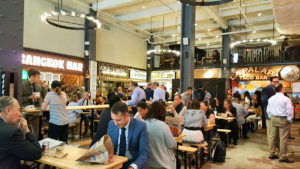 And finished off the afternoon a bit later at Urbanspace Vanderbilt, 45th Street & Vanderbilt, just behind Grand Central Station, another of the new "food halls" that seem to be springing up around the city. I didn't eat anything more, as, there was an appetizer crawl planned for the evening, but it looked really interesting, with lots of good offerings. Spent about ten minutes, fascinated, watching them make jian bing at the Mr. Bing's stand. That may end up being my next breakfast…. (in which case I'll come back to here and replace this youtube video with my own – I was so fascinated watching, I didn't think to shoot a video myself).
Leaving the Urbanspace, my afternoon terminated with being in front of two 20-something women, having an animated discussion about a restaurant and its sommelier, I didn't catch the names of either, with, "She's one of the best in the world. She's got her federal sommelier license from the government and everything. Also one of the world's best performance artists." I just couldn't bring myself to stop them and ask….