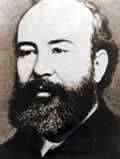 P.G. – Pedro Goyena, was this guy. Way back in Argentine history. He was big in politics, academia, and especially, in the Catholic Church. He led the fight against the secularization of public education, demanding that all public schools be Catholic, and non-mandatory, so that they'd only be for those who could afford to attend. After all, Argentina didn't need an educated non-Catholic populace, nor underclass, who might have their own ideas about how things should be run. In like vein, he also led the fight against the Civil Matrimony laws, those that allowed for marriage ceremonies to be performed by justices rather than priests, and, further proposed that the only legally recognized marriages in the country be those performed in Catholic churches. Pretty much, none of what he wanted to have happen happened (I'm not sure if he was involved in the requirement that the president and vice president by Catholics, which was the law of the land until 1994). He did get a street named after him in the barrio of Caballito, and it's home to a scattering of eateries that caught my eye as I explored the street on my recent fainazzeta trek, and then ventured back to try them.
---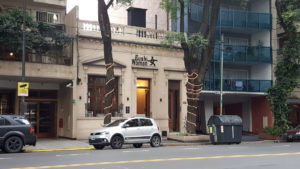 Sushi Woman, Av. Pedro Goyena 1469 – I hadn't headed here, I just happened to be walking by and spotted it. I mean, how could I pass up a place that looks like this and with this name?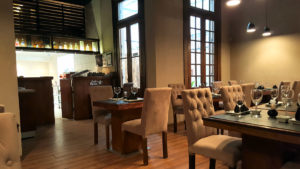 Surprisingly elegant inside. Very comfortable. Friendly staff.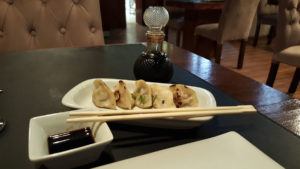 An order of gyoza, lightly charred, beautifully done. I mean, I still don't get why gyoza are so much more expensive than kuotie, the Chinese equivalent – maybe it's just the value that Japanese cooking has in the eyes of consumers over Chinese. But five little, albeit delicious dumplings, run 100 pesos.
Mildly disappointing the octopus sashimi – decent sized slices but they tasted watery – as if they've been stored in cold water. Also pretty chewy. 100 pesos for 4 slices too.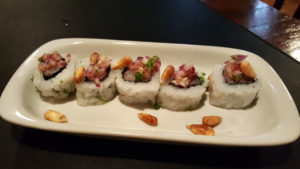 On the other hand, the one half-roll that I tried, a "ceviche roll" was one of the best of the type I've had – perfectly cured white fish in a tangy, slightly spicy leche de tigre, topped with finely diced red onion and cilantro, and a scattering of toasted cancha (corn). At 130 pesos for a half roll it's a little pricey, but I wasn't hungry enough for a full roll of 10 pieces at 180, a better deal. A place to return to and try more.
---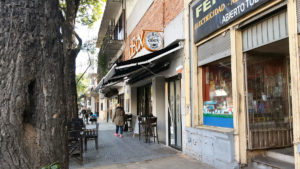 dBox, Av. Pedro Goyena 515 – The whole craft beer explosion here has spread way beyond its ground zero of the touristy sections of Palermo. Just along the 18 blocks of this avenue, and within a block either side, I counted seven dedicated spots, and I wasn't even searching. This one mostly caught my attention because it took over the space that I was originally headed to as noted above, an old, traditional parrilla that was famed for both its meat and its seafood parrilladas, or mixed grills.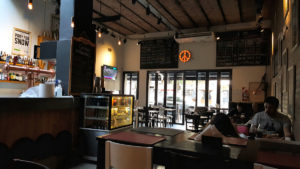 A bit dimly lit, but comfortable. Friendly staff. Impressive selection of beers – around a dozen on tap, all various national craft beers, and also a list of 50+ international beers in bottle or can. I ordered up an excellent Kellan Irish Red on tap, and…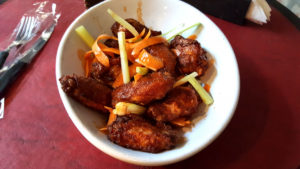 …an order of their hot wings, described as a Latin American version with a lime juice and soy marinade, then fried, and then coated in a rocoto chili sauce. Absolutely delicious. Just barely brushed with a hint of the rocoto chili sauce, but flavorful on their own, and a request for a ramekin of the sauce was immediately honored, with the traditional porteño warning of "it's super picante, be very careful". Between the wings and saving it for the fries on the next dish, I used the whole ramekin. (120 pesos)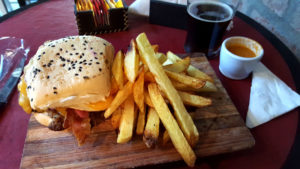 A dozen different burgers on offer, from classic to some creative versions, like a Thai green chili burger. I decided to go with the house burger, the "dBox", a 150 gm (6-7 oz) patty, cooked just a trifle past medium, topped with crisp bacon, red onion, roasted plum tomatoes, american cheese, and a runny-yolk egg. Great housemade burger roll, which held up all the way through. Delicious all around. The fries, unfortunately, were a bit under-cooked, still having a bit of crunch in the center – probably just single fried rather than double. (150 pesos)
Overall, nice place, comfortable, great hot wings, great beer selection, quite good burger, they need to work on the fries. Recommended.
---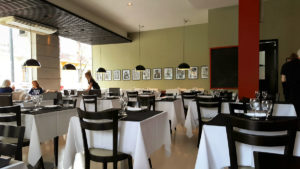 rosso di sera, Av. Pedro Goyena 199 – Moderately elegant looking Italian spot on the corner of Doblas. It might be a touch more elegant if the owner wasn't stomping around in a frayed sweater and dirt smudged jeans, with clouded countenance, staring out the window. I'm guessing it was the lack of diners, but hey, a holiday weekend, chilly outside. Still, a little warmth would have been nice. On the other hand, the waitstaff were friendly and cheerful, which did much for countering his glares.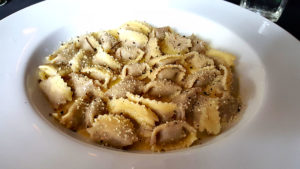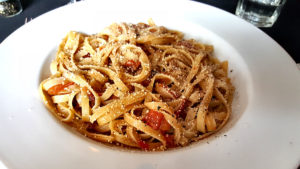 The menu is simple, straightforward, Italian food. A short page of antipasti, mostly for sharing, a selection of half a dozen pastas and a risotto, and then a quartet of main courses, covering fish, chicken, beef, and pork. None of the latter really grabbed me, so I decided to make a lunch out of two pasta appetizers.
So, first off, some of the pastas are not made in-house – and the menu specifies which are which – the ones that are made from boxed dried pastas state that they're Colavita brand. The delicate meat-stuffed plin, a type of agnolotti from Piemonte, which are made in-house, were offered up with a sage butter sauce. A perfect start. It came with a rosemary butter sauce. I didn't mind at all, but it's just a mildly surprising change and probably should have been mentioned, as it's obviously a quite different flavor. (160 pesos)
Too, the tagliatelle with amatriciana sauce, listed as a fresh tomato, guanciale, and parmesan sauce, didn't come with guanciale, which is a cured but not smoked pork jowl, but rather was stoked with heavily smoked pancetta, basically bacon. It didn't make it any less delicious, and I mopped up every last drop. And, while guanciale may be the most "authentic" or at least traditional, there are plenty of folk in Italy who make amatriciana with pancetta. It's more, don't put it one way on the menu and then serve something else just because you can't get it. Some of us do know the difference. (150 pesos)
Overall, like the room, the service was excellent, and while I have a strong preference, as many folk would, that the menu state what's actually being offered (or the waiters let you know that there's a substitution going on), it didn't take away from how good both pastas were, and I'd happily return. The owner could use a touch of sprucing up and a smile on his face. Recommended.
---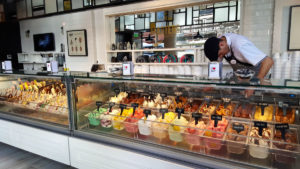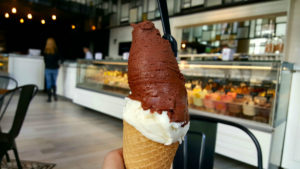 Lucciano's, Av. Pedro Goyena 1602 – Bright, airy, cheerful, smartly decorated, well designed. This spot is serving up what I'd put as more classic Italian gelato than the more ubiquitous Argentine helado, which falls somewhere between gelato and ice cream. More limited selection of flavors than at many places, but tried several tasters, and then settled on lemon pie, which really tastes like a lemon meringue pie, and the house chocolate Lucciano, a dark, creamy chocolate. They also have a large selection of ice cream bars – fudgsicles if you will (they call them "icepops". Friendly service, some of the best gelato, or helado, I've had in town. Well worth the trip and the premium pricing (a cone like this runs 80 pesos). [6/6/17: Apparently, they're opening a new branch near me in Recoleta at Larrea 1557!]
---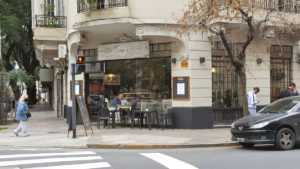 Miro, Av. Pedro Goyena 1701 – Cute little neighborhood café, offering up a tasty range of the usual suspects in the local pastry world. Staff, a little stand-off-ish, but efficient, at least.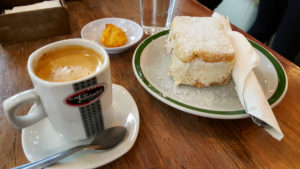 A café americano and a postre balcarce, which I mentioned in a recent Bite Marks post. This one, quite different. Three layers of vanilla sponge cake, rather firm, the bottom two sandwiching a thin layer of dulce de leche, then the next layer up, a very thin coat of what I'd guess is sweet chestnut paste, no meringues, a thin coating of whipped cream around the outside, and then a heavy dusting of sweetened grated coconut. Okay, no better than that, and only a nod at faithfulness to the original. Okay coffee. 100 pesos combined. Meh. What can I say, they can't all be winners.
Off to NYC and Boston later today. Food and frolic to come.