Chop Suey continues! And probably a last restaurant round-up prior to heading out on a mini-vacation to NYC and Boston this coming weekend.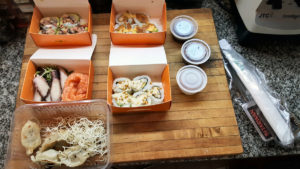 Boken, Julian Alvarez 1391, Palermo – A new one that popped up on everyone's fave online delivery app, PedidosYa. Doesn't mean it's new, but just hadn't seen it pop up with delivery to this area before. Pretty good sushi – good quality fish, nice and fresh. Rolls well made. However, prices are pretty high (and without the discounts offered by the app, wouldn't have been worth it). A mere four good but no better than that pork and garlic chive gyoza run a whopping 100 pesos, that's 25 pesos, or a trifle over $1.50 per dumpling. Most rolls run around 160 pesos ($10) for a full roll or 100 pesos for a half, and 5 slices of sashimi run around 130. But, the app, depending on the day of the week, brings those down by 20-30%, making it a pretty decent deal. Definitely puts the place on a "to visit" list – though, then again, that would negate the app savings….
---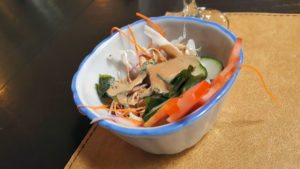 Shokudo, Defensa 910, San Telmo – I gave a short review to this place a couple of years back, talking about "lunch deals". My first reason for coming back was to add to the growing list of dumpling reviews. But here, again as above, the gyoza are ridiculously priced, at 140 pesos for just 5 dumplings, even if they are salmon rather than pork. However, you can choose them as the appetizer part of the lunch special, and get 3 of them, included in a multi-course lunch that only runs 190 pesos total. And just look at all that's included at that price – a fresh, vibrant salad with a sesame vinaigrette, three pieces of well made sushi, the trio of dumplings (other options are available), a bowl of miso soup, a bowl of rice, your main course (I chose the tonkatsu pork – excellent, and a very good sized portion – though coming with a repeat of the exact same salad that the meal starts with was a bit of a letdown), a beverage (bottled water or soda), and tea. That's a damned good deal for that price, especially for the quality, and that the lunch special price is barely over the price of any of the main courses ordered a la carte.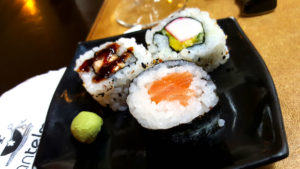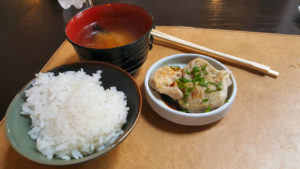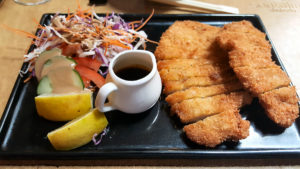 ---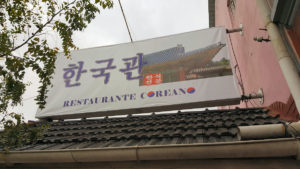 Han Guk Kwan, Saraza 2135, Flores – Adding to the comprehensive sweep we're making of the two Koreatowns, a visit with Steven and a friend of his to another asado coreano – the classic barbecue, that so many of the Flores Koreatown spots offer on the weekends.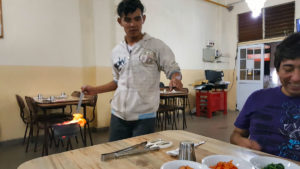 Pluses? Two really cute waiters, one of whom is pictured above – we agreed (or maybe just I agreed) that of all the Korean restaurants we've been to, these were the cutest ones – oh, and this one flirted regularly through the meal.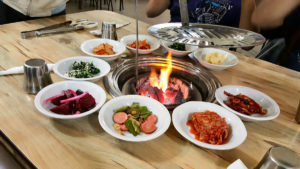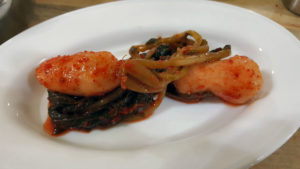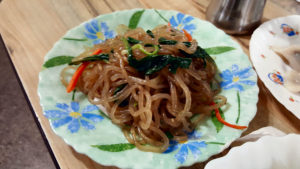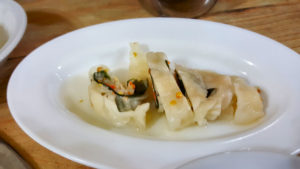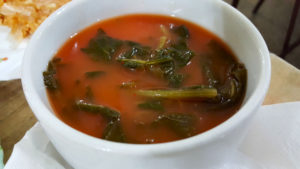 A huge variety of both ban chan and side dishes, particularly vegetables – more than any other spot we've yet been to. And, most of them really good.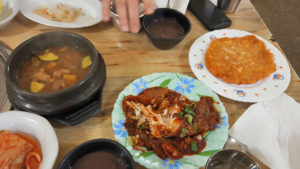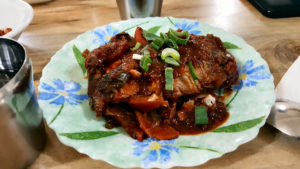 One of the best soups, and one of the best fish side dishes (a mildly spicy barbecued fish), we've had.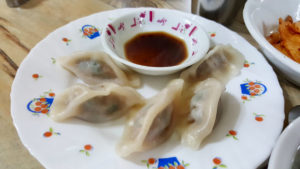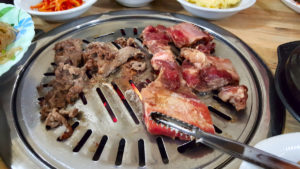 Negatives? The dumplings kind of sucked – chewy and thick and not a whole lot of flavor. The meat offering for the grill consisted of thin shavings of beef in a rather sweet marinade, and fatty shortribs on the bone that were mostly bone.
Overall, for me, while I liked the place, atmosphere, waiters, and the array of dishes, given that the meat at a grill meal ought to be the star, this one just garners an average rating for me.
---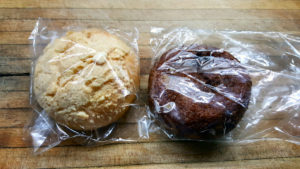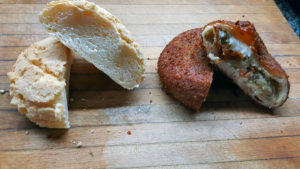 Manna, Av. Carabobo 1572, Flores – Just across the corner is a small pastry shop specializing in Korean pastries. I decided to pick up a couple to take home. I specifically wanted something sweet, and asked about the traditional sweet red bean (adzuki bean) paste ones, and was pointed to two, one baked, one fried. The baked ones turned out to have no filling, the fried ones turned out to be a savory rather than sweet paste made from dehulled red beans, mixed with herbs, carrots, and onions. Not exactly what I was looking for. I need to have the Korean names of the ones that I actually wanted with me rather than tucked on a scrap of paper back home (then again, I could have pulled up Wikipedia and grabbed the names quickly if I'd been thinking on my feet). Both buns, by the way, delicious, even if not what I'd planned on.