Okay, okay, I'm going to continue these, and the Chop Suey entries – just fewer of them, and more longer individual reviews like I've been doing the last week or two. Just too many spots that get a quick look and then a simple thumb up or down that don't necessarily merit a full review.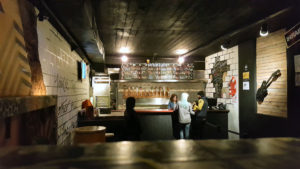 Back in Black, Azcuénaga 1920, Recoleta – Craft beer bars, as anyone with their eyes open here knows, have become the thing over the last year or two. Opening up just around the corner from Drafter's (formerly Crafters), this dozen-tap bar offers up a decent selection of interesting beers. They change regularly, as they should, and the bar also offers up food (which I have yet to try) – the typical sorts of things, burgers, sandwiches, nachos…. And, back around the corner on Vicente Lopez, next to Drafter's, there are two more spots that appear to be ready to open imminently. This little strip could quickly become a craft beer enthusiast's heaven.
---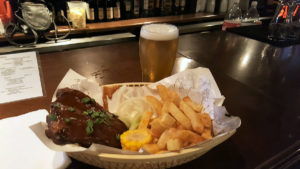 El Tejano, Uruguay 1175, Recoleta – Everyone's favorite smoked meat and Texas style barbecue house has uprooted itself from it's location on Honduras in Palermo and headed crosstown to the lower floor of norteamericano sports bar El Alamo. That's a very good thing for a lot of reasons. First, it means El Alamo now has really good food instead of the swill they used to serve. Second, there's more space to get your bbq groove on. And third, it's a short walk from home. Prices at lunch are a bargain, with, depending on which bbq plate you pick, garnering you a basket with your meat, some veggies (no fork to eat them with, a little odd), fries, and a pint of craft beer, for around 180-220 pesos.
El Alamo continues to operate in the evenings and on into the wee hours – if I understand things right, El Tejano serves lunch on through until about 10:30 p.m., then shuts down, and the bar reverts to its hard drinking frat boy stylings. The upstairs isn't open for dining (at least at lunch), but rumor has it that continues to be a place for those who want to pick up some entertainment to take home at the end of the night, for a price.
[Edit: A visit a couple of months later with my aunt who was visiting, and was in the mood for barbecued ribs. We ordered the sampler platter (500 pesos) which according to the menu comes with 4 ribs, 4 chicken wings, 4 slices of brisket, 2 chorizos, 2 corn, and a pile of french fries. Our mix was slightly different, with only 1 chorizo but 2 extra each of wings and ribs, so we weren't complaining. We almost made it through the entire platter too! Comes with two pints of draft beer – a limited selection of Isenbeck, or two unnamed craft beers, an APA and a Stout, which neither our waitress nor the bartender seemed to know the breweries for, which seems a bit odd – I mean, just look at the barrel under the tap… oh, this time we got silverware too. Still great food, still iffy service.]
---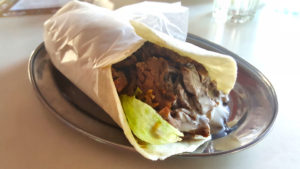 Cartago Comida Arabe, Av. Raúl Scalabrini Ortiz 1603, Palermo – Not actually new, just a new name as it turns out, this place was formerly Haysam. The counter staff asserts that all is the same – owners, cooks, them, the menu, the food. It's not. Maybe the owners and staff are, but the menu is certainly different, and at least the shawarma is as well. It's actually quite different – past visits to Haysam always had the meat, albeit on the rotisserie, carved off in teeny pieces and sauteed on a grill top. Now, it's properly roasted and charred on the spit. It's served up with a decent amount of lettuce, tomato, and onion, mostly the first of those. Yogurt sauce is slathered on, no tahini sauce, nor hot sauce, were available the day I visited, though I gather that they usually have them. Decent, but nothing special. (60 pesos)
---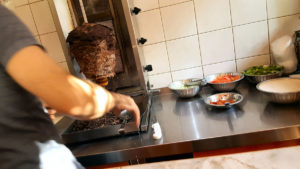 Arabisk, Billinghurst 2107, Palermo – On the other hand, this place, formerly a branch of the small chain Ararat, is under new ownership as of three months ago, with new staff, and a menu overhaul. Extra thin flatbread, lightly grilled, good quality meat coated in baharat, tahini sauce, yogurt sauce, and a rocking good hot sauce available. A little light on the veggies, but enough to taste. Quite good, and for the heart of Recoleta, not bad at 75 pesos.
---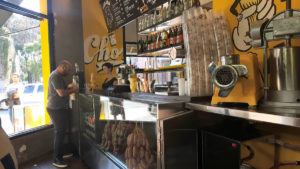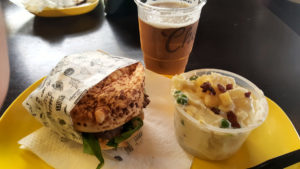 Chori, Thames 1653, Palermo – Oh boy. I want to like this place a lot more than I did. It's a sort of spin-off of my favorite steakhouse, La Carniceria. The idea being a selection of high quality, housemade chorizo sausages (pork, lamb, boar), grilled up and served in choripan form. It's good, no question, but it's not as good as all the hype might lead one to believe. The chorizos could use a bit more umph, though I do like the toppings they come with. The bun is good. But the lack of wow factor, and the 15+ minutes it takes to get your sandwich don't justify the 95 pesos price-tag. A side order of potato salad (40 pesos), stated by the counter girl as ensalada rusa, was very bizarre mixture of boiled potatoes, diced sugary pineapple (canned?), bits of bacon, and a completely unseasoned mayonnaise – not a lick of salt or pepper or mustard or anything.
---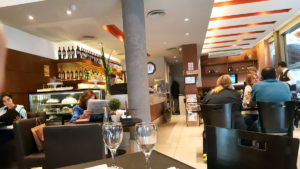 Azania, Agüero 2298, Recoleta – And let's finish up with a neighborhood cafe with casual Argentine fare. For some reason Google seems to think this place is a pizzeria, which is why I headed there. It's not. I think they may have a couple of basic individual sized pies available on the menu, but it's mostly things like lunch steaks, milanesas, empanadas, and salads. I'd also venture that the majority of customers seem to be just there to use it as a cafe.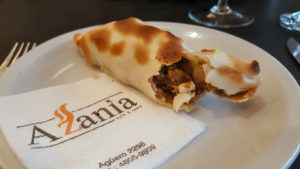 A decent empanada, though nothing special – a bit of ground beef, some onions, some seasonings, some chopped egg.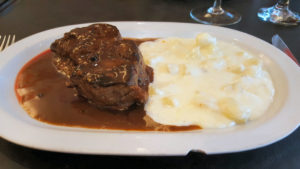 I'd wanted the slightly unusual dish of mollejas a la pimienta – sweetbreads au poivre, so to speak – but they didn't have any sweetbreads in house, so I got lomo, which is sirloin steak. Not exactly what I was expecting, nor ordered. Properly cooked steak, medium rare, though it hadn't been rested, so it was "bleeding out" into the sauce. The sauce was just odd – as a guess, some sort of thickened beef stock (cornstarch giving how glossy it was) with a lot of pepper in it, and rather bitter. The papas a la crema were some scattered bits of undercooked potato in a liquidy bechamel sauce, unseasoned. That's a pass.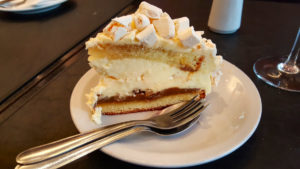 I decided on a classic local dessert, a postre balcarce. Originally called a postre imperial, it was "invented" in the Paris pastry shop out in the province, in a small town called Balcarce, somewhere towards Mar del Plata. It was renamed by someone who bought the original recipe from the pastry shop when they closed, and in fact, there's now a chain of Postre Balcarce shops all over the place. I've not tried it from them – they're not cafes, they offer prepacked shelf-stable versions of the dessert, so clearly not the original recipe.
The original was, apparently, a cake made from layers of sponge, dulce de leche, candied sweet potatoes, walnuts, meringue, whipped cream, and coconut. The version I learned in pastry school was different, being a sort of charlotte of vanilla ladyfingers, peaches in syrup subbing for the sweet potatoes, no coconut and no walnuts. This version had two cake layers sandwiching a whopping amount of whipped cream, a thin layer of dulce de leche, some candied walnuts, buttercream frosting, and topped with dried meringue. It was good – actually the best thing I ate at Azania – and gave me thoughts of doing a quest for the best postre balcarce in town, but thoughts of what that would do to my waistline and blood sugar relegated that idea to the bin.
Overall – café atmosphere, good service, average food, slightly pricey for lunch, though really not bad, and at dinner the price would have seemed more reasonable – with a bottle of water, a glass of house wine, a coffee, and tip, this came in at 600 pesos.