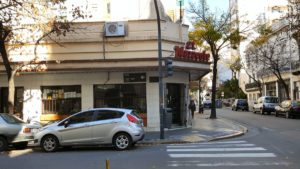 A jumble, a hodgepodge, a mishmash, a patchwork, a medley, and more. There's no really direct, exact translation for El Mazacote, though all of those basically come close. Then again, within certain circles, it's the word used for concrete, which is certainly a type of one of those, being a mass of pebbles, sand, and cement. It's the word for a work of art or architecture that doesn't quite all come together right. In gastronomic circles it's the word for a doughy food that's some combination of dry, sticky, and/or heavy. It can refer to a person, someone who's annoying by virtue of being a bit of a downer, a party-pooper or buzz-kill so to speak. Also a slang word for soda, which seems to defeat the purpose of slang, which is usually shorter and simpler, though I guess the Spanish word of gaseosa, might be of equal complexity. Don't even get me started on its gender oppositional definitions in Cuban and Puerto Rican street slang.
All of this was unknown when we found our way to this well loved pizzeria at Chile 1400, corner of San José, in Monserrat. It does leave me wondering why anyone would want to name their business this – in general it seems to have a somewhat negative leaning meaning.
The clientele are pretty much all regulars, all the time, and people seem to occupy tables for hours at a time. At lunch it's heavy on a local businessmen crowd. The menu is straightforward – pretty much pizzas and empanadas – though there are some gems on there if you know what to look for.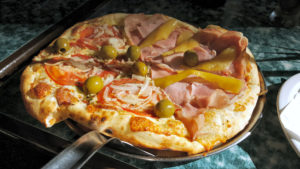 On a first visit it was a pizza, split half and half between what's often called a Victoria here, though El Mazacote doesn't give it the moniker, just offering up "bacon and pickled peppers" – one of my personal favorites. Despite panceta, or bacon, being listed right there on the menu, what arrives is ham and pickled peppers – still tasty, and a really good quality ham, but not quite the same. The other half, the classic local Calabresa, with its mildly spicy longaniza and slices of tomato. The verdict? Really good crust, though it could have used another minute in the oven to get just a touch browner and crisper. Good cheese. Good toppings. All around, one we'd happily eat again.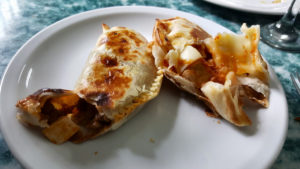 A second visit, solo, and to try a few things that have been cited in one spot or another as the standouts on the menu. First a couple of empanadas (sorry about the messy look – I was trying to tear them open so you could see the filling inside – it looked good on the phone, but not so much on a bigger screen). The spicy beef empanada on the left actually had a real kick to it, one of the few carne picante ones I've had in town worthy of the name. On the right, a twist on the usual pollo, or chicken, which are usually chicken and either egg, potato, or some sort of vegetable, all bound up in a bechamel sauce. In this case, it's pollo a la portuguesa, the "Portuguese sauce" being a mix of bell pepper, tomato, onion, garlic, and herbs. The dough on both was near paper thin – and had a nice crisp texture to it. Both empanadas are among the best I've had in town.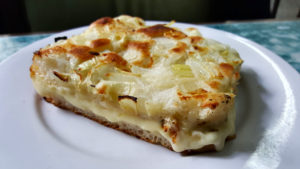 The fugazzeta here tends to get high marks as well. I'll say it was good, but not among my favorites. It's, obviously, a square slice, with two fairly thick layers of doughs sandwiching mozzarella, and then the top is a nice layer of slivered onions. It just needed more something – a little more seasoning, a little more onion, a little more browning.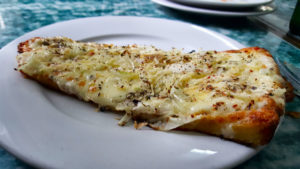 But the one that gets the highest raves from El Mazacote's supporters is its fainazzeta, an uncommon, though certainly not unknown offering at local pizzerias. Fainá is a chickpea bread that I've mentioned many a time before, often served as either a side or a topping to regular pizza. It's basically chickpea flour, grated cheese, and water – and usually the only thing in local pizzerias that those who are going gluten-free can eat. But it's rarely topped with anything, and often served just room temperature. Here, it's slathered with tomato sauce, then a layer of mozzarella, a scattering of onions, a good grating of parmesan, and a dusting of oregano, and served piping hot. It is, indeed, a tasty bite, and puts me in mind of a possible quest – after all, I've said I wanted to go after something Argentine for my next quest.
So, locals, expats, send me your suggestions. Who has the best fainazzeta in the city?
Overall, like the place. Service is friendly and efficient. The pizza offerings are good to very good. The empanadas are among the best I've had here. And it may be the origin point of a new quest. If it was close to home it would be a regular spot at which to have a bite when I was in a pizza mood.