9-12 Mayo 2017 May 9-12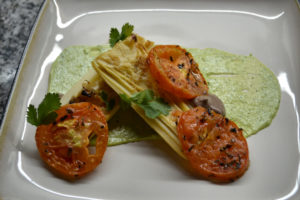 "Amazon" Salad – Guacamole puree; roasted palm hearts topped with cooked amaranth in chili oil; herb roasted tomato slices; cilantro
Ensalada "Amazónica" – Puré de guacamole; palmitos asados con amaranta en aceite de ají; rodajas de tomates asados con hierbas; cilantro.
Bodega Chandon Rosé Brut, Luján de Cuyo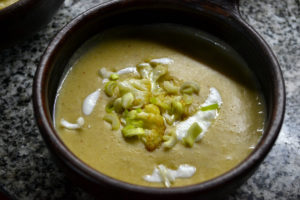 Hummus Soup, Seared Cauliflower – Puree soup of chickpeas, onion, garlic, potato, tahini, lemon zest and juice, smoked chili (merquén), parsley, salt, white pepper, vegetable stock; cauliflower lightly charred in butter and olive oil; salted yogurt.
Sopa de Humus, Coliflór Dorado – Sopa en puré de garbanzos, cebolla, ajo, papa, tahini, cascara y jugo de limón, ají ahumado (merquén), perejíl, sal, pimienta blanca, caldo de verduras; coliflór dorado en manteca y aceite de oliva; yogúr salado.
Mendel Semillón 2014, Luján de Cuyo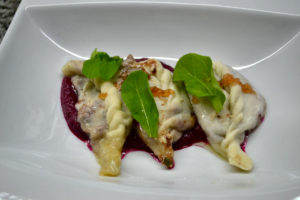 Steamed Morcilla and Goat's Brie Dumplings – homemade wonton skins filled with morcilla sausage, goat's milk brie, and garlic chives; puree of boiled beets with black truffle oil, salt, black pepper; raspberry vinegar fluid gel; arugula.
Empanaditas al Vapór de Morcilla y Brie de Cabra – tapas caseras wantan rellena con morcilla, queso brie de cabra, y ciboulette chino; puré de remolachas hervidas con aceite de trufa negra, sal, pimienta negra; gel fluido de vinagre de frambuesa; rúcula.
Saurus Barrel Fermented Pinot Noir 2011, Neuquén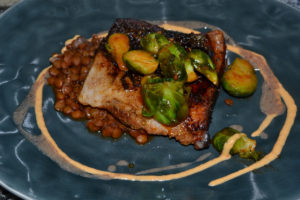 Beer Braised Pork Flank, Lentils & Brussels Sprouts – pork flank coated in mixed herbs, mustard seed, panka chilies, garlic, salt, pepper, and braised in beer for 6 hours in a low heat oven; lentils cooked with bacon, tomato puree; brussels sprouts caramelized in butter, sweet wine, smoked mustard, tomato paste; tahini sauce (tahini, apple cider vinegar, molasses, sesame oil, garlic); tomato sauce (emulsion of tomato, shallot, thyme, rice wine vinegar, corn oil).
Matambrito Braseado en Cerveza, Lentejas y Repollitos – matambrito cubierto con mezcla de hierbas, semillas de mostaza, ají panka, ajo, sal, pimienta, y braseado en cerveza durante 6 horas en horno de temperatura baja; lentejas cocidas con panceta, puré de tomate; repollitos de bruselas acaramelizados en manteca, vino dulce, mostaza ahumada, pasta de tomate; salsa tahini (tahini, vinagre de manzana, melaza, aceite de sésamo, ajo); salsa de tomate (emulsión de tomate, echalote, tomillo, vinagre de arróz, aceite de maíz).
San Huberto "Nina" Gran Petit Verdot 2010, La Rioja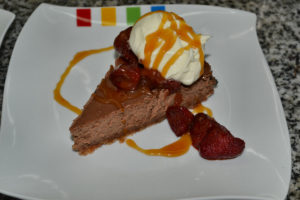 Chocolate & Stout Cheesecake, Strawberries in Molasses – crust of serrano ham potato chips, butter, sugar; cheesecake of homemade cream cheese, chocolate, stout, eggs, sugar; strawberries roasted in molasses and vanilla; whipped cream; caramel syrup.
Cheesecake de Chocolate y Stout, Frutillas en Melaza – masa de papas chips sabor jamón serrano, manteca, azucar; cheesecake de queso crema casero, chocolate, stout, huevos, azucar; frutillas asados en melaza y vainilla; crema batida; járabe de caramelo.
Familia Zuccardi "Malamado" Malbec, Maipú