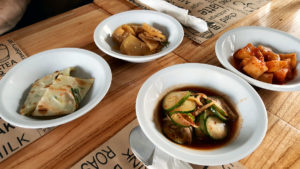 "Kimchi? We don't serve no stinkin' kimchi."
Okay, it's not what she said, but it's pretty much what I heard. The ban chan had been placed on our table and beyond being a paltry selection by comparison to most Korean restaurants around, it included not just no fermented spicy cabbage, but no fermented spicy anything. A few scraps of scallion pancake, some overcooked bland potato slices, cucumbers doused in vinegar and soy, and some crunchy daikon which made a vague stab in the direction of picante with a dusting of chili (we were warned it was "super picante even for Koreans"). I asked about kimchi. No, they don't serve that here.
"Here" is Mr. Ho Food & Drinks, Morón 3492, Floresta. I'd had high hopes for the place. It's modern looking, sleek, has a sort of mildly industrial brushed steel and polished wood look to it, a small downstairs area where you enter, and a naturally well lit dining room above. A young, enthusiastic staff had greeted me the first time I poked in, just to see the place, and told me a little about their modern twists approach to traditional dishes. A vibe similar to Korean gastropub Kyopo, which I've liked so much on several visits. So Steven, I, and a friend of his met up for lunch to check it out.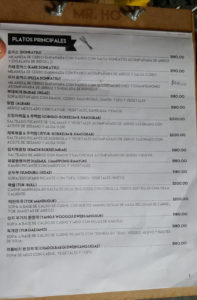 The menu is short, and fits the theme. There are no appetizers, just a shade over a dozen main courses. It's Korean with some clear Japanese influence. And, it all sounded delicious. We ordered up a bunch of things to share and prepared to dig in.
And then the kimchi incident. And we sampled the ban chan. And I said to Steven, "I hope the rest of the food is better than this."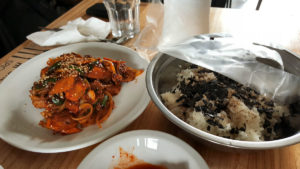 Dishes arrived one at a time, anywhere from 5-10 minutes apart. First up, the spicy sauteed pork shoulder accompanied by rice flavored with sesame and seaweed. Another one we were warned was super picante. It wasn't. It was nicely flavored, well cooked, and a decent portion. An awful lot of rice to accompany it – more rice than the stir fry. And it comes with a plastic glove so that "you can mix the pork into the rice and mash it all together with your hand the way it's done traditionally". What? Why? What? No, no they don't. (Should I note that neither of the waitresses were Korean?) (200 pesos)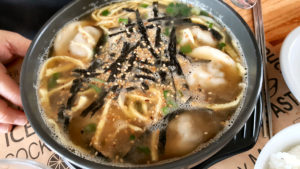 Dumpling soup, because, as you know, dumplings. And it's the only way they serve dumplings here, because, as I mentioned, no appetizers. The mandu themselves are reasonably tasty and well formed, though as dumplings in soup often do, are starting to fall apart because they've been mucking about in hot broth too long. And that broth. Does it have flavor? No, not so much. It has the air of having flavor, but not the actual stuff itself. Perhaps someone languidly dipped a bouillon cube in it for a moment. It is prettily garnished with shreds of hard cooked egg, seaweed, and sesame seeds. Oh, and inexplicably, this soup was served with a bowl of rice. No glove or mashing involved. (200 pesos)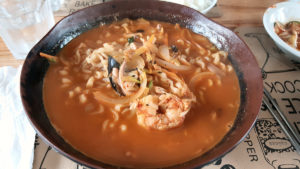 The Japanese influence comes in with a version of champon ramen, the classic regional style of Nagasaki. In truth, the style is inspired by a combination of Korean and Chinese noodle dishes, so that influencing is a bit circular. Traditionally, "Champon is made by frying pork, seafood and vegetables with lard; a soup made with chicken and pig bones is then added. Ramen noodles made especially for champon are added and then boiled." This version had a moderately spicy chili broth, lots of overcooked, limp and pasty noodles, one shrimp, four mussels, and a few pieces of calamari, all way overcooked. It reminded me of a spicy instant ramen pack that's been boiled to death, except, no kimchi. The broth, however, did provide a nice flavor to add to the dumplings from the soup above. (150 pesos)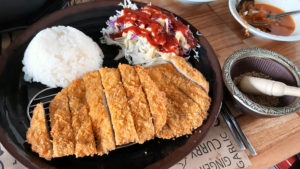 Maybe I should have been wary given that the house specialty seems to be donkatsu, a breaded pork cutlet that's a Japanese adaptation of European cuisine from the 19th century. They offer three varieties, plain (as here), in curry sauce, or, in what amounts to an Argentine pizza milanesa version topped with bell peppers, mushrooms, and a load of melted cheese (which, our waitress informed us, is far and away the most popular dish on the menu, which ought to have really made me wary). It was a perfectly good, crispy fried cutlet. Sticky rice. Shredded cabbage topped with sweet mayonnaise and ketchup. (180 pesos)
It was also accompanied by a little dipping sauce that required us to grind some sesame seeds in a little Japanese suribachi, a mortar with ridged sides, while the waitress squirted in a vaguely ecru colored sauce that turned out to be a sort of sweet goop tasting of heavily sweetened spaghetti sauce from a jar. Traditional tonkatsu sauce from Japan is basically a thick Worcestershire. We asked for hot sauce, she brought a bottle of tabasco. We asked if there was anything Korean, she brought "bibimbap sauce", which turned out to be a honey and gochujang blend, as a guess.
I did forget to ask just who Mr. Ho is or was.
Nothing was blatantly bad, but there are so many better places to eat within a couple of block radius, let's just leave this one at "Ho no"….