I know, I know. I just gave you my potentially last Bite Marks yesterday, and here I am already serving up a Chop Suey. Which, too, while by no means am I stopping checking out Asian restaurants and a lot of dumpling diving, I'm thinking about new formats for short reviews, so this might be the last of the Chop Sueys as well. We shall see. I may just chuck all these musings in the bin and continue both. Either way, clearing the decks of things that I've been adding to a bit at a time.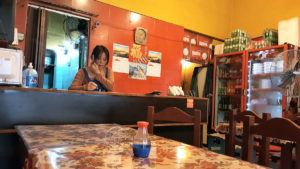 Cuñada Lin, Pres. J.E. Uriburu 165, Once – A little hole-in-the-wall space. Interesting, for dining in, they have just two large communal tables, each seating roughly ten, and people do seem to share them, unusual for BA. Mostly, however, they're doing takeout and delivery business.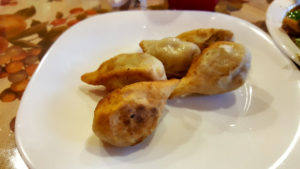 They were short on the dumplings the day I visited – only having five left in-house out of an order of ten, but offered up that if I wanted, they'd make me a half order and charge half. Decent dumplings, cooked well, nicely flavored, mix of pork and green onion in the filling.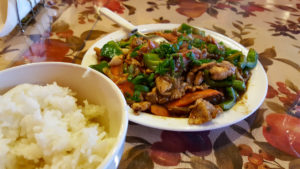 A rather good kung pao chicken, with plenty of vegetables, and a good hit of spice to it. Not over the top, sweat inducing, but enough to make me happy. In fact I apparently looked so happy that a young man who came in to order a fried rice dish was watching me and suddenly changed his order, saying, "I'll have what he's having". And he dove into it with gusto as well. I'd go back again, and if I lived in the 'hood, it would be on my list for regular takeout orders. Actually, given that they're on our street, just at the other end of it (14 blocks straight down), I should pop back and ask if they'll deliver to here.
---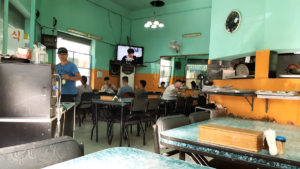 Singul Bongul, Morón 3402, Floresta – The name basically means "with a smile". On my first visit, I came away doubting the veracity of that statement. My waiter was abrupt at best, and the woman behind the counter did little more than stare at things on the desk and gave a bare grunted acknowledgement of my existence, on entry, paying, and leaving. On my second visit, a few days later, she looked up, apparently recognized me, and beamed one at me, and even got up and came over to the table to talk about options for what to eat, and gave me an enthusiastic thanks for coming again when I left.
Traditional dishes rule the menu. It's extensive – two packed pages, two columns each, of one-person dishes, plus another page of shareable "hot pots" of various sorts order-able for 2 or 4. I've only tried a couple of dishes so far. One negative, well, maybe not a negative, but, no appetizers on the menu, it's all main courses. No dumplings. (sad face emoji)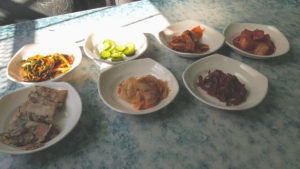 The ban chan are pretty good – decent cabbage and turnip kimchi, and quite good pickles were the winners of the bunch. It's kind of nice to have scallion pancakes included right there, you don't even need to order one!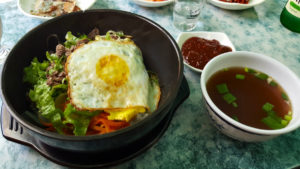 The dolsot bibimbap was good, not great. The whole idea behind the "dolsot", or stone bowl, is that it's piping hot and continues to cook the rice in the bowl to create a little crunchy crust that you then mix in (at least I think that's the whole idea). Otherwise it's indistinguishable from the regular bibimbap served, typically, in a metal bowl, sometimes ceramic. At least they're not charging extra for the stone bowl, but this was, at best, very warm to the touch.
A good selection of vegetables, perhaps a little dominated by shredded lettuce. The meat, instead of the usual thin strips, was chopped almost to the point of ground beef. The egg was cooked past the runny point, so not useful for mixing through the dish (often, it's served raw, and cooks just from the heat of the dish and bowl). Flavors were delicious, but I was missing some of my favorite textures for this dish. And texture is part of the experience.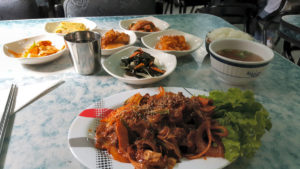 Better, on a second visit, the spicy stir fried pork, which had a really good kick to it, absolutely delicious and one I'd happily order again. And, interestingly, a completely (other than basic kimchi) different selection of ban chan to accompany the meal. That's a nice touch, and a rarity from what I've seen at the Korean restaurants here in town. There's also that little bowl of soup served with all main courses, as a finale to the meal, another nice touch. Prices on main courses range basically between 150-200 pesos, so $9.50-12.50 at today's exchange rates.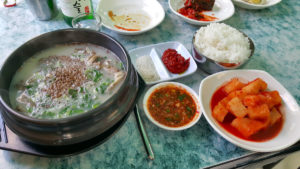 [Edit] And, a third visit, down the road, solo again, and a bowl of sundae-guk – basically blood sausage soup. It's a soup of various innards – bits of cartilage and other sorts of things, and inch-long sections of sundae, which is the Korean version of morcilla, black pudding, boudin noir, whatever you want to call it – it's quite different from either the European or Latin American versions, being packed with rice and noodles, and just enough pork and pork blood to hold it together. The soup is served classic style, with condiments to add to your own tastes, rice to add as you wish, and pickled daikon to cut the richness. Quite possibly the best version of this soup I've ever tried, not that I've had it that many times….
---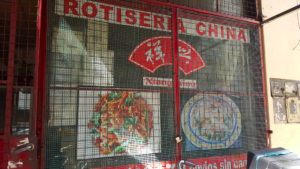 Xiang Xing, Solís 714, Monserrat – Takeout and delivery only spot. The name, if I got the overly stylized characters right, and it makes sense, means "auspicious beginning". Friendly folk. Menu pretty basic – mostly the sort of fried rice, chop suey, chow mein sort of dishes, with very few others.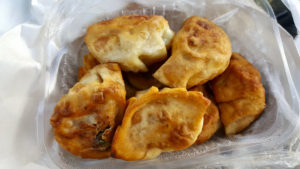 I was just passing by and thought I'd grab some dumplings. They offer them boiled, deep fried, or griddled – I ordered the last, though I'd say they're wok fried, just not completely crispy like deep-fried. The dough a little thick and slightly chewy. The filling was a very pleasant surprise – it's at least half grated cabbage flecked with finely diced carrot and chopped green onion, and just enough pork to bind it all together. Juicy and tasty and all around one I'd like to eat again – and one of these days might stop by and pick up something else to go, either to bring home, or go sit in a nearby plaza (Congreso's just a few blocks away).
---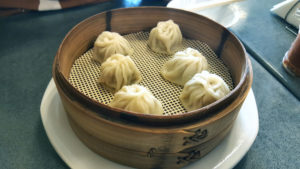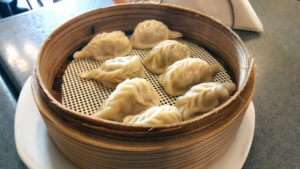 Restaurante Mian, Mendoza 1725, Belgrano (Chinatown) – Actually, the name of the place in Chinese is lao jie mian guan, which translates to "old(er) sister noodle house", and it is, indeed, a noodle (mian) house, in particular, though I didn't try any, noodle soups of various sorts. We started off, of course, with dumplings, both types steamed, the first referred to as empanaditas chinas, the second as ravioles chinos, the first light, delicate, shumai style with a pork and chive filling, the second a little thicker, and in need of another 2-3 minutes of steaming, and filled with a very gingery pork filling. Give me the wrappers from the first and the filling from the second and I'd be very happy, but both were quite good.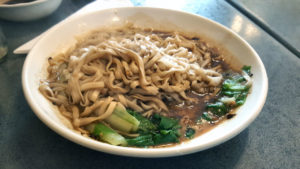 I should note, that as non-Chinese folk, we were given a menu that listed four different noodle soups, the two types of dumplings, and "peanut sauce" noodles. A sort of wan version of warm sesame noodles, with overcooked, limp pasta in a watery, vaguely peanut flavored sauce with some sesame seeds and bok choy. Rather disappointing, so I'd avoid that dish again. But the dumplings we liked, and for these three plates, plus a couple of waters, 300 pesos ($19) with tip.
We noticed that the Chinese folk in the place were eating other stuff, and that there was a whole display case of appetizers. So we asked, and were brought…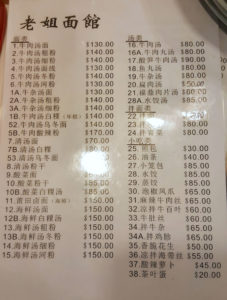 …the menu for Chinese folk, or at least those who can read it. Or, these days, use the optical reader feature on your Google translate.
[Side note: I love using this feature. Whereas ten years ago, going into some of these spots and getting the "we don't have a menu in your language" treatment used to lead to either disappointing meals of something basic that they were willing to serve a white boy or being shown the door, I can now whip out my phone, and usually figure out most if not all the dishes on those menus and proceed to order just what I want. If you didn't know you had that feature on Google Translate, check it out.]
Most of the left column are various types of noodle soups, bolstering the claim of being a noodle house. The right is a mix of a few more plus some various salads and appetizers. Next time. I do want to try a noodle soup or two, and maybe something else.
---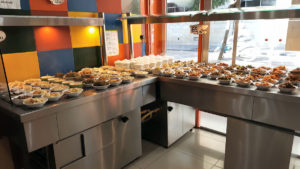 Still feeling slightly peckish, I talked Steven into trying China Work Express, Mendoza 1663, just down the street. It's basically a steam line setup, but with everything preset in little dishes, almost like dim sum, and you can just go up and pick your own dishes. Depending on which section of the display, they're either 45, 65, or 85 pesos per dish.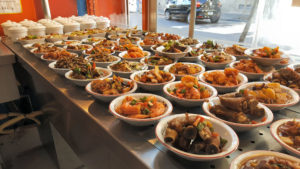 And it does look more interesting than your typical steam line setup, no? Unfortunately, we found that the dishes were, for the most part, just kind of lukewarm. Despite sitting over a table of steaming water, it's not trapped, and much of the steam just sort of passes by the dishes and doesn't do much other than warm them, not keep them hot.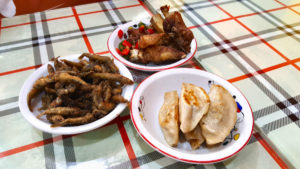 We decided on, of course, dumplings – meh – a minimal amount of salty pork and chives in a chewy wrapper. The little ostensibly crispy cornalitos fish – not crispy though nicely flavored. And what looked to be spicy ribs, but were not much more than a layer of thick chewy fat on bone, virtually no meat, and little in the way of flavor. Kind of disappointing all around. With these three and a bottle of water to share, 230 pesos ($14.50). But, yawn.