27-29 Abríl 2017 April 27-29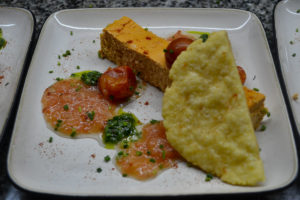 Smoked Tomato Cheesecake – cheesecake made with our homemade ricotta and flavored with smoked, sun-dried tomatoes and togaroshi spice blend; polenta and romano cheese crisp; roasted cherry tomatoes; grated tomato and olive oil vinaigrette; marjoram-parsley-mint puree; tomato powder.
Cheesecake de Tomate Ahumado – cheesecake elaborado con nuestra ricotta casera y saborizado con tomates secos ahumados y blend de especias togaroshi; masa crocante de polenta y queso romano; cherys asados; vinagreta de tomate rallado y aceite de oliva; puré de mejorana-perejíl-menta; polvo de tomate.
Bodega Chandon Cuvée Varietal Pinot Noir, Mendoza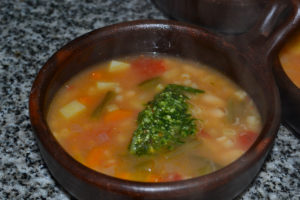 Minestrone d'Asti with Basil-Nira Pesto – Vegetable broth; onion, garlic, rocoto, carrot, sweet potato, green beans, white beans, tomatoes, ditalini pasta, miso, smoked salt, white pepper; pesto of basil, nira (chinese chives), pinenuts, romano cheese, garlic, peperoncino, salt and pepper.
Minestrone d'Asti con Pesto de Albahaca-Nira – Caldo de verduras, cebolla, ajo, rocoto, zanahoría, batata, chauchas, alubías, tomates, pasta ave maria, miso, sal ahumado, pimienta blanca; pesto de albahaca, nira (ciboulette chino), piñones, queso romano, ajo, peperoncino, sal y pimienta.
Argento Reserva Chardonnay 2015, Mendoza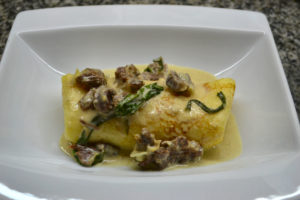 Roasted Garlic and Potato Crepe, Morbier and Osso Buco Cream – Semolina crepe; filling of potato puree with roasted garlic and merquén (smoked chili blend); sauce – cream, morbier cheese, osso buco (braised in beer, beef stock, limo chilies, garlic, tomato marmalade), radichetta, smoked mustard, salt, white pepper.
Panqueque de Papa y Ajo Asado, Crema de Morbier y Ossobuco – panqueque de semolín, relleno con puré de papa y ajo asado y merquén (blend de ají ahumado); salsa – crema de leche, queso morbier, ossobuco (braseado en cerveza, caldo de carne, ají limos, ajo, mermelada de tomate), radichetta, mostaza ahumada, sal, pimienta blanca.
Bodega El Esteco "Don David" Tannat 2015, Cafayate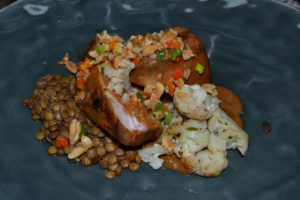 Lacquered Pork Tenderloin, Lentils and Charred Cauliflower – Pork tenderloin cut into 4″ medallions, marinated 6 hours in soy sauce, sherry, miso, hot bean paste, garlic, peanut oil, salt, sugar, Chinese five-spice blend; seared and finished in the oven, glazed with its marinade; lentils cooked with tomatoes and balsamic vinegar; lightly charred cauliflower; sauce – soy sauce, peanut butter, honey, black vinegar, sesame oil, garlic, black pepper, gochujang, ume plum, cornstarch; garnish of chopped toasted peanuts, yellow Peruvian chilies, green onion, lime juice, salt.
Solomillo de Cerdo Laqueado, Lentejas y Coliflór Dorado – Solomillo de cerdo cortado en medallones de 10 cm, marinado durante 6 horas en salsa de soja, jeréz, miso, pasta picante de soja, ajo, aceite de maní, sal, azucar, blend de cinco especias chino; dorado y terminado en el horno, glaceado con su marinado; lentejas cocidas con tomates y vinagre balsámico; coliflór quemado ligeramente; salsa – salsa de soja, pasta de maní, míel, vinagre negro, aceite de sésamo, ajo, pimienta negra, gochuyang, ciruela ume, fécula de maíz; salpicón de maní tostada y picada, ajies amarillos, verdeos, jugo de lima, sal.
Saurus Barrel Fermented Pinot Noir 2011, Neuquén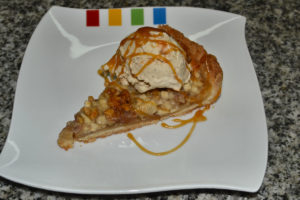 Apple and Walnut Tart, Cheddar Gelato – crust of flour, sugar, butter, egg; filling of apples, walnuts, and caramel (caramelized sugar, cream, butter, honey); gelato – cream, milk, egg yolks, sugar, white pepper, cinnamon, vanilla, grated cheddar; caramel sauce (caramelized sugar, cream, butter, calvados).
Tarta de Manzana y Nueces, Helado de Cheddar – masa de harina, azucar, manteca, huevo; relleno con manzanas, nueces, y caramelo (azucar acaramelizado, crema de leche, manteca, míel); helado – crema de leche, leche, yemas, azucar, pimienta blanca, canela, vainilla, cheddar rallado; salsa caramelo (azucar acaramelizado, crema de leche, manteca, calvados).
Putruele "Tardío de Abríl" Chardonnay 2016, Valle de Tulúm