20-22 Abril 2017 April 20-22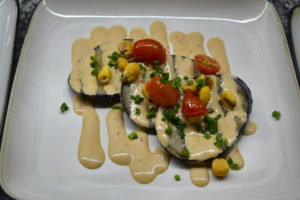 Eggplant Tonnato – grilled and chilled eggplant; spicy tuna sauce (tuna, mayonnaise, capers, anchovies, sambal); pickled cherry tomatoes (vinegar, salt, sugar, white pepper, coriander seed); fried corn; chives.
Berenjena Thoné – berenjena a la parrilla, enfriada; salsa de atún picante (atún, mayonesa, alcaparras, anchoas, sambal); cherys encurtidos (vinagre, sal, azucar, pimienta blanca, semillas de coriando); maíz frito; ciboulette.
Philippe Caraguel Rosé Extra Brut, Mendoza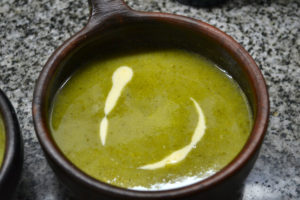 Shrimp & Mussel Timbuche – Fish and shrimp stock, onions, garlic, rocoto chilies, potatoes, m.s.g., white pepper, all cooked and then pureed; fresh shrimp and mussels added at last minute; salted chili yogurt.
Timbuche de Camarones y Mejillones – Caldo de pescado y camarones, cebolla, ajo, rocoto, papa, ají no moto, pimienta blanca, todo cocido y después licuado; camarones y mejillones frescos agregados al último momento; yogúr salado con ají.
Sophenia "Alto Sur" Sauvignon Blanc 2016, Tupungato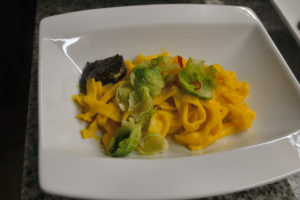 Stradette in Roasted Carrot Sauce – Housemade egg noodles from a blend of polenta and semolina, tossed with a puree of roasted carrots, salt, white pepper, butter, milk; steamed brussels sprout leaves; dried fig and smoked balsamic vinegar jam; cayenne chilies.
Stradette en Puré de Zanahoría Asada – Fideos de huevo caseros de un blend de polenta y semolín, saltado con un puré de zanahoría asada, sal, pimienta blanca, manteca, leche; hojas de repollitos de bruselas al vapór; mermelada de higos secos y bálsamico ahumado; ajíes cayenas.
Bodega del Desierto "Pampa Mía" Rosé Cabernet Franc 2016, Valle del Río Colorado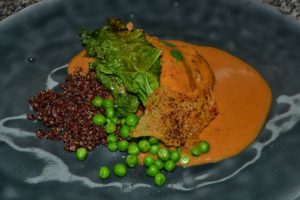 Chicken Thigh Chepén Style – Chicken thigh braised in chicken stock with panca chilies, garlic, red onion, black pepper, cumin, oregano; stock reduced by 75% and then emulsified; red quinua cooked with orange zest and black olives; peas; crispy roasted kale; crispy broiled chicken skin with salt and smoked chili; oregano leaves.
Muslo de Pollo al Chepén – Muslo de pollo braseado en caldo de pollo con ají panca, ajo, cebolla morada, pimienta negra, cómino, orégano; caldo reducido por 75% y luego emulsificado; quinua roja cocido con ralladura de naranja y aceitunas negras; arvejas; kale asado crocante; piél de pollo asado y crocante, con sal y merquén; hojas de orégano.
LaMadrid Single Vineyard Reserva Bonarda 2013, Luján de Cuyo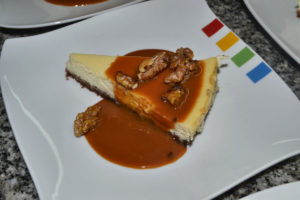 "Don Pedro" Cheesecake – Vanilla cheesecake made with our homemade cream cheese; cocoa and hazelnut crust; caramel sauce with whiskey; caramelized walnuts.
Cheesecake de "Don Pedro" – Cheesecake de vainilla elaborado con nuestro queso crema casero; masa de cacao y avellanas; salsa de caramelo con whisky; nueces acaramelizadas.
Putruele "Tardío de Abríl" Chardonnay 2016, Valle de Tulúm