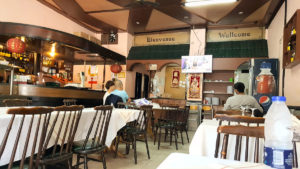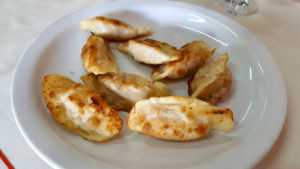 Restaurante Chino Yong An – Av. Regimiento de Patricios 390, La Boca – It seems difficult to believe, but at least based on all the online searching I've done, this is the only Chinese restaurant in all of La Boca. I really don't buy that, and if anyone has suggestions for more, let me know. There seem to be two sushi bars, Meshi and a branch of Jiro, nearby, but nothing else Chinese, or any other sort of Asian cuisine.
I was planning on a dumpling diving walk, and, I was solo, so I thought I'd just try dumplings at each place. The plan went by the wayside when I got sidetracked by a couple of friends after leaving this place. Wish now that I'd stayed and tried more. Decent potstickers, well seasoned, pork and white onion filling (80 pesos/8 dumplings). More of a fried dumpling than potsticker style – browned on all sides, but at least not deep-fried (they do have both boiled dumplings and deep fried wontons on the menu as well). A little oily for my tastes, but I really did like the flavors. Still, at least until/unless I try more, I'm going to give this just an "okay".
---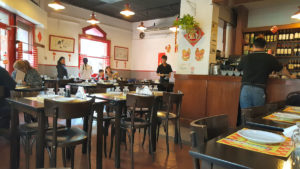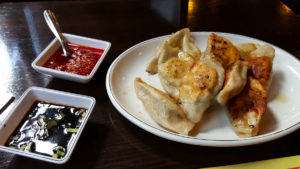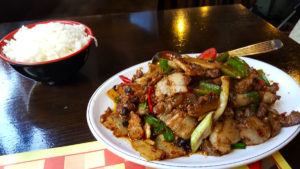 Restaurant Chinatown (formerly Cantina Chinatown), Mendoza 1700, corner of Arribeños, Barrio Chino – A longtime mainstay in Barrio Chino. Not sure why I've not made it here before. Good sized space. Moderately attentive waiters. Clean. Maybe it's because the menu doesn't seem to offer much that's unique, it's a pretty straightfoward, "usual suspects" kind of menu.
Ordered up a plate of potstickers (120 pesos/10 dumplings). They're okay. Pork and green onion filling, but lacking in much of any seasoning, and slightly over-fried, even burnt at the edges of a couple of them. A rather large sized portion of spicy pork belly had fantastic flavors, laden with ginger, garlic, fermented black beans, and a decent amount of fresh and dried chilies, but the pork belly hadn't been even slightly rendered, and too much of it was basically no more than slices of fat without any meat attached. I picked around those, eating the ones with meat and the ones that were cooked a bit more to give them some crispness. The plate could have also used some more vegetables – there was little more than some batons of green onion and a couple of pieces of diced green bell pepper. I also thought 240 pesos was a bit excessive for a plate like this in mid-Chinatown. Overall, just average.
---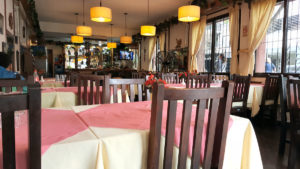 Nueva Casita China, Av. Santa Fé 5300, Palermo – Our plan was for elsewhere, but the place we were thinking of has converted to a takeout/delivery only Chinese place. A quick google search gave us this one just a few blocks away and we settled in for a casual lunch.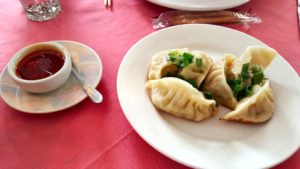 Potstickers, or kuo-tie, nicely flavored with pork and green onion, with a perfectly crisp browned side and then steamed just right. Topped with green onion and a splash of soy, ready to eat. Of course, we added a little hot sauce (one minor negative – this may be the only Chinese restaurant I've ever been in that charges for chili oil – 10 pesos for a small ramekin – it's not much, it's more the principle.) (80 pesos for only six, a bit pricier than typical.)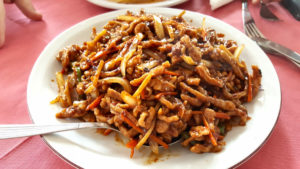 We wish the waitress had warned us that their main courses are huge – easily enough for two to split. We'd have ordered two appetizers and just one main course – note for the future. Here, ginger stir-fried pork. Nicely done, delicious, a touch sweeter than our preference, and could have used more ginger, but we'd happily eat it again, and this plate, we finished off down to the last shred of pork. (235 pesos)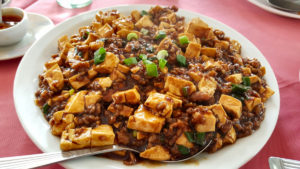 The ma-po tofu, which is one of my favorite spicier dishes, was barely spiced, and this is one of the few versions of it I've seen using the extra soft tofu – usually the dish is made with a firmer one, or at most the just barely soft. Still, it was reasonably tasty, just not my favorite example of the dish. We only made it about a third of the way through the plate and I brought the rest home for a next day's lunch. (170 pesos)
Overall – an ambiance that's seen better days, and service that may or may not have, but could have used a tad more… warmth. Food – quite good all around, and abundant portions – a good thing too, as the prices are a little higher than many others around. Even plain rice was 55 pesos a portion, albeit larger than the usual bowls served in town, and possibly could have been enough to split for two.
---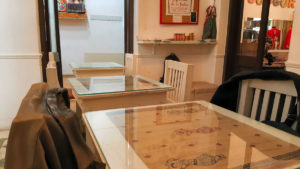 Thali, Armenia 2325, Palermo – Okay, we're going a bit further afield here to finish up this "chop suey" blend. I mean, am I stretching the concept heading into the Indian sub-continent? Out of India's nearly 1.4 billion people, a mere 7000 are Chinese, and most of them are there on temporary work assignments. But hey, it's still part of Asia. Then again, the same can be said for all the 'stans, you know, Afghana, Paki, Tajiki, Turkmeni, etc. How far can I carry this analogy? Well, for the moment, I'm carrying it to India.
Located inside a space called Gungur, which consists of a clothing shop (women's clothing, Indian style), a yoga and dance studio, Thali takes up a small room with only space for three tables – a total of ten seats. It's open for lunch on weekdays only, and for dinner on Thursday, Friday, and Saturday nights, when it expands into the yoga salon – apparently those are the only nights there aren't classes going on. At lunch, the chef, Rabindra Nath Jana, handles everything himself, from cooking to serving to washing up. At the dinners, I gather that waiters are involved as well.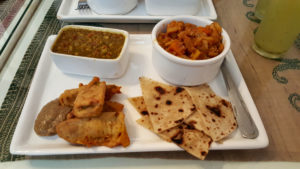 Lunchtime consists of a monthly vegetarian fixed menu, no options. (Dinner is not a vegetarian one, though offers that as an option.) The recent day when we went, we received this tray offering up eggplant pakora (clearly once fried and crispy, but having been stored and then reheated in a toaster oven, the crust was as soft as the eggplant within) served over a smoked eggplant puree. A dal, tasty, though with toned down spices, making it seem a bit more like a typical Argentine lentejas, or lentil, stew. And, a mildly spicy textured soy protein and potato curry. About midway through eating, Rabi, as he is known, offered up that he had hot sauce available if we wanted it. We did, and while it was good, it didn't offer anything in the way of Indian flavors. We did like everything, and it was well made, but I can't say we were excited by anything.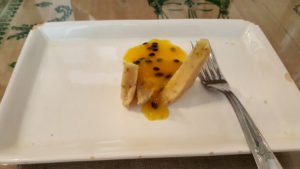 And dessert, a burfi, a sort of condensed milk and pistachio fudge, for lack of a better descriptor, is served up with passionfruit sauce (and from looking at past menus that have been reviewed by others, seems to be a near set presence on the fixed menu). I liked it, Henry didn't, mostly citing the texture of the dish, though he liked the flavors. The meal is served with a glass of mint-ginger lemonade. It might not be a bad idea to add in a small cup of tea with the dessert. 180 pesos, or just over $11, all inclusive, certainly isn't a bad price to pay for a lunch like this, and makes for a "different" vegetarian option for those of the persuasion.
Overall, we were satisfied, though not much more. I'm interested enough that I wouldn't mind going back and trying the multi-course dinner at some point, should we ever have one of those evenings free.