12-15 Abríl 2017 April 12-15
(con variaciones / with variations)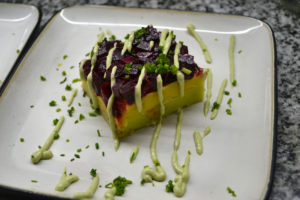 Roasted Beet Causa – Layer of potato flavored with olive oil, lime, green onion; layer of potato flavored with olive oil, lemon, yellow chili; layer of roasted beet salad – beets, onions, cumin, chipotle, parsley, lemon juice and zest, olive oil, pomegranate molasses; guacamole puree; chives.
Causa de Remolachas Asadas – Capa de papa saborizada con aceite de oliva, lima, verdeo; capa de papa saborizada con aceite de oliva, limón, ají amarillo; capa de ensalada de remolachas asadas – remolachas, cebollas, cómino, chipotle, perejíl, jugo y ralladura de limón, aceite de oliva, melaza de granada; puré de guacamole; ciboulette.
Philippe Caraguel Extra Brut, Tupungato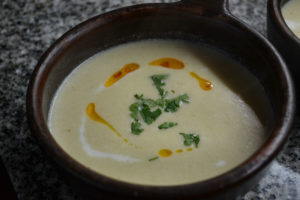 Chinese Cabbage Bisque – Chinese cabbage, onion, garlic, merquén, potato, vegetable broth, white wine, cream; salted yogurt; chili oil; parsley.
Bisque de Akusay – Akusay, cebolla, ajo, merquén, papa, caldo de verudras, vino blanco, crema de leche; yogúr salado; aceite de ají; perejíl.
Finca La Linda Viognier 2016, Luján de Cuyo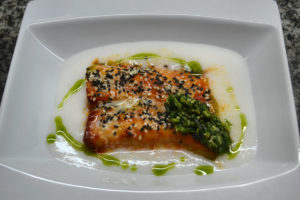 Sandperch Chojang, Jatjuk, Cilantro Pesto – Broiled sandperch coated in gochujang (Korean chili paste), honey, rice vinegar, sesame oil and sesame seeds; porridge of rice and pinenuts; pesto of cilantro, pinenuts, garlic, Chinese dried chilies, Romano cheese; arugula oil.
Salmón Blanco Choyang, Yatyuk, Pesto de Cilantro – Salmón blanco rociado en gochuyang (pasta de ají coreano), miél, vinagre de arróz, aceite de sésamo, semillas de sésamo; gachas de arróz y piñones; pesto de cilantro, piñones, ajo, ají seco chino, queso romano; aceite de rúcula.
Familia Bressia "Sylvestra" Pinot Noir Rosé 2015, Luján de Cuyo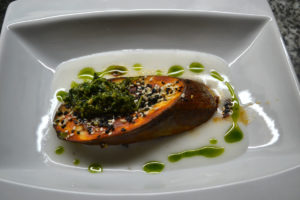 For vegetarian guests, the same with eggplant.
Para comensales vegetarianos, lo mismo con berenjena.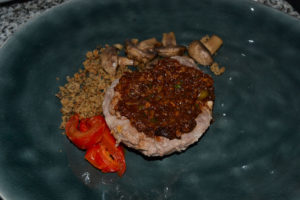 London Broil, Dried Tomato and Green Olive Salsa, Black Olive and Black Pepper Soil – London broil rubbed with blue cheese and cooked sous vide at 55°C for 8 hours, then seared; shortbread crumble – flour, baking soda, salt, black pepper, butter, sugar, black olives, egg yolk; chopped salsa of sun-dried tomatoes, green olives, rocoto chili, parsley; sauteed mushrooms; roasted tomatoes.
Peceto, Salpicón de Tomates Secos y Aceitunas Verdes, Suelo de Aceitunas Negras y Pimineta Negra – Peceto rociado con queso azúl y cocido sous vide al 55°C por 8 horas, luego dorado; mantecada desmigada – harina, bicarbonato de sódio, sal, pimienta negra, manteca, azucar, aceitunas negras, yema; salpicón picada de tomates secas, aceitunas verdes, rocoto, perejíl; champiñones saltados; tomates asados.
Ricardo Santos Cabernet Sauvignon 2015, Maipú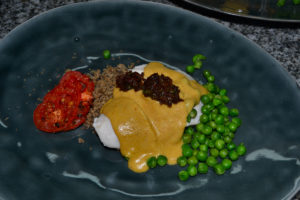 One night with several guests who didn't eat red meat – the same, with chicken cooked sous vide at 60°C for 2 hours, peas instead of mushrooms, and the addition of a huancaina sauce (yellow chili, fresh cheese, walnuts, milk).
Una noche con varios comensales que no comieran carne rojo – lo mismo, con pollo cocido sous vide al 60°C por 2 horas, arvejas en lugar de champiñones, y sumamos una salsa huancaina (ají amarillo, queso fresco, nueces, leche).
San Huberto "Nina" Petit Verdot 2014, La Rioja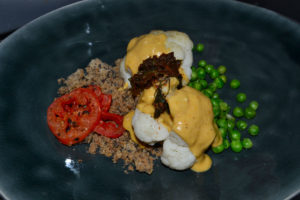 And for the vegetarians, the same as the chicken, but with steamed cauliflower.
Y para los vegetarianos, lo mismo como el pollo, sino con coliflór al vapór.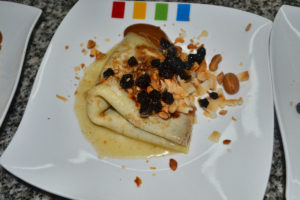 Dulce de Leche Crepe – Crepe (egg, flour, milk, sugar); dulce de leche, both warmed in the oven; toasted coconut and cashews; dried blueberries rehydrated in Pineral liqueur; bourbon butter sauce (butter, sugar, bourbon, nutmeg, egg).
Panqueque de Dulce de Leche – Panqueque (huevo, harina, leche, azucar); dulce de leche, ambos calentados en el horno; coco y cajues tostados; arándanos secos rehidratados en licór Pineral; salsa de manteca y bourbon (manteca, azucar, bourbon, nuez moscada, huevo).
Putruele "Tardío de Abríl" Chardonnay 2016, Valle de Tulúm