Snack Meat. Mostly shawarma. But tacos and a burger too.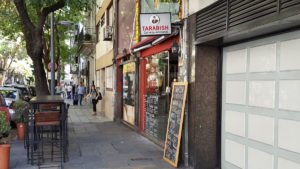 Tarabish, Charcas 4309, Palermo – Taking over the space that used to be La Alhambra. Small spot offering up an array of Lebanese food (although the day we visited they'd sold out of almost everything the night before and out of a fairly extensive menu all that was available was shawarma and a selection of fatays (middle eastern style empanadas). They also brew their own beer at a facility out in Mataderos, and have three on offer (with a fourth coming soon) – a blonde ale, red ale, and stout. A couple of seats at a counter inside, and as long as the weather's nice, they have a big table with barstools out front on the sidewalk.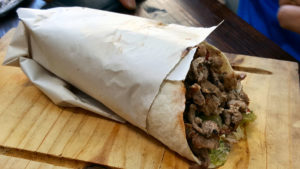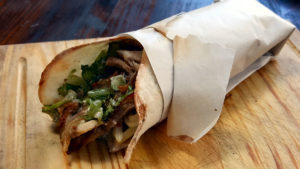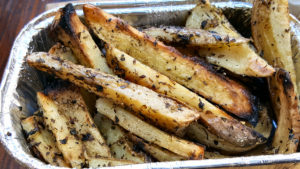 We ordered up one beef and one chicken shawarma (on their own 90 pesos, or 100 pesos if you want mixed, or in combo with papas rusticas and either a coke or a beer, respectively 135 and 170). Well seasoned, nicely packed and fairly large shawarmas, a decent amount of lettuce, tomato, and onion. They put a small amount of a tahini based sauce into the wrap, and then offer up yogurt sauce and hot sauce (fairly mild) on the side. Delicious shawarma. The oven baked potatoes (which we had to ask for again, as they'd forgotten), are a little oily and soggy, and while they have great flavor from the herbs they're tossed with, we found them to be a bit salty. We'd ordered one blonde and one red ale, both really good. Over all, great choice for shawarma in Palermo.
---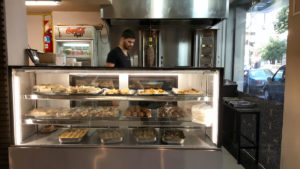 Souriana, Paraguay 3435, Palermo – A brand new Syrian spot just off the corner of Coronel Diaz. Mostly takeout, but they have a couple of booths to sit in if you want to stay and eat. Nice looking array of different middle eastern savory pastries, plus beef shawarma.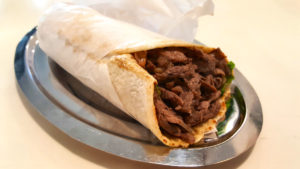 I can't say that this one is a favorite. It's okay. There was just something about it that didn't quite work – I guess the balance of it all. The meat was nicely seasoned with a decent dose of baharat, which gave away the Syrian origins right away, but could have used a touch of salt. Virtually nothing in the shawarma but the meat – a couple of strips of lettuce, maybe two small pieces of tomato, and a thin strip of onion – it just needs more in their besides the meat. And the meat had a slightly odd texture – it'll sound odd, but it was almost too tender – I couldn't quite put my finger on it. No sauces available to add to it, just a little drizzle of a yogurt sauce that they put on it while making it. In the end, just sort of average. 60 pesos.
---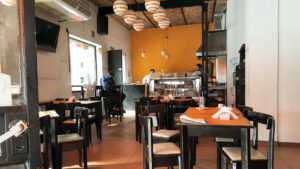 Al Sanabel, Gorriti 4098 (corner of Gascón), Palermo – Relatively new spot I happened to pass by. Clean, bright, shiny. Inattentive service – they clearly have some regulars, and/or friends of the family so to speak – the sole waiter spent ten minutes after I entered (and a couple of others entered too), chatting about weekend plans with a couple of friends at a table on the sidewalk. Finally, the cook came over and asked what I wanted (didn't bring a menu, but in this case wasn't an issue, still would have been nice to see what they had).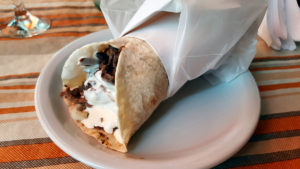 And, delivered the shawarma himself, as the waiter was still chatting away with his friends. Overall, just an okay shawarma, packed full of beef, well seasoned, but basically little else – 1 thin half moon of tomato, no lettuce, though a handful of raw onion in thick pieces. Doused in yogurt sauce, no tahini, no hot sauce. 80 pesos. Combine that with the lack of service, I wouldn't bother again.
---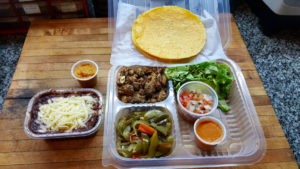 Taco Express, Recoleta – let's flip to another part of the world, and what comes down to a taco kit. Coming to us from the folk behind Tandoor, a delivery-only taco and burrito (and more) spot somewhere here in Recoleta in a hidden away kitchen. Express is right – admittedly I only live a few blocks away, but they literally arrived ten minutes after I ordered. For 140 pesos, you get four tortillas (a little small for the quantity of filling, and slightly dry), your choice of five different fillings, including a vegetarian one – I got the pork, which was perfectly cooked and deliciously seasoned, a little saute of peppers and onions, lettuce, salsa criolla (tomatoes and onions), and their mild red sauce.
Refried beans available as a side order. All quite good. I also ordered a little cup of their hot green sauce (medium hot at best), which is only available at an extra charge – why not offer the option of which sauce to package with the tacos? All delicious, I'd happily order from them again – the only things I wasn't completely happy with were the size of the tortillas (even over-packing them, there was too much filling for four of that size, so either slightly bigger ones, or throw in a fifth tortilla), and the lack of choice on the sauce (and hey, it could be spicier…). Certainly beats the tex-mex style tacos recently introduced by Crispy here in the area. They do have a delivery minimum of between 140-250 pesos, depending on where it's being delivered, so you can't order just one taco kit.
---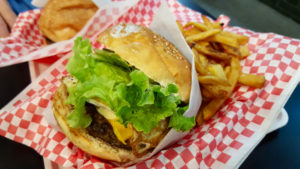 The Market Burger, Mercado de San Telmo – Met up with a friend in the Mercado for lunch – it's becoming quite the place to have casual eats, and there's more renovation of spots going on, I wonder if over time it will become its own version of Gourmand Food Hall – I still think whoever creates the first real Mercado that's all about food stands will have a hit on their hands here. Something like Mercado Roma in Mexico City, Mercados San Miguel and San Antón in Madrid, even Eataly in New York – it would be brilliant! If I had the money….
Decided to check out the burgers at this relatively new spot. Overall, pretty good. Maybe a touch saltier than we preferred, but other than that, great, fresh toppings, a bun that held up through the eating, and pretty good fries. The one thing, my friend ordered his "extra rare", literally like a "blue steak", or as they call it here, vuelta y vuelta – just a quick sear on the outside and not much past raw on the inside, and I ordered mine to be rare. Both arrived cooked to a solid medium despite assurances from the counter guys that they could handle the request. They asked how they did on that front. We told them. They promised to "follow instructions" next time…. It was good enough I'd give it another shot. Prices range around 140-170 pesos, depending on the combo.