Let's go a little different this time around. No burgers or tacos or shawarmas or pizzas (well, there will be a pizza involved, but, well, you'll see). No real focus to my wanderings and nibblings. And, away we go!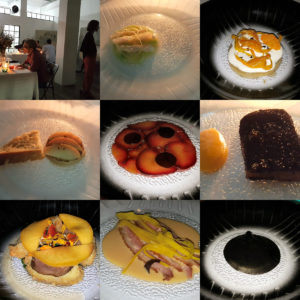 Bread + Butter – You may remember my equivocal review of Söder just shy of a year ago. It was certainly an interesting food and wine experience, but not one that I put on my list to repeat. So I can imagine your surprise (imagine mine!) that after they closed down, disappeared for a bit, and then I heard they'd opened a pop-up supper club that moves from art gallery to art gallery on Monday evenings, that I'd book a table. But, I'd been intrigued by the food, and I was hearing that a lot of the really "out there" experimentation had been reined in and that it was a far more cohesive experience now.
And, I'd agree. I headed off on a recent night after getting Instagrammed instructions (the only way you can contact the pop-up is via their Instagram feed). I had a bit of trepidation, not just given my past experience, but their pricing is near double (up to 1500 pesos for food and wine together from 900, or basically having gone from just under $60 to just under $100), and the number of courses has dropped from the 13-15 they were offering then, to officially 7 (though there's a "pre-dessert" that brings it to 8).
Since the setting changes each time, in a different gallery, it's hard to assess it, but at least the night I went, it was a reasonably comfortable spot. They had three tables of four set up, so there's a certain communal aspect to it if you don't come with a quartet yourself. I was paired with another single, and an older couple. There were huge centerpieces on each table, so in truth, I really only interacted with my paired partner, as we could barely see the couple at the other end of the table.
Chef Dillon has "cleaned up" as his partner and girlfriend put it – no more pink stringy hair and grungy streetwear. In fact, I didn't even recognize him until she pointed him out. Near crew-cut dark hair, nice jeans, nice t-shirt, well spoken, I'd though the was just sort of the main waiter. Interesting that the rest of the kitchen team were dressed in chef's whites though.
The food – far more harmonious, and while less experimental, actually much more interesting. The combinations at moments were a little odd, but for the most part, they all worked, and while there were maybe two dishes that I wasn't thrilled with, they were still good, and I liked everything else, some of them quite a bit. The plates are still all 1-3 bite of food, and my temporary dining companion and I, by the end, were discussing which pizzerias in the neighborhood were still open, as we were both still hungry.
The one negative was the wine selection. Given the price point of the meal, the wines were below the quality level they should have been (and way below the quality of what they used to serve in Söder). The first two wines, while from good wineries, were the basic, entry level wines rather than single vineyard or reserves that would have made sense, and the third wine was a barely drinkable supermarket level wine, one that sells at the corner store near me for 80 pesos, or about $5 a bottle. Atop that, none of them paired well with the food, it was almost like they'd been picked at random.
So, overall? Liked the setting and the concept. Liked the food quite a bit. Service was fine. Wines were drinkable but as a selection, not so great. A little skimpy on the overall quantity, even for the high quality and creativity of it. If I take price out of the equation, I'd say yes, go, be intrigued, enjoy, it was worth it on a "something different" basis, and the food was delicious. So that leaves it with a decision on the basis of how you view spending money on an evening out.
---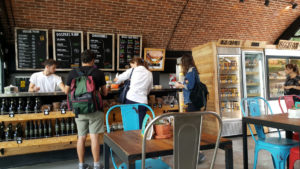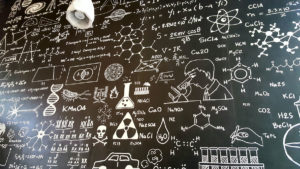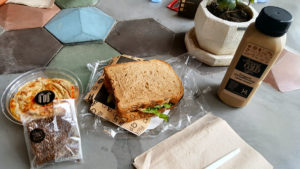 JU, Paseo de la Infanta, Arcos 15, Palermo (they also have a spot in Barrio Chino, on Juramento) – I don't normally go out of my way looking for vegan spots. I was out with my family visitors from Australia, wandering the Rosedal…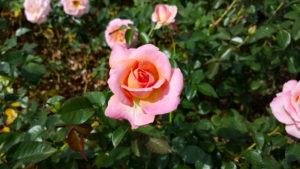 …and they wanted something quick, simple, and light. We wandered into the Paseo de la Infanta and spotted this place. I have to admit I was prepared for something leaning towards mediocre, as that tends to be my experience with these sorts of spots, but, I was more than pleasantly surprised. Excellent sandwiches, sushi, wraps, and more. One of the better hummuses I've had in BA. Great selection of cold pressed beverages. Housemade breads. Tasty desserts. All very good. I'd happily eat healthily there again!
---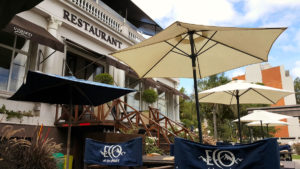 Vivanco, Bartolomé Mitre 74, Tigre – We also spent a day up in Tigre, went out on a catamaran tour for a couple of hours, and wandered the city. A bit of nourishment while awaiting our boat ride, we stopped in at this place that reopened last year after being closed for many years. Classic local fare. I went with a breaded chicken cutlet topped with a couple of runny fried eggs and accompanied by mashed potatoes. Really quite good, as were the veggie burger (okay, not so classic local fare) and the grilled chicken salad that also graced the table. Reasonably priced. Nice choice, and pretty garden to sit in.
---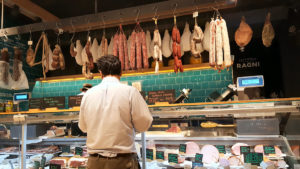 Salumeria Ragni, Av. Quintana 373, Recoleta – New? I'm not sure. I just noticed it in the last couple of weeks, and it looks new. But it's not a block I walk down often, so it could have been there awhile. Great selection of cured and cooked meats, cheeses, breads, jams, and more!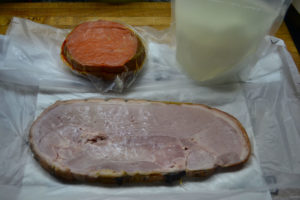 The haul – a country ham steak (they have a half dozen or more different kinds of cooked hams, and probably a dozen different cured hams); 'nduja (spicy Calabrian sausage); and a buffalo mozzarella. And the resultant dinners?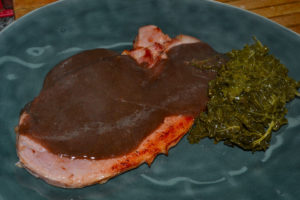 Ham steak with red-eye gravy and slow cooked kale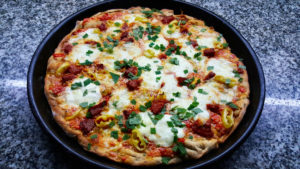 Roman style pizza with cherry tomato sauce, 'nduja, buffalo mozzarella, pickled peppers, and chopped shiso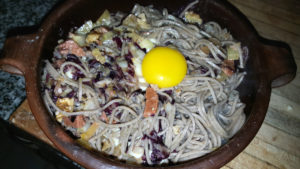 Buckwheat soba noodles with 'nduja, radicchio, walnuts, pickled frying peppers, cuartirolo cheese, and an egg yolk to finish