5-7 Abríl 2017 April 5-7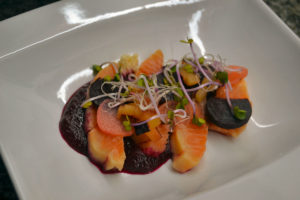 Trout in Red "Chili Water" – Trout sashimi; puree of beets, beet stems, red limo chilies, lemon juice, red onion; slices of roasted beets, pickled radish slices, small dice of red plum, fresh horseradish, radish sprouts.
Aguachile Rojo de Trucha – Sashimi de trucha; puré de remolachas y sus tallos, ají limo rojo, jugo de limon, cebolla morada; rodajas de remolacha asada, laminas de rabanitos encurtidos, daditos de ciruela roja, rabanito picante fresco, brotes de rabanito.
Chandon Brut Nature Rosé, Luján de Cuyo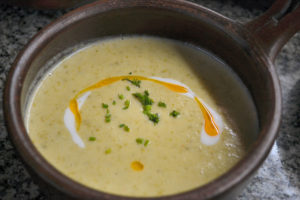 Brussels Sprout Bisque – Pureed soup of brussels sprouts, onion, garlic, potato, smoked chili, white wine, vegetable broth, cream; salted yogurt, chili oil, chives.
Bisque de Repollitos – Crema de repollitos, cebolla, ajo, papa, merquén, vino blanco, caldo de verduras, crema de lecha; yogúr salado, aceite de ají, ciboulette.
La Linda Viognier 2016, Luján de Cuyo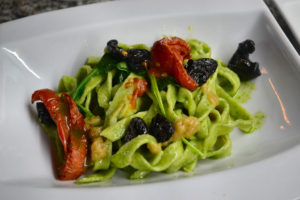 Arugula Tagliatelle, Charred Yellow Pepper Sauce – Arugula infused semolina tagliatelle; coarse chopped sauce of charred yellow bell peppers, olive oil, salt and pepper (underneath); roasted garlic puree; oven-dried tomato plumes; black olives; arugula oil.
Tallarines de Rúcula, Salsa de Pimentón Amarillo Quemado – Tallarines de semolín infusado con rúcula; salsa picada gruesa de pimenotones amarillos quemados, aceite de oliva, sal y pimienta (debajo); puré de ajo asado; plumas de tomates secadas en el horno; aceitunas negras; aceite de rúcula.
Bodega del Desierto "Pampa Mía" Cabernet Franc Rosé 2016, La Pampa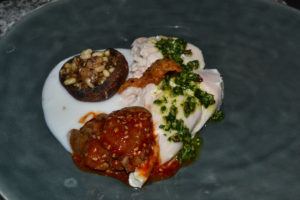 Korean-Italian Chicken Breast (need a better name) – Chicken breast cooked sous vide at 60°C, sliced; parsley pesto (parsley, pinenuts, garlic, dried chilies, olive oil); chicken livers sauteed with onions and finished with chojang (korean chili paste, honey, sesame oil, sesame seeds, rice wine vinegar, soy sauce); roasted portobello mushroom cap filled with chopped stems, pinenuts, garlic, olive oil, salt and pepper; jatjuk (pureed rice and pinenut porridge).
Pechuga de Pollo Coreano-Italiano (necesita un mejor nombre) – Pechuga de pollo cocido sous vide a 60°C, rebanada; pesto de perejíl (perejil, piñones, ajo, ajies secos, aceite de oliva); higados de pollo saltados con cebollas y terminado con choyang (pasta de ají coreano, míel, aceite de sésamo, vinagre de arroz, salsa de soja); capas de portobellos asadas, rellenas con sus tallos, piñones, ajo picados, aceite de oliva, sal y pimienta; yatyuk (puré de gachas de arroz y piñones).
Ricardo Santos Cabernet Sauvignon 2015, Maipú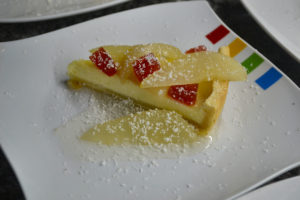 White Chocolate and Pear Tart – Crust of flour, butter, sour cream, sugar, salt; custard of white chocolate and cream infused with pear skin; pears poached in brandy and white peppercorn sugar syrup; quince jelly; shaved white chocolate.
Tarta de Chocolate Blanco y Pera – Masa de harina, manteca, crema ágria, azucar, sal; natilla de chocolate blano y crema de leche infusada con piel de pera; peras pochadas en jarabe con coñac y pimienta blanca; dulce de membrillo; rallado de chocolate blanco.
Nieto-Senetiner "Emilia" Moscatel de Alejandria 2016, Luján de Cuyo