More Asian food, a bit of dumpling diving. And for those who find it of interest, I'm in the process of putting together a citywide map of Asian dining spots. It's a work in progress that I should have complete with what I've already reviewed by later this week.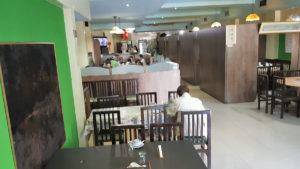 Aroma China, Paraguay 2741, Recoleta – I'd forgotten this place existed when I was exploring the various Chinese spots in Recoleta. It had been relegated to the dusty recesses of my mind, as a friend who used to live around the block from them several years ago had asserted it was some of the worst Chinese food she'd had in her life. But hey, I've taken food bullets that came with similar "recommendations", so one day, passing by and spotting it, I decided to give it a shot. I walked in, there was a large party of Chinese tourists eating in the walled off section, their guide nibbling away at some food at a separate table.
Waitress approached and told me that "today is only for Chinese people, you can only have takeout". I pointed out that they have an open sign, it was their regular hours, and that seemed ridiculous. She decided I could eat there. I do kind of understand her point, as, while I was there, two more busloads of Chinese tourists came in at different times, in the end, pretty much taking up the entire restaurant. However, this seems like a good omen – clearly a Chinese tourism company and bringing them to this place to try Chinese food in Buenos Aires, no?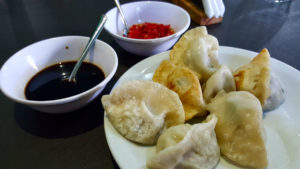 Potstickers – So, I don't know if my friend simply had a one-off bad experience, or if in the interim they've changed, but the food was really quite good. Above average potstickers packed with pork, chives, and a nice hit of ginger. Excellent fresh chili hot sauce on the side. A minor battle over chopsticks – all the place settings have them, the waitress brought over a knife and fork and moved the chopsticks to the other end of the table. I picked them up. She tried to take the chopsticks out of my hand, "Not for you, just Chinese people." Looked at her and asked, "Do you know how to use a fork?" She says, "Of course, anyone can use a fork." I said, "And anyone can use chopsticks."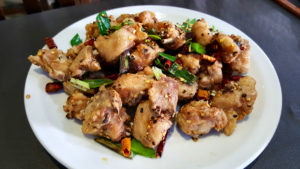 Spicy Szechuan Peppercorn Chicken – I'd been so excited to find this dish at Shan Dong a couple of months ago, being one I haven't seen at any other Chinese restaurants here. And lo and behold, Aroma has it on their menu too! It's a little different, the chicken isn't breaded and fried, it's simply dusted in cornstarch and then fried, so over all less "bready". And the spices are toned down a little bit here – it still has a nice hit of chili, szechuan peppercorn, and green onion, but not as intense, and, less salt – the Shan Dong version, while delicious, leans towards the salty side. I'd happily eat either of the dishes. And, by the end, the waitress, even harried as she was taking care of three busloads of tourists, was smiling and friendly (I did note her watching me when I first started using the chopsticks.)
Two dishes, a small bowl of rice, and a water, 400 pesos with tip. And, Aroma's close enough for delivery!
---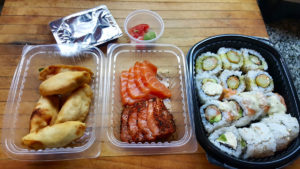 Sushi Mas III, Conesa 1404, Colegiales – Delivery only service, online. Ordered through PedidosYa, which gave me a nice 35% discount, a boon, since their prices are really high for a delivery only service. Given the long wait for the food, I'm guessing that the delivery kid had multiple orders to deliver, as both the fried gyoza (who deep-fries gyoza?) and the sashimi and sushi rolls were all ambient temperature. Reheated the gyoza, they're okay, but the frying doesn't do much for them. The sashimi was fresh, and decent sized pieces. The rolls were creative, though a little loosely rolled, and kind of starting to fall apart.
An order of gyoza, 10 pieces of sashimi, and three half rolls, plus a 25 peso delivery charge, came in at 551 pesos, which means they'd have been 848 pesos without that. That'd be expensive in a high quality sushi restaurant here for this quantity of food. For just good quality delivery, not worth it, even with the discount.
---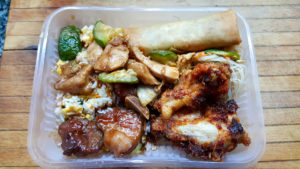 Recoleta Town, Beruti 2652, Recoleta – As long as I was back puttering around in Recoleta, I decided to give a quick stab at the two steam-line type Chinese places just a couple of blocks from home. Upfront, they're as bad as they look. I don't even want to describe the food – this one at the least was edible, garnering it, I suppose for the type of place, an okay rating, for cheap eats (82 pesos).
---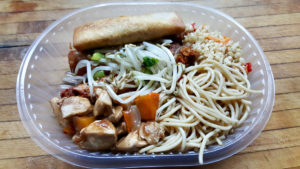 Wok China, Arenales 2607, Recoleta – On the other hand, this one wasn't even approaching edible, and it turned out all the food on the steam-line was cold, not hot, which I didn't realize until getting it home. Certainly not falling into safety standards for food service. And, flavorless and uninteresting – plus, I'd estimate that only about a quarter of what's on offer is Chinese, the rest was pure Argentine stuff – milanesas, empanadas, and some pastas. This one doesn't rate okay, not at all (71 pesos).
---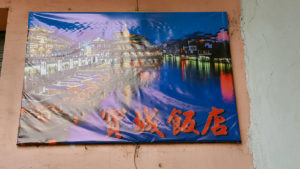 Boseong Restaurante, Av. Carabobo 1575, Flores – Steven and I have been holding off on this one, not sure whether it was a Korean restaurant or not. The characters on the sign outside are Chinese (yes, I know, prior to the introduction of the Hangul alphbet, Koreans used Chinese characters), and we'd been unable to get a solid translation on the first two characters (bao cheng). So, we've been trying the other spots first. This weekend we decided to give it a go, and mounted the stairway and got ourselves buzzed in.
Found Korean characters inside, and waiter confirmed that the name was Boseong, the name of a province in South Korea which for half a millennium has been famous for its green teas. (Oh, and "bao cheng", the Chinese characters turns out to be the Chinese name for the same province.)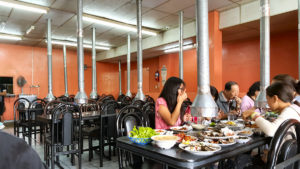 Turns out to be another Korean barbecue joint! (Makes sense, it used to be one called Mido that closed up about a year and a half ago.)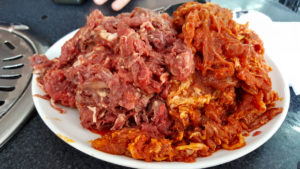 No questions asked, we'd barely even doffed our jackets and sat before a grate was placed over the barbecue pit and a whopping plate of what had to be two kilos of beef, half coated in gochujang and the other half not, hit the table. We noticed that the grate wasn't getting hot, and started to flag down a waiter to see about turning on the gas, when one approached from the kitchen carrying a bucket of fiery, burning wood coals with a pair of tongs. That got lowered into the pit – this is the first one we've encountered that didn't just use a gas burner, and adds a nice smokiness to the grilled meats. It also explains the huge extraction pipes.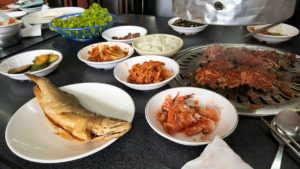 In short order, a small array of what turned out to be excellent ban chan also joined the beef, and we got going. First off, was simply noting the high quality of everything. The kimchi and other nibbles were spicy, well balanced, and fresh – we even liked the tripe! The smoked fish, at pretty much every place we've been, has been more or less dried out, this was soft, fresh, and perfectly flaky.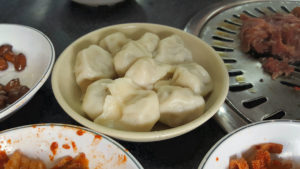 Little mini mandu were tasty, but a little gummy. Slightly improved by tossing them on the grill, but not among my favorite dumplings to date.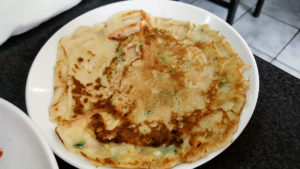 Same for the scallion pancake, lacking in scallions for the most part, and a little doughy. Come to think of it, we probably could have tossed it on the grill too.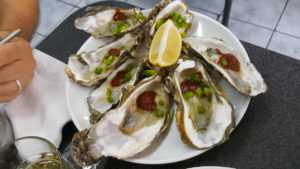 On the other hand, excellent, fresh oysters with lemon and spicy chili sauce. We never did get our bowl of soup that other tables were getting at the end, but neither of us was hungry enough to eat them anyway. After the food finishes, they bring over a pot of chilled tea of some sort – tasted like some kind of nut infused sweet liquid, something like chestnut. It was a nice way to finish. And, it all comes in at the same 300 pesos/person that the other grill spots in the 'hood charge. We left, very happy campers.