March 29-31 – 2017 – 29-31 de Marzo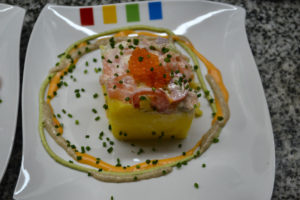 Causa de Tartare Salmón Rosado – Chilled potato puree flavored with yellow Peruvian chilies, olive oil, lemon; diced raw salmon, red onions, cherry tomatoes in mayonnaise of egg yolk, prickly oil, sesame oil, lime juice; guacamole puree, sauce vierge emulsion; smoked salmon "caviar"; chives.
Salmon Tartare Causa – Puré frio de papa saborizado con ají amarillo, aceite de oliva, limón; dados de salmón rosado crudo, cebolla morada, cherys en mayonesa de yema, aceite de pimienta sichuan, aceite de sésamo, jugo de lima; puré de guacamole, emulsión de salsa vierge, "huevas" ahumada de salmón; ciboulette.
Alma Mora Extra Brut, San Juan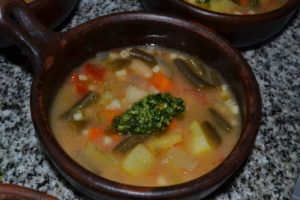 Vegetable Soup with Nira-Shiso Pesto – vegetable stock, onions, garlic, rocoto, carrot, sweet potato, miso, green beans, white beans, tomatoes, ave maria pasta, merquén (smoked chili); pesto of shiso, nira, garlic, romano cheese, pinenuts, peperoncino, olive oil.
Sopa de Verduras con Pesto de Nira y Shiso – caldo de verduras, cebolla, ajo, rocoto, zanahoria, batata, miso, chauchas, alubias, tomates, pasta ave maria, merquén; pesto de shiso, nira, ajo, queso romano, piñones, peperoncino, aceite de oliva.
Aniello Soil Blanco de Pinot Noir 2015, Alto Valle del Río Negro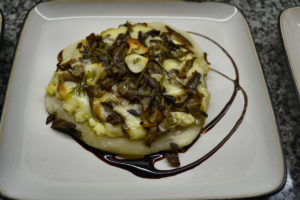 Oyster Mushroom Open Piadina – soft dough topped with ricotta, smoked mozzarella, oyster mushrooms, garlic, rosemary, olive oil; balsamic vinegar reduction.
Piadina Abierta de Gírgolas – masa blanda cubierta con ricota, mozarela ahumada, gírgolas, ajo, romero, aceite de oliva; reducción de vinagre bálsamico.
Aristides Cabernet-Malbec Rosé 2016, Maipú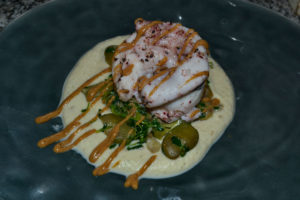 Roasted Pejerrey, Cauliflower Cream, Broad Beans, Pea Shoots, & Cockles – two fillets of pejerrey rubbed with sesame oil, salt, sumac, thyme, coiled and roasted; puree of cauliflower and harissa; broad beans, cockles, and pea shoots sauteed in garlic butter; sauce of tahini, sumac, apple cider vinegar, lemon, molasses, ginger, olive oil.
Pejerrey Asado, Crema de Cóliflor, Habas, Brotas de Arvejas, y Berberechos – dos filetes de pejerrey rociado con aceite de sésamo, sal, zumac, tomillo, enroscado y asado; puré de cóliflor y harissa; habas, berberechos, y brotes de arvejas saltados en manteca de ajo; salsa de tahini, zumac, vinagre de manzana, limón, melaza, jengibre, aceite de oliva.
Miras Joven Trousseau Nouveau 2015, Río Negro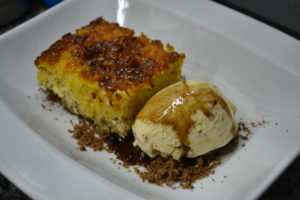 Sweet Corn Bread, Popcorn Gelato, Mole Poblano Soil – cornbread – flour, cornmeal, corn, pineapple, brown sugar, condensed milk, almond extract, eggs, butter; gelato – cream, milk, eggs, sugar, popcorn; soil – chipotle, sesame, peanut, cinnamon, allspice, clove, cocoa, black pepper, cumin, dried banana, sugar; syrup – reduction of corncob essence and brown sugar.
Pan de Elote, Helado de Pochoclo, Suelo de Molé Poblano – pan de elote – harina, harina de maíz, maíz, anana, azucar negra, leche condensada, extracto de almendra, huevos, manteca; helado – crema, leche, huevos, azucar, pochoclo; suelo – chipotle, sésamo, maní, canela, pimienta de jamaica, clavo de olor, cacao, pimienta negra, cómino, banana seca, azucar; jarabe – reducción de la esencia de mazorca de maíz y azucar negra.
Latitud 33 Tardío 2015, Mendoza