One of the things that people who love burgers know is that it's not all about the fancy gourmet places with special blends of meat, and oddball homemade sauces, and offbeat cheeses and toppings. Sometimes it's all about having a well seasoned patty of good quality meat, on a decent bun, with the basics – be it cheese, lettuce, tomato, onion, pickles, and not much more. Maybe bacon. Because, bacon. So I thought I'd dive into the dive bars, well, really more pubs, and see what some of the well known, and less well known ones have to offer.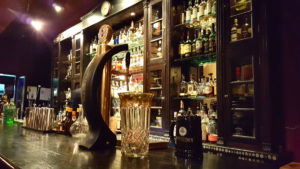 Wherever, Fray Justo Santamaría de Oro 2476, Palermo – I just like the name, and so it's a good place to start. Besides if you're into "checking in" to places be it on Swarm or Facebook or… are there other check-in apps?… it looks kind of cool to have just checked in to "Wherever". Dimly lit, dark wood bar, showing its wear, albeit only about a decade old – of course it could well have been another pub before. Perfect place to think of as a dive bar. But then you start to look at what's on offer – this is a Scotch bar for people who know their Scotch. You see that back bar display? The right hand shelves, that are sort of dark, hold Irish whiskey at the top and Bourbon at the bottom. Everything else, all the lighted shelves, all the way to the far end, is Scotch. More single malts than I've seen anywhere, and in the couple of closed cabinets – some rare ones that are near impossible to find. Rumor has it that they have somewhere around 200 different labels! Unfortunately for me, I'm not a Scotch drinker, and the only beer available was Warsteiner on tap or Miller in bottle. I ordered a gin & tonic from one of the three or four gins available.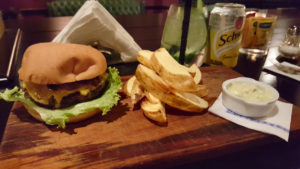 Five different burgers on offer – really just different toppings available, as they're all the same burger – no fancy lamb or veggie or anything of that sort. I ordered the "Uno" sans sweet barbecue sauce. I'm not a bbq fan when it comes to burgers. Simple patty, good sized, perfectly seasoned, cooked to somewhere very slightly past medium rare. A slice of cheese, lettuce and tomato (smartly, the lettuce placed on the bottom, so it protects that bottom bun), a couple of sliced cornichons, a couple of slices of bacon, and some red onion. Steak fries, a little soft for my taste, but delicious. Herbed mayo to dip them in. The usual array of condiments in packets on the side. Done and done. Is it a great burger? No. But it's a very good burger and one I'd happily eat again at 135 pesos. And for you Scotch drinkers? This is the place.
---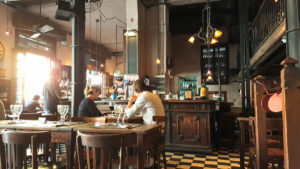 Bar Seddon, Defensa 695, San Telmo – Another one where looks may be a touch deceiving. While Seddon's history stretches back to 1980 (not a long stretch), it was located on the 700 block of 25 de Mayo, on that downtown strip of bars and restaurants. In 2001 it relocated to this spot on a corner on the border of Monserrat and San Telmo (they claim the latter, though according to the map, they're on the Monserrat side of the line). Interesting to note that at a mere 37 years old they've garnered a spot on the the historical Bars Notables list – I always sort of assumed that was reserved for places that had been around for like 50-100 years or so. I wonder if they're getting some credit for the space, which clearly has been around, as a pub, a lot longer than just 16 years. Still, overall it seems like a good list for my search for a decent pub burger. Seddon also has a second location up in San Isidro that's been open since 2011.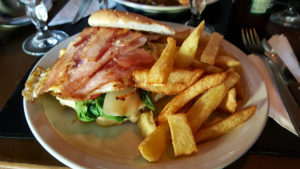 Service is a bit scattered, and the kitchen is "slow as molasses in January". Visited with two lunch companions (my brother and his wife, visiting from Sydney), and we ordered up a burger (there's only one on the menu, the Hamburguesa Seddon, yet still the waiter asked me which of the burgers I wanted, and when I pointed out there was only one, he started flipping through the menu looking for "the other ones that I'm sure are here"), a bondiola (pork shoulder) sandwich, and a vegetable and chicken stir-fry. They took 45 minutes to get to the table, despite there being few other people in the room.
The stir-fry was fine, the pork sandwich arrived with just a slab of pork topped with bacon on a sort of mini-baguette, and missing the menu promised saute of mushrooms and onions – the waiter seemed surprised we brought it up, but did, to his credit, whisk it away and return just a short 4-5 minutes later with it properly topped. On to the burger. The biggest problem is there's just too much stuff on it in relation to the meat. The patty itself is quite small, and a bit dense, although decently seasoned, but it simply disappears under a tidal wave of cheese, greens, tomato, bacon, egg, onions, and more. The fries are actually very good, nice and crisp outside and soft on the inside, the way a decent fry should be. Still, this one rates no more than an average burger, even for a pub.
---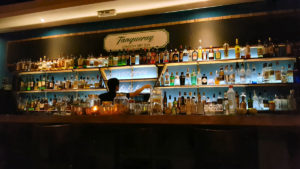 Duarte, Araoz 1218, Palermo – Although not a traditional pub, so perhaps outside the scope of this post, I've had Duarte on my list for so long that, hey, it used to be in another location along Godoy Cruz, a place where it always seemed to be jammed with people. I'd also run into the owner at a wine tasting awhile back and promised I'd come check out the burger. That, too, was long enough ago that they were at the old location. They moved over two years ago.
Now they're in a darkly lit spot, with a dimly lit entrance, pretty much across the street from wildly popular The Shanghai Dragon. That spot on a recent evening was not only full to capacity, but had another 30+ people spilling over onto the sidewalk drinking. Duarte had me and half a dozen staff, at 9:30 at night. By 10:30 when I left, there were maybe another 10 people. Maybe it has something to do with those staff members spending all their time, even when there were customers, chatting with each other at the end of the bar instead of paying any attention to the room.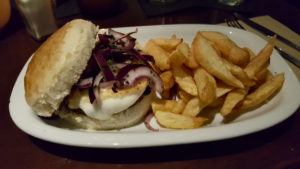 There are two burgers on the menu, both 150 pesos, a double patty beef burger topped with a massive amount of stuff – cheese, all the veggies, bacon, egg, barbecue sauce, and more; or a single patty lamb burger with cheese, red onion, and chopped mint and parsley. I went with the latter, just because it sounded interesting, though perhaps given the premise of this post, I should have gone with the beef. The burger itself, well seasoned, though overcooked. I'm not sure what the cheese was supposed to be, but it had little flavor. If there was mint, it was minimal, though scattered chopped parsley was there. The red onions dominated the whole thing – not just raw, but cut thick, at times even wedges, and probably weighing in at nearly the same as the burger…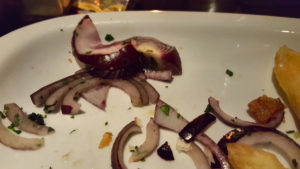 Here are a couple of the wedges leftover, along with more onion that fell off – and that's maybe a third of the onion that was on the burger itself. The fries were just bordering on having a crisp outside, soft inside, the way one wants, but just short of the mark. A gin and tonic tasted… sweet and minty, oh, there's the mint. I asked the bartender if he'd added something else to it, he insisted not, but it was so sweet I couldn't drink it.
As a note, should the owners ever read this – the appropriate response to a patron telling a bartender that a drink isn't right isn't 1) "you probably aren't used to drinking gin and tonics" followed by 2) "you ordered a particular gin, that's the way it tastes" (no it doesn't, I order Apostoles all the time, it's neither sweet nor minty), and then, 3) "we use Schweppes tonic water, you just don't know what it tastes like". The appropriate response is to offer to make something else, or if there's a chance you made the drink wrong, offer to remake it.
Finished the burger, bottle of water, and a basically untouched drink, 290 pesos ($19) plus tip. A bust all around, sorry.
---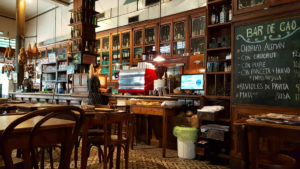 Bar de Cao, Av. Independencía 2400, San Cristobál – Finally, one with some long history behind it. Opened by brothers Pepe and Vicente Cao in 1930 as a place to dispense beverages out of one side and provisions out of the other (it's on the corner of Matheu, with entrances on both streets), it was first called simply Hermanos Cao and then later El Almacén de Cao, it was rebaptized by the current generation of the family in 2005 officially as Bar de los Hermanos Cao, and then shortly thereafter shortened. Either way, it's been serving up food and drink in one form or another for just over a century!
The menu is extensive, and is mostly classic porteño food, from milanesas to an array of turkey sandwiches (a strong tradition historically, that's mostly disappeared – I did a little searching back in my sandwich hunt days). In fact, the latter take up two full pages out of the whopping 24 page menu! I had to hunt for the burger page, which offers up eleven different burgers, albeit that the differences between most of them are nothing more than a list of which toppings you can have on them.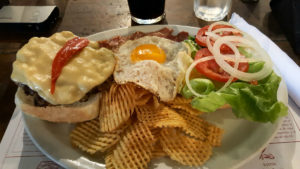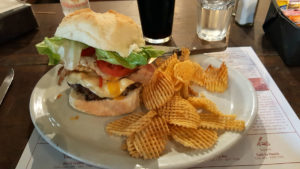 Hamburguesa Cao – May as well go for the works and the one the place puts their name on, right? First off, huge burgers. According to the menu, all their burgers weigh in at 300 grams, or nearly an 11 ounce patty! It comes seated on a thick, slightly chewy housemade country bread roll that's perfect for the heft.  It has bubbly melted cheese, a strip of roasted red pepper, two thick cut smoky bacon slices, not quite crisp, but well cooked, a runny fried egg, lettuce, tomato, and onion.
The burger itself, cooked to about a solid medium, slightly past where I'd have preferred it, but I also forgot to ask for it rarer. It's coarsely ground and well seasoned. It's a brilliant, classic pub burger and although it was a workout to make it through it given the size, I didn't leave a crumb on the plate. The waffle cut potato chips are freshly made. What's not to like? I'll be back to try more of the menu. Fairly priced – 148 pesos for the burger, 38 for the water, 75 for the pint – a total of 261 pesos, or $17 plus tip.
---
Bar El Federal, Carlos Calvo 599 (corner of Perú), San Telmo – Another of the bars notables on the official list. It also has some history to it, having been around and serving up food since 1864. In fact, they're credited with being the originators of the local custom of a picada y vermut – a plate of cured meats and cheeses served up with a glass of vermouth. In many, many ways, this could simply be a repeat of the above review of Bar de Cao. Similar decor, similar setup, virtually identical menu – right down to the size, layout, and pretty much all the dishes. I wonder if it's a coordinated effort among the group of Los Notables? My vague recollection of from years ago of Cafe Margot is that it was also pretty much the same.
Followup discussion with some local friends, turns out that the five Bars Notables in the Los Notables group are all owned by the same owners – it's not clear whether that the Cao family descendants alone (since at Cao they say that it's still owned by the family), or a group of owners, perhaps a family from each of the bars. Explains, however, why they have the same general ambiance and menu. Doesn't explain the difference in quality of execution that will momentarily become apparent.
There are subtle differences, no doubt. Service is less friendly here than at Cao – no, that's not right, it's simply more exasperated. I think that's probably chalk-up-able to the fact that being in San Telmo it's a place where roughly half the diners coming in are tourists, with little more Spanish than hola, por favor, gracias, adios, and maybe hasta la vista baby. They want a traditional local experience, but don't know how to ask for it.
The only real difference I noted on the menu was that Cao offered up its burgers and sandwiches on a choice of half a dozen different housemade breads, whereas Federal doesn't, and if the bun on the burger is an indication, these probably aren't housemade either.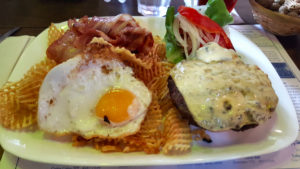 So, on to the Hamburguesa El Federal, occupying the same position and having the same description in the menu as Cao's. First off, very commercial, supermarket style bun that didn't hold up past two or three bites – I ended up having to eat the burger with knife and fork. Second, no way that that's the same 300 grams as the above, it's smaller diameter, and barely over half the thickness. Maybe 200, but even that's a stretch. This time I remembered to ask for rare to medium rare. The patty came out so well done that it bordered on dry. It was also completely unseasoned.
A bit overwhelmed by the toppings – while there are obviously a lot on both of them, the one at Cao was balanced (of course, having 50% more meat on the burger helps with that), but here, instead of 2 slices of tomato there were 5, instead of 2 slices of thick cut bacon there were 4 thin, and barely warmed, let alone crisped, ones. And what felt like double the amount of waffle chips, and dripping with oil, at least drain them before you put them on the plate. All in all, for me, just kind of a meh pub burger. The feeling and menu may look the same, but the execution falls short. And Cao is closer to home. Oh, identical prices on the menu, to the peso.
I think that's a good stopping point for now. My system also needs a break from burgers for a bit again.