So what have I been whipping up for home cooking while Henry's been away. Gotta be "comfort food", you know?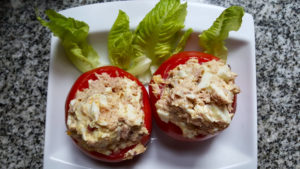 Spicy Tuna salad stuffed tomatoes – just what it says – hollowed out tomatoes filled with a tuna salad that's been spiked up with garlic, mustard, and chilies.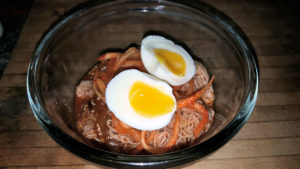 Cold Kimchi Noodles – more somen noodles, tossed with chopped kimchi and the sauce used for making Korean fried chicken (gochujang, rice vinegar, honey, sesame), julienne of pickled daikon, and halved soft boiled egg.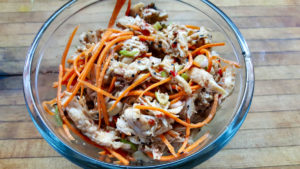 Bang Bang Chicken Salad – cold salad of poached chicken tossed in lots of szechuan pepper, chilies, garlic, scallions, and more! My version of this recipe.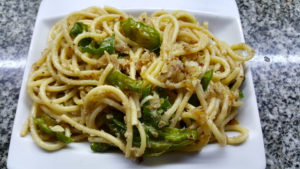 Foratti with Blistered Shishitos – thick noodles tossed with blistered shishito peppers, lots of sliced garlic, a little onion, and finely chopped anchovy, all in a spicy olive oil.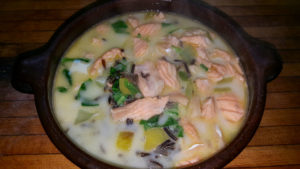 Smoked salmon and wild rice soup – a milk and chicken stock based soup with wild rice, sweet potato, green onion, onion, garlic, and lots of smoked salmon – my version of a Minnesota classic.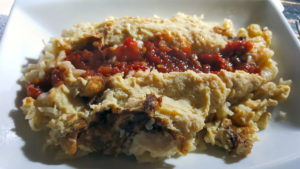 Ramelette – an omelette, the eggs flavored with the seasoning packet from some instant ramen (shrimp), then folded over the cooked ramen noodles, and the whole thing topped with spicy sambal.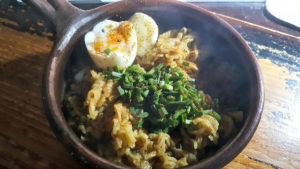 Instant Ramen Plus – or, just cooking up some instant ramen, light on the broth, and topping it with lots of garlic chives, togaroshi, and a soft boiled egg.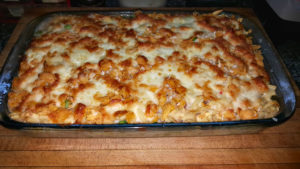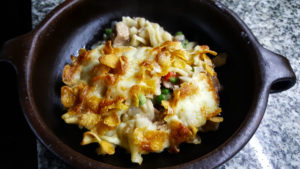 Tuna Noodle Casserole – I mean, what could be more comfort food to a Midwestern boy who grew up in the late 50s and 60s? It's updated a bit – gluten free corn based noodles (just because, I'm not really that concerned about it, but I was experimenting), tossed with peas and canned tuna. A bechamel made with half milk and half a bacon and mushroom stock, spiced up with red onion, garlic, and aji limo chili. Mixed it all together, into the casserole dish, and topped with unsweetened cornflakes, a local soft, creamy cheese and some grated gran pampeano cheese (basically the Argentine version of grana padano). Baked. Consumed.