Among other Asian dining, we continue here with a couple of entries from Sundays with Steven, the friend I've been exploring Flores with – we've made it a regular Sunday lunch for five weeks in a row now, checking a new spot each time.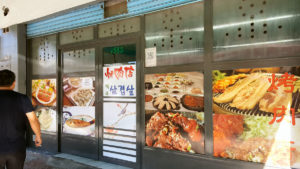 Baik Kul Samgyupsal (White Dove Barbecue Shop), Av. Carabobo 1583 – The signs on the outside are all in Korean and Chinese, so you just have to know the address. While ostensibly open at around noon, don't count on them being ready at least based on our experience – give them until about 12:30 or 1:00 (at lunch, I don't know their dinnertime schedule). Ring the bell, wait for the buzzer, go in, find a table.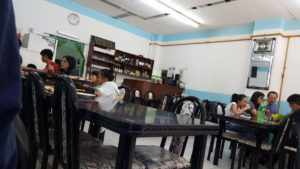 You will, likely, be the only non-Koreans in the place (unless you're Korean, in which case, ignore that). There's no menu, everyone gets the same, and it's a whopping amount of food – I believe there's a table minimum of two people to serve it, which makes sense given the quantity brought.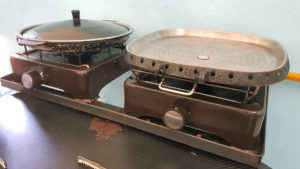 There are two griddles to the side, the depressed one is for the two types of beef, the prawns, and the calamari; the one on the left, the dome (don't lift the lid, you'll burn yourself, that's actually not even a lid, it's the cooking surface) is for the pork belly, allowing the fat to drain off around the edge into a pool of water underneath.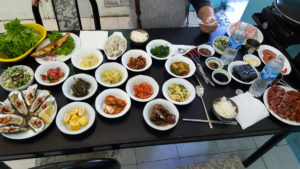 As I said, it's a whopping amount of food, from ban chan selection to pork belly, beef in two different marinades, prawns, and calamari to cook (the last hadn't landed on the table yet), plus oysters on the half shell, fried fish, and scallion pancake (also not on the table yet). And, a bowl of soup…
…which arrives bubbling hot. Oh, and to top it all off, this is just round one if you want to keep going – you can order more of anything on the table for no extra charge. Not that with two people we could, but if you're a bigger group, you'll probably end up ordering more. If you don't already know the protocol – you take the lettuce leaves or the nori sheets and wrap some of your cooked meat (you cook it yourself on the griddles) along with whatever condiments and vegetables you like (the slivered green onions are a standard, but kimchi, or whatever strikes your fancy) and eat it wrapped up.
Everything was good with two exceptions – the ban chan of hot dogs was just weird, and the soup was very watery, with little to no flavor other than a faint after-kick of chili. We'd happily eat the rest of it anytime (after digesting this meal). And, a flat 300 pesos per person, plus beverage and tip, makes it a damned good deal (just a little over 10% less than BBQ Town in Barrio Chino, which these days runs 340 pesos, and now with the H line subway connection, this takes no more time to get to).
---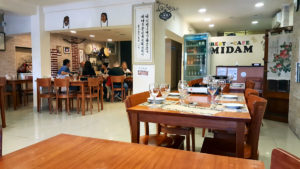 Midam, Av. Carabobo 1559, Flores – Sometimes, restaurant owners make stupid moves. Midam, a classic spot for a wide array of traditional Korean dishes that's been a fan favorite for years, has decided to "experiment" and scrap their entire menu. That means they're scrapping the entire reason people trekked to Flores just to eat there, as an alternative to next door's pricier Una Canción Coreana, and with more variety. And what have they scrapped it for?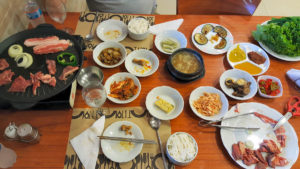 They've decided to join the fray of grill it yourself meat places along the the stretch (there are three or four others within a block of them). No other options. And, just look at the array of what shows up on the table and compare it to Baik Kul above. No appetizers, no side dishes, just a few ban chan and various condiments to accompany the meat. And the meat shows up as frozen strips of pork belly, and unseasoned coarsely cut pieces of beef. Nothing else. Single grill to cook everything. And they're using a thick ribbed lettuce that's near impossible to roll up into a wrap without it breaking open. Although everything was tasty (the soup was a very interesting zucchini and onion one with a lot of flavor), it doesn't compare to the above, just a couple of doors away, for the same 300 peso price tag.
Might explain why on a Sunday afternoon, every other place on the block was packed full with people waiting and Midam had us and just a few other people, never more than half full – and several people came in, as we did, for the classic dishes, and turned around and left, disappointed. End the experiment! For now, only a desultory recommendation if none of the other spots I've reviewed along the block over the last month or so are open.
---
Paru Inkas Sushi & Grill, La Pampa 717, Belgrano – This one's been on my Nikkei radar for awhile, and I just haven't made the trek out to bajo Belgrano to check it out. They do have a small outpost now in the little Italy section of Palermo, along Cerviño, which I didn't know about, and, given that upfront, I liked this place, I'll have to check out as it's walking distance from home. Pretty room, nicely lit, friendly service – although mixed feelings about that. Hostess, manager, waiter, all friendly, cheerful, etc. Food runners, dour and silent. With four dishes coming to the table, not a word uttered, just the plates dropped on the table, one after the other, and they turn and walk away without saying anything about what they're delivering, acknowledging the guests, or even making eye contact.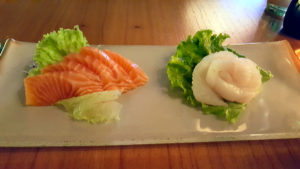 Sashimi – Really good quality, fresh, decent sized portions. I'd guess the white fish to be lenguado, but couldn't get an answer from anyone passing by, and by the time my waiter returned mid-dinner to check on me (once he took the order, he more or less ignored my existence other than to ask once in the middle to see if I wanted another drink, and once at the end how I liked the food), I'd forgotten about it.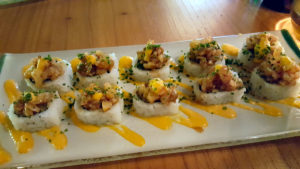 Tako Maki – Really creative, excellent modern sushi roll with a cucumber and avocado filling, and then a topping of a little chopped mixture of octopus, prawn. The sauce is, ostensibly, a "panka miso", though aji panka is a dark reddish brown chili, not a bright yellow one (as I discussed in the linked post), so I think that this was actually an aji mirasol and miso sauce.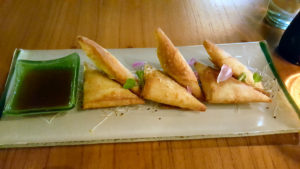 Kaniwan – Brilliant dish. More or less a sort of samosa, phyllo wrapped filling of prawns, peanuts, and cheese, and a dipping sauce of passionfruit and rocoto chili. Could have used a little more kick in the sauce, but I wouldn't pass this one up on a repeat visit.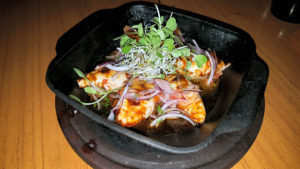 Koiko Relleno al Panko Miso – Slightly less successful here. Maybe it was because in some ways, this one just mirrored the two previous dishes in flavor profile, and had I thought it through I might have gone a different route. Here, chipirones, little baby squid, filled with a mix of prawn, cheese, and cashews, served in a bubbling hot cast iron bowl, and brushed with the same "panka miso" (again, probably a "mirasol miso"), and a little hot salsa criolla. I found the dish a little oily and salty, and, not surprisingly, the filling too much a pair to the previous dish, just subbing in cashews for peanuts – the peanuts work better too.
Overall – like the room a lot. Like the waiter service upfront, but once you've placed your order, you're kind of on your own the rest of the time. For the most part, loved the food – yeah, I wasn't thrilled with the last dish, but it could easily have been palate fatigue for those flavors, and/or just a minor slip of the salt balance on the filling. It is expensive, but no more so than any of the other Nikkei type places in town, and easily as creative as places like La Mar or Osaka – with a 50 peso cubierto, a cocktail and a glass of wine, a bottle of water, and the above food, and tip, it came in at 1625 pesos, or $105. I do plan to check out their outpost nearer to here and see how it compares!
---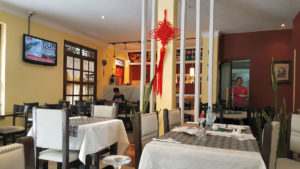 D&H, Piedras 1006 (corner of Carlos Calvo), San Telmo – I forgot to ask why "D&H". The Chinese characters are pronounced dùn huáng, the first character translates to "stew" or "braise" and the second to a "fast warship", and together, they seem to indicate some kind of stew, but as to what, I'm not sure. Throw in the ampersand and who knows? Cute place, relatively new, and, obviously, empty other than the woman running the place, her son, and a delivery guy who maybe had two orders to deliver while we were there.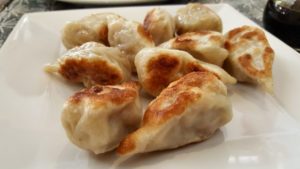 Hopefully they'll do well, because the food's quite good – really well made, beautifully folded dumplings, perfectly cooked, and on request, served up with a fiery chili oil.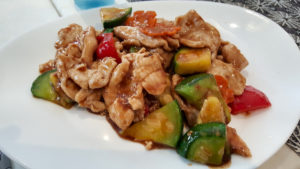 We both ordered more or less the same thing – I got the spicy chicken, which wasn't particularly spicy, but nice and flavorful, and with the addition of that chili oil, perfect.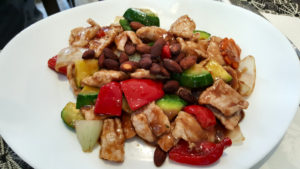 And, my lunch companion got the same with pork, and requested the addition of almonds (for which they charged an extra 20 pesos), also done really well. Given the extra charge and the hot oil on the side, it'd be easier and cheaper just to order almond chicken and then add the heat yourself!
Overall, like the space. Service was kind of neutral, but efficient. Like the food quite a bit – if I lived in San Telmo, this would likely become a go-to spot for takeout or delivery. It is a little pricier than some, but I think the quality makes up for it, and the portions are huge – we could have probably split one main course with some rice on the side or a second appetizer. For dumplings, two main courses (and extra almonds), two bottles of water, 505 pesos.