March 15-17 2017 15-17 Marzo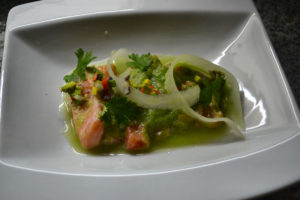 Salmon "Chili Water" – sliced salmon lightly cured in a mix of lime juice, cucumber, cilantro, onion, jalapeño, and salt; cucumber ribbons; fine dice of avocado, limo chili, and red onion; cilantro.
Aguachile de Salmón Rosado – salmón rosado rebanado y curado ligeramente en una mezcla de jugo de lima, pepino, cilantro, cebolla, jalapeño, y sal; cintas de pepino; daditos de palta, ají limo, y cebolla morada; cilantro.
Philippe Caraguel Rosé Extra Brut, Mendoza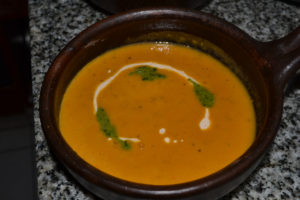 Tomato & Gin Soup – tomatoes, onions, garlic, salt, and a potato for starch, cooked in vegetable stock until soft, then pureed with togaroshi, brown sugar, basil, Principe de Apostoles gin, and a splash of cream; topped with yogurt pureed with piri-piri chilies, and basil oil.
Sopa de Tomate y Ginebre – tomates, cebollas, ajo, sal, y una papa para su almidón, cocido en caldo de verduras hasta se ablandan, luego puré con togaroshi, azucar negra, albahaca, Principe de Apostoles gin, y una toca de crema de leche; con puré de yogúr y ají piri-piri, y aceite de albahaca.
Mendel Semillón 2014, Luján de Cuyo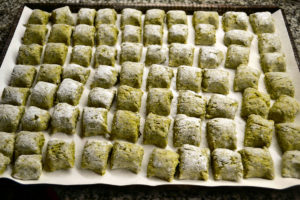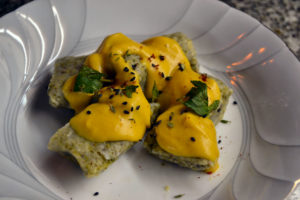 Broccoli Gnocchi, Huancaina Sauce – gnocchis made from steamed broccoli, chickpea and pastry flours, egg, salt, pepper, and allspice; sauce of yellow Peruvian chilies simmered in water until soft, walnuts, fresh cheese, a little bit of bread for thickening, salt, and the cooking water from the chilies; black sesame seeds, sumac, thyme and spearmint leaves.
Ñoquis de Brócoli, Salsa Huancaina – ñoquis hecho de brócoli al vapor, harinas de garbanzo y 0000, huevo, sal, pimienta, y pimienta de jamaica; salsa de ajies amarillos hervidos hasta son blandos, nueces, queso fresco, un poquito de pan para espesarla, sal, y el agua de cocinando los ajies; semillas de sésamo negro, zumac, hojas de tomillo y menta verde.
Piatelli Vineyards Rosé of Malbec Premium 2016, Luján de Cuyo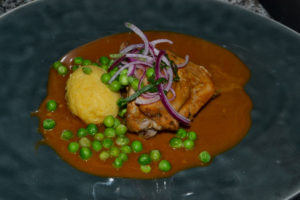 Herb-Chili Stewed Chicken, Popcorn Polenta – chicken thighs slow cooked in shiso, parsley, oregano, dark beer, aji panka, onions, garlic, and salt; reduction of the pureed cooking liquid; polenta cooked in milk infused with buttered popcorn; fresh peas; salad of red onion, rocoto chili, shiso leaf, salt, and rice vinegar.
Adobo de Pollo, Polenta de Pochoclo – muslos de pollo cocido lentamente en shiso (perilla), perejíl, orégano, cerveza negra, ají panka, cebolla, ajo, y sal; reducción del puré de liquido de cocinar; polenta cocido en leche infusado con pochoclo mantecado; arvejas frescas; ensaladita de cebolla morada, rocoto, shiso, sal, y vinagre de arroz.
Gouguenheim Merlot 2015, Valle Escondido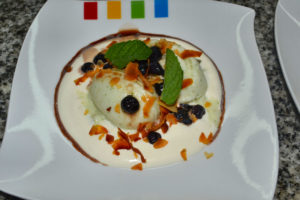 Coconut & Chamoe Sorbet, Blueberries in Pineral – puree of chamoes, coconut milk, lime juice, peppermint, stevia, xanthan gum; chilled and churned into a sorbet; lightly whipped vanilla cream; blueberries macerated in Pineral; toasted coconut flakes, peppermint.
Sorbete de Chamoe y Coco, Arandanos en Pineral – puré de chamoes, leche de coco, jugo de lima, menta, stevia, goma xántica; enfriado y revuelto al sorbete; crema de vainilla ligeramente batida; arandanos macerados en Pineral; escamas de coco tostadas, menta.
Nieto-Senetiner "Emilia" Moscatel de Alejandria 2016, Luján de Cuyo