8-10 Marzo / March 8-10 2017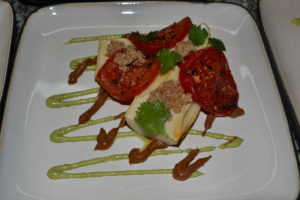 Roasted Palm Heart & Tomato Salad, Amaranth – broiled palm heart halves, broiled sliced tomatoes with basil, amaranth with chili oil and raspberry vinegar, guacamole puree, black olive and sun-dried tomato puree, cilantro.
Ensalada de Palmitos y Tomates al Horno, Amaranta – medio palmitos asados, rodajas de tomate asadas con albahaca, amaranta con aceite de ají y vinagre de frambuesa, puré de guacamole, puré de aceitunas negras y tomates secas, cilantro.
Philippe Caraguel Rosé Extra Brut, Mendoza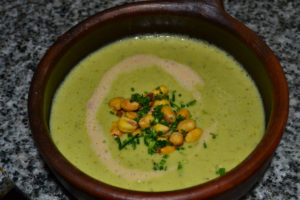 Avocado and Broiled Corn Soup – broiled corn, onion, garlic, and rocoto chili, simmered in corn stock, pureed with avocado, sour cream, cilantro, and parsley; rocoto sour cream, corn nuts, chives.
Crema de Palta y Maíz Dorada – maíz, cebolla, ajo, y rocoto asado, hervido en caldo de maíz, puré con palta, crema ácida, cilantro, y perejíl; crema ácida con rocoto, kikos, ciboulette.
Argento Chardonnay Reserva 2014, Maipú
Bigoli with Blistered Shishito Peppers, Garlic, and Anchovy – thick whole wheat and semolina flour noodles, lightly charred shishito peppers, onion, garlic, and anchovies; panko crumbs toasted with togaroshi. (For vegetarian guests, miso in place of anchovies)
Bigoli con Ajies Shishitos Quemados, Ajo y Anchoa – fideos gruesos caseros de harinas integral y semolín, ajies shishitos quemados ligeramente, cebolla, ajo, y anchoas; migas de panko tostadas con togaroshi. (Para huespedes vegetarianos, miso en lugar de anchoas)
Bodega Esmeralda "Estiba I" Tempranillo Rosado 2015, Mendoza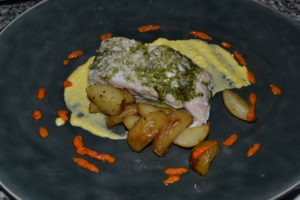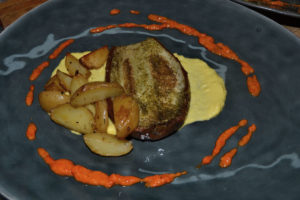 Sand Perch Broiled in Shiso Lemon Oil, Andean Potatoes – Brazilian sand perch coated in a puree of oil, shiso leaves, lemon zest, lemongrass, salt and pepper; puree of corn, butter, cream and milk; Andean potatoes boiled, then quartered, and roasted with olive oil and thyme; matbucha – puree of roasted red pepper, tomato, garlic, and chili in olive oil. (Vegetarian version with a thick slice of eggplant.)
Salmón Blanco Dorado en Aceite de Shiso y Limón, Papines – salmón blanco cubierto en puré de aceite, hojas de shiso, cascara de limón, hierbalimón, sal y pimienta; puré de maíz, manteca, crema y leche; papines hervidos, luego cuarteados, y asados con aceite de oliva y tomillo; matbucha – puré de morrón asado, tomate, ajo, y ají en aceite de oliva. (Versión vegetariano con una lámina gruesa de berenjena.)
Familia Cecchin Graciana Orgánico 2015, Mendoza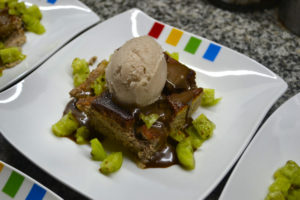 Chocolate and Plantain Bread Pudding, Banana Sorbet – plaintain bread (whole wheat flour, honey, eggs, plantains, oil, salt) soaked in blend of milk, cream, eggs, sugar, and Chinese five-spice, baked with quartered figs; butter bourbon sauce (butter, brown sugar, cream, vanilla, bourbon); diced cactus fruit; banana sorbet (banana, sugar, water).
Budín de Pan de Plátano y Chocolate, Sorbete de Banana – pan de plátano (harina integrál, miél, huevos, plátanos, aceite, sal) mojado en una mezcla de leche, crema, huevos, azucar, y cinco especias chinos, horneado con higos cuarteados; salsa de bourbón manteca (manteca, azucar negra, crema, vainilla, bourbón); daditos de tuna; sorbete de banana (banana, azucar, agua).
Putruele Chardonnay "Tardio de Abríl" 2016, Valle de Tulúm