You already know how this works….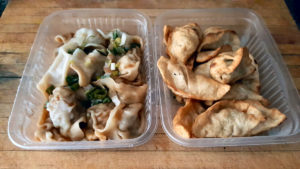 Buena Suerte, Cuenca 1339, Villa Santa Rita – There are several Chinese "rotiserias", primarily takeout spots, called Buena Suerte, or Good Luck, in various parts of town (in fact, I could probably do a whole post just running around comparing them). I don't think there's any relationship between them other than the name.
Here, I simply grabbed an order each of fried and steamed dumplings from this spot when I was on my way home from an appointment nearby. They're good, not great. The steamed ones were a little bit raggedy and falling apart, but I think that's mostly because it took me an hour to get home and they were sitting in the sauce that was poured over them – they'd probably hold up better if the sauce was in a separate container. The fried ones were in good condition.
Oddly, when biting into them, they were somewhat sweet. And, looking at the filling, in addition to the usual pork and chives that so many of them have, they had a fair amount of grated carrot in them – probably a good 20% of the filling. Makes for an interesting flavor difference over others that I've encountered and rather good once the surprise is over. Very reasonable at 65 pesos ($4 and change) per portion of eight. If I lived in the area I'd order from them again just based on these.
---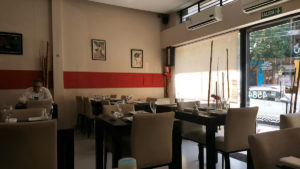 Hikaru, Rocamora 4584, Almagro – I don't remember who mentioned this place as a very good sushi spot, but I'm thankful that they did. I'd put it on my to-try map, and left it to get to at some point when I was over towards Parque Centenario. Turns out to be a little gem of a spot, with friendly, delightful service, and an interesting menu.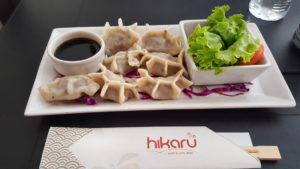 Quite good gyoza, with a very tasty pork filling and a quite nice dipping sauce, and accompanied by a little salad with a good miso dressing.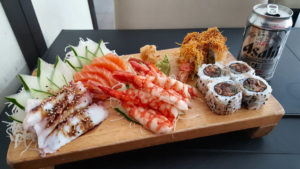 They have both a mixed sushi nigiri and sashimi selection that's supposed to have 4-5 different things on it, but, like so many places here, "no white fish", which is my one negative about the place. I think I may have to just accept that Argentines generally won't order any fish other than salmon and so many sushi spots simply don't stock any other fish, even if they have them listed on their menus. It probably goes bad sitting there. Though it'd be nice if they'd pick up, say, one or two fillets a day just for those of us who will order something else.
So, they made the mix with five each of salmon, prawn, and octopus for the selection. And, I ordered two half rolls – a half salmon skin roll and a half of a spicy prawn roll. All really good quality, fresh, flavorful. The "spicy" wasn't particularly spicy, but the wasabi available had a nice kick to make up for it. Reasonably priced as sushi joints go (which still means a little pricey for lunch) – all the above, plus a bottle of water, an Asahi beer, and tip, and it came in at 780 pesos, or basically $50. I'll be back there again.
---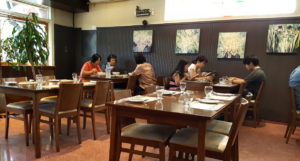 Una Canción Coreana, Carabobo 1549, Flores – Many moons ago I went to eat here with a local friend, and found ourselves ignored completely by proprietress and staff. It was clearly a "you don't belong here" situation, at the level of we finally gave up and went next door, and I never bothered to return. But things have changed over the years, and it's not unusual for non-Koreans to come into Koreatown and eat anymore, and that whole ethos seems to have evaporated.
Went in recently with another friend and we were greeted warmly, shown to a table, brought menus, and all in all, a great experience service-wise. The menu is cute – a little teeny notebook, something of the sort you might keep snapshots in on the coffee table, and in fact, each page features a different dish, with photo. Prices are a bit higher than other restaurants we've encountered in the zone – noticeably.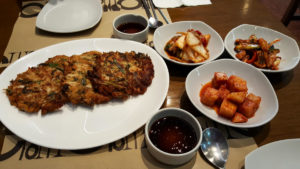 Scallion Pancakes – Turns out there's a valid reason for that. This is some of the best Korean food I've had, anywhere. We started off with a plate of what are often somewhat greasy and slightly dense pancakes filled with scallions – albeit tasty – but these were on another level. Light, airy, not at all greasy, they seemed almost to be more of potato pancakes than flour based. And, absolutely delicious. Nice little selection of ban chan with reasonably spicy kimchi of both cabbage and daikon, and a mildly spicy calamari.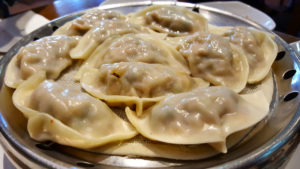 Kimchi Mandu – Likewise, among the best mandu, dumplings, I've had – the filling a mix of pork and kimchi, seasoned well, cooked perfectly. One minor flaw, they're served on the metal plate that they're steamed on, and it has a little non-stick fabric mat underneath the dumplings so they don't stick to the metal. Unfortunately, the mat (at least ours) was a little tattered and I found that some of the fabric threads came away with the dumplings and had to be picked off. They just need to replace that mat (and/or others that might be in the same condition).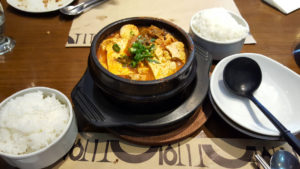 Kimchi Tofu Soup – Almost all the main courses on the menu are soups of one sort or another. This one was just spectacular. It was exactly what it was billed to be, a spicy, deep, rich broth filled with fresh and fried tofu, kimchi, and bits of pork and beef. An all around winner.
So, while prices are high, the portions are abundant – we couldn't finish two appetizers and one main course, though we came close. With a couple of bottles of water, and tip, we came in at 780 pesos for two, currently about $50 (funny, same price as sushi just for me, above). I'd go back here anytime.
---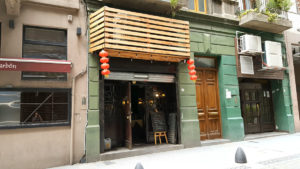 Jing Yue, Reconquista 873, Microcentro/Retiro – Brand, spanking new spot that just opened downtown, I think it opened the second week in February. Inside, it looks like an old pub, and they haven't done much in the way of decoration, of any sort. Until recently, it was apparently a small Peruvian restaurant, Angry Fish BA, which I'd never even heard of. I don't think I ever saw the place even open, though their Facebook page was active until last July – maybe it was only open at night.
Somewhat extensive menu, and only about 2/3 of the menu is translated from Chinese into Spanish. Why? Because the other dishes are "really traditional" or "too spicy" for Argentines to appreciate. I think these guys will need to adjust that thinking. Why not offer it and see, it doesn't take that much effort to translate the dishes – something I made the waiter do right down the line.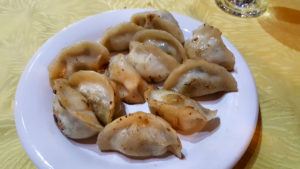 Potstickers – Really well made lightly crisped dumplings. The filling, pork and chive, and a little underseasoned, though the hot sauce they brought on request was fiery and with a dash of soy sauce, was just perfect.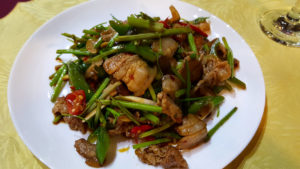 Spicy Pork Belly – This was one of the non-translated dishes (though the characters on the menu translate to a Chinese dish called hui guo rou, or "twice cooked pork", a traditional Szechuan dish of pork with chilies). I mean, these days, who doesn't dive into a pork belly dish? Beautifully flavored, sweat-inducingly spicy with fresh chilies throughout the dish, and just absolutely delicious blend of slightly sweet pork belly, green onion, peppers, chilies, and Chinese celery. A very happy camper was I.
And, fairly reasonable – both dishes plus a bottle of water and tip came in at 375 pesos, or $24. The place is open for lunch and dinner seven days a week, which is unusual for that neighborhood, but gives a great option for those who like "real" Chinese food.
---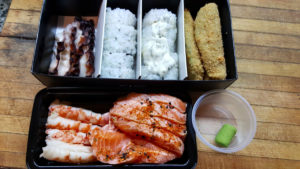 Gako Sushi, Juncal 2819, Recoleta – I've ordered from Gako in the past, awhile back, but for some reason never wrote it up, and don't seem to have any photos, which is odd, but so be it. Lengthy menu, too many choices with cream cheese, but I can be selective. An appetizer of deep fried avocado (oddly, in the same box with the cold stuff, which is just wrong), were good, but lacking in seasoning.
A selection of sashimi – spicy salmon, prawn, and octopus – all fresh and quite good. Two half-rolls, one of was supposed to be a spicy salmon roll with togaroshi and mango, but wasn't even remotely spicy, which is odd, since the spicy salmon sashimi actually was, and the other a "cilantro" roll of prawn and avocado, topped with cilantro mayo.
All good, certainly above average in quality, though everything quite small and unevenly cut. A bit pricey given that it came in at 540 pesos, plus a delivery tip. Seriously, fish just isn't that expensive here, and the prices on sushi are getting out of hand – I know there's artistry involved, but not near as much as what goes into making some of the amazing plates you'd get in other types of restaurants.