Time for a few more burgers. I've been keeping them in reserve for just this moment….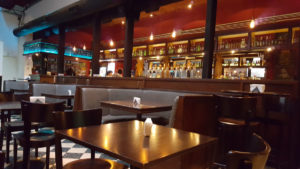 Baum Cervecería, Honduras 5720, Palermo – Anyone who's been in BA in the last year or so has seen the exponential rise of craft beer bars. Two years ago, you were lucky if you could find a craft beer in a bottle, let alone on tap, usually hidden amongst the various big commercial offerings. Now, you can't walk for five minutes in any direction anywhere between San Telmo, Retiro, Recoleta, and Palermo (and probably the barrios immediately surrounding them) without passing one or more bars devoted to the stuff. Cerveza Baum is located in Mar del Plata, on the coast, and they recently opened up a huge beer bar in the heart of Palermo SoHo.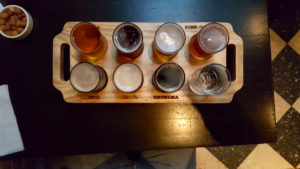 Beer sampler – A selection of eight of Baum's beers in small, 150ml glasses (it's still a lot of beer – that's over a liter in combo). Personal favorite was the Old Ale, but overall, while I liked them all, I wasn't wowed by any of them. On the other hand, that may have been colored by the burger…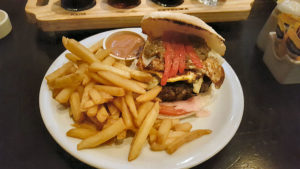 Big Baum Burger – this might just be in the running for the worst burger I've ever had in a restaurant.  Like a naughty child's Christmas morning stocking stuffer, this was little more than a heavily salted lump of spent charcoal. It was so burnt and overcooked the surface cracked when I bit into it. The inattentive to begin with waiter refused to do anything about it, asserting that they were amazing, wonderful burgers that no one could dislike. I'll admit that the toppings on the burger weren't bad, though the bun was nearly as much an abomination as the burgers – stale, toasted to the point of dried out, and falling apart. The fries weren't much better, tasting of old oil and mushy in texture. I didn't even manage to swallow two bites of this horror show. Shoved it away, tried to enjoy the beers, paid the check (a bit over 300 pesos), no tip (hey, the least you could have done is made the effort to go back and talk to the kitchen about this, or even just apologized). Complete fail. Hopefully someone at Baum HQ will get the word.
---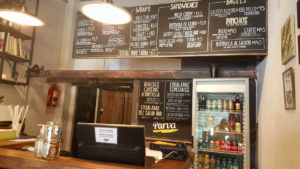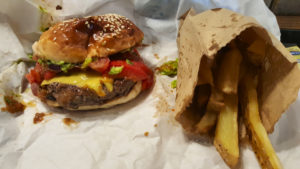 Parva, Riobamba 909, Recoleta – On the other hand… this little gem near to the UBA Medical School, offers up a nice selection of really well made, tasty burgers. Mostly a to-go spot, but there are a few barstool counter seats along the wall and window. It's a teeny little locale, and I was wondering where the kitchen was, only to find that that contraption you can kind of see next to the blackboard is an old freight lift. When you place an order, they drop it down the shaft to the basement, where somehow they've apparently managed to get a licensed (?) kitchen approved. When your order is ready, it comes up on the freight lift in return.
Decent bun, well seasoned beef, great toppings (I had the El Chapo burger with roasted peppers, avocado (more of a guacamole, or at least a mash), pico de gallo, and jalapeño sauce (just a mild kick, but enough to taste). Skin-on french fries, not crisp, but good flavor. With a drink, the combo is 180 pesos, so, say a flat 200 with tip. Not bad at all.
---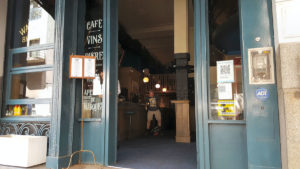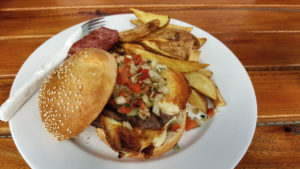 Waterloo Bar, Trés Sargentos 427, Microcentro – Oh, but then we go back the other way, with this spot that took over the digs abandoned by Kaffir Thai (and previously Empire Thai). Maybe I should have gone for their plain cheeseburger, but I thought I'd try their house specialty of a Waterloo Burger at this new British pub. First off, it's not a whopping 250 and some gram, thick, juicy patty. It's two thin patties, neither of them more than half a centimeter in height – probably commercial frozen ones (if not, they should be ashamed of making burgers this way). Dried out, overcooked (despite the "no problem"  when ordering it rare – with those kind of patties it's an impossibility), fatless beef, topped with a provoleta, the crispy outside gooey inside grilled cheese wonder of Argentina that somehow they managed to turn into a gummy, chewy mass, and a swath of morcilla sausage, all finished with bland salsa criolla, which is a fancy way of saying diced tomatoes, peppers, and onions in vinegar.
I managed to choke down about half of it and gave up. The fries were greasy and salty. And for some inexplicable reason – okay, explicable because they're doing some sort of riff on local classics, a "mini" choripan behind the burger – basically a small grilled chorizo sausage on some toasted bread. At 220 pesos, blech. They do have some interesting sounding beers on tap, though at least the day we were there (my lunch companion had a bowl of chicken curry that was at least acceptable), they didn't actually have several of them available. Yawn.
---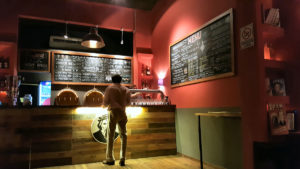 Gaboto Bier Haus, Fitz Roy 1715, Palermo – And, like a ping-pong ball of quality, we sling back across the table to this new craft beer spot, featuring some of their own beers, plus a dozen more from various more obscure craft breweries. It was a bit steamy in the evening, no AC, and a hot night outside, with the front wide open. Drunk 20-somethings stumbling about and loud. Music booming. Not promising. Still, a really interesting selection of beers (including their own, brewed in the nearby town of Quilmes), and between two of us we sampled four of them (90 pesos a pint, or 120 for two pints during happy hour – 6-9pm), including a new favorite, from Finn (named after Huckleberry), their Smoked Ale, the brewery located in Udaonda, BA Province.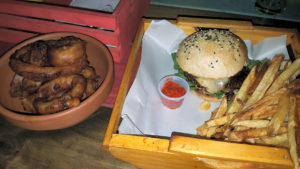 Porco Rex – How can I pass up a slow cooked pork shoulder burger? My companion had a regular beef burger and asserted it was one of the better ones he's had in BA. This certainly was a delicious pork burger, topped with arugula, black olives, brie, and a spicy pepper sauce on the side that actually had a kick to it. Great, sturdy bun that held up all the way through. The fries, for me, while crisp on the outside, had a weird, chewy texture inside, though my friend liked them. On the other hand, easily the best onion rings either of us has had in BA, hands-down. And not badly priced at 140 pesos a burger including fries (with various combos, like with a pint of beer for 190 pesos).
---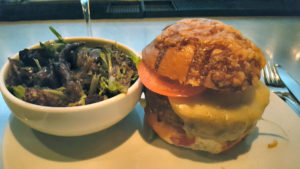 Pony Line, Four Seasons Hotel, Posadas 1068, Recoleta/Retiro – I've reviewed the long time classic burger at this upscale bar before, and had it more than once. And until the gourmet burger craze took over the streets of BA, it kept a place in my top five burgers in the city for several years. As more and more spots came up with pretty damned good burgers, while it certainly stayed in my "five buns clapping" category, it fell out of the top five. I was in the mood to stop in and have a cocktail or two at a classy bar, and wandered my way over recently (gin & tonic made with The Botanist gin from Scotland of all places, pretty amazing gin, though expensive (170 pesos per cocktail – though I suppose for an upscale bar and an upscale liquor, an $11 cocktail that has a double shot of gin in it isn't all that high).
On the menu, a new 45-day aged steakburger that turns out to be simply stunning. Very simple – just well seasoned dry aged meat, coarsely ground, topped with cheese, lettuce, tomato, and an herb aioli, on a cheese brioche bun. And one of the best burgers I've ever had. It comes in at a whopping 360 pesos (but then again, so do some of the high end burgers in Puerto Madero and not one of them has even made it into my five star rating category – all coming in at only three or four). I wouldn't often pimp for a $23 burger (anywhere, let alone BA), but this one is well worth it for the splurge. I would move this place back into the top five, though specifically for this burger, however, the menu changes every few months and it's quite possible at the next change, this one will be gone. Still, the "regular" burger at Pony Line only got knocked out of the top five when La Birra moved in, so it was still hovering on the edge at 6th place – I'd happily eat either of them. But if you're up for the cost, go try this one while it's still there.