A real hodge-podge of different cuisines and foodstuffs and all the rest this time around! And, a long one (though not so much in words as in photos).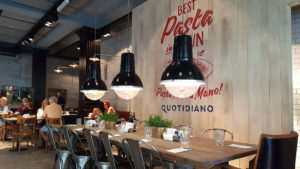 Quotidiano, Av. Callao 1299, Recoleta – A new spot, just opened up, serving pretty much all day long, lunch and dinner focused on Italian food – particularly pastas – in fact, they're calling it a "pasta bar". The "they" behind this light, airy space are the owners who are also behind Sottovoce, El Burladero, Fervor, and Sexto – some of my favorite spots in town for different cuisines. Not surprisingly, it's well run, very professional, and very attentive.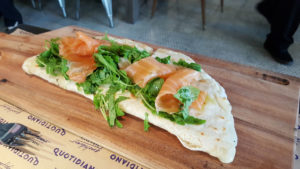 Well, mistakes do happen. I was with a friend, one of the owners of a favorite pizzeria here, and we wanted to try the piadinas – we ordered up the prosciutto version and got the cured salmon version. Decided to go for it, and it was quite good, though I still want to go back and try the other, though 200 pesos is a little pricey for what amounts to an individual sized pizza.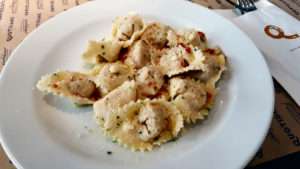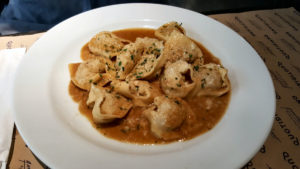 A couple of pastas (180 pesos apiece) – agnolotti stuffed with chicken and herbs and tossed in a simple but absolutely delicious butter, cheese, and herb sauce; and tortelloni filled with veal, in a rich, satisfying "piemontese" sauce with hazelnuts. Some of the best pastas I've eaten in BA – honestly, even better than their own at Sottovoce!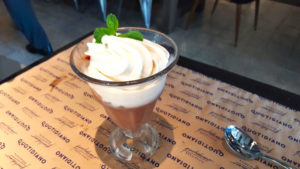 They make gelato "in the moment" – it's sort of a soft serve version, but far more satisfying than, say, Dairy Queen. We split a cup of the mixed chocolate and vanillas.
Quotidiano is also open at breakfast time. It's not so Italian at that point (neither is their weekend brunch menu), but bang on delicious – a simple breakfast with coffee or a pot of tea, four slices of housemade bread, each different (one of the best ryes I've had since moving to Argentina), accompanied by cream cheese and two different housemade marmalades.
All around, a winner, and a place I'll be going back to regularly!
---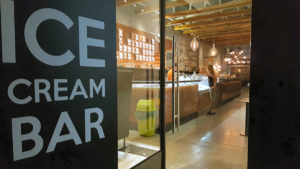 Alchemy Ice Cream Bar, Humboldt 1923, Palermo – I'm not much of a dessert person, and when I do, I usually prefer simple. Ice cream is always a favorite, so an "Ice Cream Bar" sounds like a perfect spot to stop after dinner.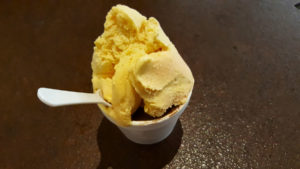 Alchemy offers up some bizarre flavors (eggplant, beet…), ice cream cocktails, and more. I decided to try the carrot mousse and a chocolate almond (no almonds in it, but almond flavoring, which for me, defeats the purpose of chocolate almond ice cream – I want the crunch of the nuts). Both, for me, far too sweet, which overshadowed the flavors, muting them into "these could be pretty much anything" taste experiences. I'd rather have more flavor intensity and far less sugar. 60 pesos for a little cup with two small scoops. Meh.
---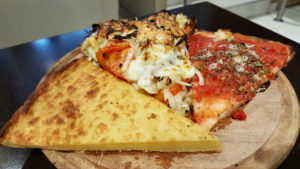 Soultani, San Luis 2601, Once – Not far from home, and I'd just been having a conversation with a rabbi friend (who joined me for the toast breakfast at Quotidiano) about kosher spots in BA. I literally was just passing by, saw the sign for kosher pizza, and said, what the heck. Basically, in their case, since there's cheese, it just means no meat options for the pizzas. Attentive, friendly service. Moderately curious looks from a good number of the clearly very orthodox clients – I may have been the only person in the place without a yamulke on my head and not dressed in black and white.
A slice of excellent pizzaiola, or tomato sauce, garlic, and herbs; another decent if not wow fugazzeta rellena, with slices of tomato filling in for the jamón. And an acceptable slice of fainá, chickpea "bread". I'd go back for the first of those, and overall, pretty decent all around. As isn't unusual, slightly pricier than others in the 'hood – that kosher certification seems to be license to upsell – each slice here running 35 or more pesos.
---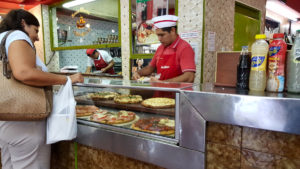 Santa Maria, Av. Corrientes 6801, Chacarita – a porteña classic, and rounding out the trio of famed pizzerias in a strip by the Federico Lacroze train station – El Imperio and Albamonte (which isn't really a pizzeria, though they serve one of my favorite pizzas in the city) being the others. Very typical spot – a dining area with tables, plus, by the pizza kitchen, a series of high tables where you can eat standing or on a barstool (or, I suppose, standing on a barstool).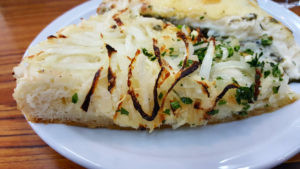 Fugazzeta rellena – Decent version – a bit too cheesy for my tastes, but a good quantity of onions and at least the surface ones lightly browned – though overall they could have used more browning, particularly for those underneath, which were just kind of warm.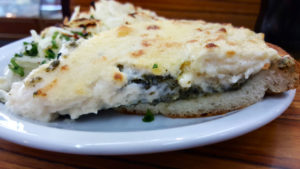 Spinach slice – more than one person who has recommended the place, in person or online, has sworn by the spinach and white sauce slice – and more than one has said, don't bother with any of the slices with tomato sauce, so I didn't. And, this is a decent spinach slice – it's piled high with about a half inch deep layer of creamed spinach, and then topped with mozzarella and parmesan. Well seasoned, maybe a bit too much like a spinach tart rather than a pizza, but so be it, I'd eat it again. Still, not what I'd call a wow, and certainly not worth making the trip. A step up from El Imperio perhaps, but a deep step below Albamonte, if you're in the area.
---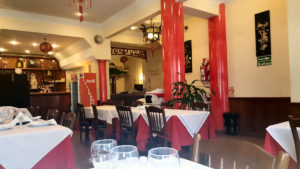 Casita China, Maure 1711, Las Cañitas – Another one just more or less stumbled across when I was wandering around in Las Cañitas. They'd just opened the doors for lunch, they were actually still setting up. One waiter, reasonably attentive and very friendly.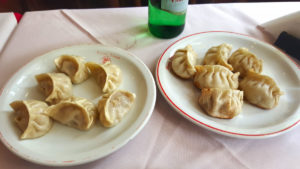 I decided to just make it a dumpling only lunch, and ordered a plate each of the steamed and fried. Turns out they steam them all together and then just lightly toss the fried ones in a hot wok with some oil. On the other hand, that helped because the steamed ones were a little undercooked – the dough still a touch tough, and the fried ones had just hit that perfect point. Good filling of pork and cabbage, but nothing special. I wouldn't make an effort to come back for these, but they were fine. Also too pricey at 105 pesos per plate of six – making them 17.50 pesos apiece for dumplings. At least there was no cubierto charge.
---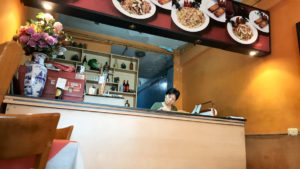 Shanghai, Mario Bravo 1112, Palermo/Recoleta (on the line) – Cute little place, just a few seats, mostly for take-out and delivery, and they were doing a brisk business of the latter. Menu, short and sweet, no surprises. Friendly woman taking care of the place.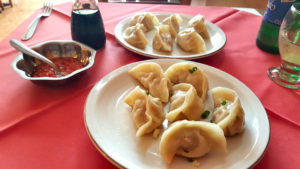 I did give a shot at trying for a 50:50 order of dumplings, since I was on my own – pointing out that if they'd do that, then I'd order a main course too. But, no, gotta order full orders of griddled or steamed ones – so, that was my whole lunch. She seemed disappointed that I didn't order a main course too, and I tried the explanation again, but no dice – full orders or nada. Okay. Really good dumplings as it turned out – packed with pork, a little bit of onion and just a hint of garlic chives, and then the potsticker ones are tossed with garlic chives and, I think, sesame oil. Great hot sauce. Very happy.
---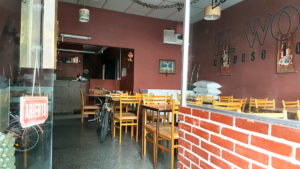 El Wok, Soler 3573, Recoleta – An oddity here – nice sized space, and open for business, but at lunch they don't let you sit down at a table – to go and delivery orders only, even though they're there and could easily take care of customers. So, I grabbed an order each of steamed and griddled dumplings. While awaiting them (I'd wandered across this place serendipitously), I perused their online reviews. With one exception, all awful reviews, the general consensus being – this isn't Chinese food. Uy….
And, they're right. I have no idea what they're supposed to be. First off, not griddled (a la plancha), but deep-fried and sort of half crunchy, half chewy; and clearly boiled, not steamed, falling apart and then both were just doused in some sort of sauce that was soy based, but there were weird flavors in it – I have no idea what it was. The filling on both, just little teeny round meatballs of, probably pork, but not really sure, and again, flavored in some odd way that just didn't say Chinese, or even any kind of Asian, to me. Bizarre and simply inedible.
---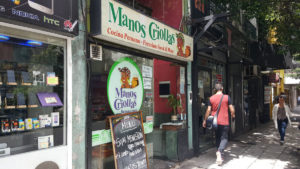 Manos Criollas, Junín 389, Once – I'm doing a lot of stumbling on places. Then again, that's how one finds unsung spots, no? Just happened to see this Peruvian spot one day while headed elsewhere and decided to give it a try for the daily menú, and save the other spot for another day.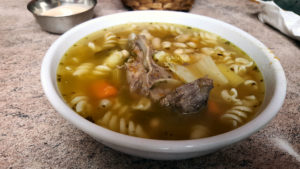 Menú – beef, noodle, and white bean soup. Tasty, filling, well seasoned. A meal in itself. Some of these places just serve too big of portions, particularly of the soups, for the lunch prix fixe.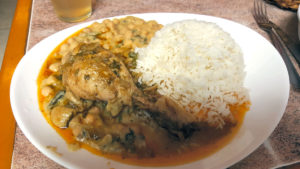 Seco de pollo con garbanzos – A nice twist on the usual seco of either duck, lamb, or beef – here a chicken version. Not that that in itself is unheard of, we've run into more than one of those, but instead of the usual white beans, here they serve it up on a chickpea stew that by itself was something I'd come back for. The chicken, albeit well made, was secondary to the garbanzos.