Since this time around the focus is on Japanese and Korean, I suppose I could have subbed in for "chop suey" one of the various similar terms or dishes – chapusui, chuuka-don, happousai, japchae – but then I did include one Chinese spot, so I'm sticking with the plan. Not a lot in the way of dumplings this time around. This is going to be a long one (six spots), so settle in for a novela! Maybe I should have called it…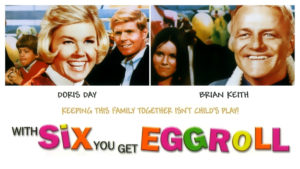 ---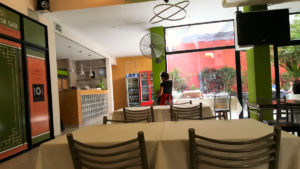 Bueno Sik Gaek, Morón 3363, Floresta – This is the brand new spot I mentioned briefly in the last Chop Suey post as a place that I'd gone into and they'd told me they had no food available for me. I speculated on the possibility that it was a "no white boys" kind of situation, but, with a friend, decided to give it another shot. No issues this time for seating, so we eased into it. Waitress came over carrying a menu – only in Korean, no translated menus available. It lists about 15 items. She tells us that there's only one choice, the menú completo, unless we can read Korean. But what are the other dishes on the menu? No, no, not going to tell us, just order the whole meal or fuggedaboutit.
We decide to go with the completo despite the fairly hefty 350 pesos apiece plus beverages. Oh, an aside, since you know I like to translate things – the Korean characters that form the name – for the part that they translate as "Bueno" (Sik Gaek is a hanger on, a sponge, a mooch, which seems an odd name for a restaurant, though it's also the name of a famous Korean TV show that's about the rivalry between two chefs as they explore food – usually translated as "Gourmet") – instead of being the characters that mean "good", they're literally the characters that sound out the syllables of "bueno", and don't seem to have any actual meaning.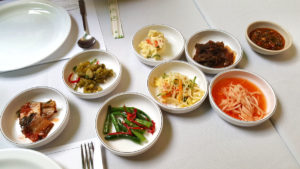 First the ban chan showed up, within moments. A nice little selection, nothing particularly spicy, but well made. The chili green beans were the best.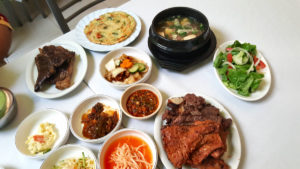 Then the meat, a scallion pancake, some soup, and a salad came in right behind, literally within a minute or two. It took some doing to get them to bring us two small bowls to split the soup, it seemed to be a concept that was a mystery to them. I mean, we could have just dug in with spoons from either side, but come on, it's two small bowls. The meat – three types – spiced pork, bulgogi beef, and ribs (cross cut, as is typical here in Argentina) – all of them overcooked and kind of mushy. The scallion pancake and the soup were good, actually, the soup was excellent, and the best thing we ate all lunch – a relatively spicy potato and tofu soup.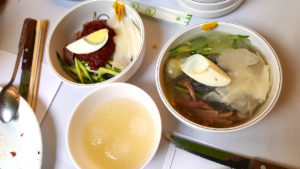 After all that was done we were asked if we wanted to continue with the chilled noodle soups – included in the price and traditional, but perhaps we didn't really want to? No, of course we do – especially at the price you guys are charging for this lunch. By this time our waitress seemed to have gotten less stiff about things, and she brought us a bowl each of the two different noodle soup dishes on offer so we could try them both, rather than just getting one bowl. These were pretty darned good too – you have to like the texture of Korean "glass noodles", which are sort of chewy and a touch elastic. But both dishes I'd eat again.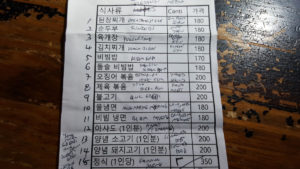 So, after we shelled out our 800 pesos with tip, I plucked the copy of the waitress' order slip from the table along with our bill – because the order slip had the entire list of dishes on it from the menu. And then took some time at home to translate them (once you get the hang of how to use it, this Korean keyboard makes creating the characters quick and easy, and then copying them and translating them in Google Translate was fast). Turns out there are a whole list of dishes – noodle dishes, rice dishes, grilled dishes, soups – that are all available and range in price from 170-200 pesos. So I'd say we did get the "white boy" treatment. Regardless, given that only the soup and the cold noodles were things I'd want to eat again, I don't know that I'd go back.
---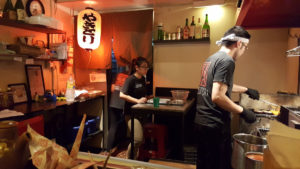 Tori Tori, Ecuador 1175, Recoleta – This spot has been on my radar since it opened a bit over a year ago. For some reason, every time I've planned to go something has interfered, and the one time that I actually walked over to it, it was jammed full of people with more waiting on the sidewalk. So, I made a reservation and headed in. Cute little place, all bar stool seating – a few seats facing into the kitchen at a high counter, and a couple of scattered high tables with stools – roughly a dozen seats in total. It never filled up that night, but then I ate early and left early, and it still at least got busy. The menu is a selection of yakitori skewers, some traditional, some more modern, a few different onigiri rice balls, and some salads.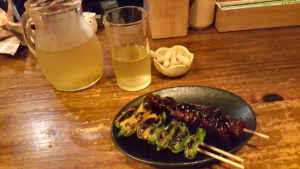 Ice green tea, yakitori skewers of shishito peppers and chicken livers. The food comes out in somewhat random order, as the guy at the grill or the guys in the kitchen finish them – I'd tried to order them as a sort of appetizer then main course, but no, that wasn't happening. Great iced green tea in a pitcher, by the way. First up, two skewers – one of shishito peppers, the other of glazed chicken livers.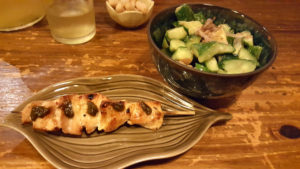 Then a chicken breast in lime yakitori and a cucumber and ume plum salad.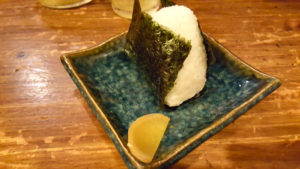 Onigiri filled with katsuo – very traditional, a small section of grilled fish inside the rice ball with a pickle on the side.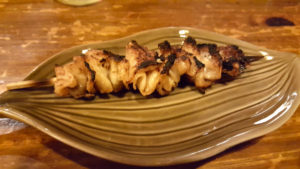 And, it took awhile, but a grilled chicken skin yakitori. A little burnt, and the grill guy apologized as he delivered it (it got burnt because he disappeared into the kitchen for about five minutes at one point and wasn't paying attention to it), and he offered to cook another one. But, this wasn't badly burnt, just lightly charred, and it was delicious, and I don't really need a whole second skewer of grilled chicken skin. So I declined the offer and he graciously offered to cook me one for free "next visit", and there will be a next visit.
Overall – delicious food, simply prepared but done really well. Reasonably priced – four skewers, a good sized salad, the rice ball, and a pitcher of iced tea, plus a 15 pesos cubierto (have I mentioned I hate those?) came in for a total of 250 pesos, a little under $18 with tip.
---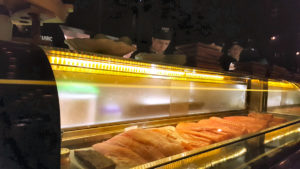 Fabric Sushi, Costa Rica 6000, Palermo – Taking over the space vacated a couple of years ago by Tó, a sushi and French-Japanese fusion spot I never did check out, this is part of a small chain of sushi shops. I think this one is sort of their flagship. Very trendy, dim lighting, cocktail bar, sushi bar, waitstaff in black, etc., etc. You know the look. It's located just a block away from La Mar Cebicheria, and I have no doubt that there's a hope for catching some of the overflow when La Mar is fully booked. Then again, this place was packed to the gills too. I can't say I was enamored of the way that fish is just sort of piled up somewhat haphazardly at the sushi bar – it just looks sloppy.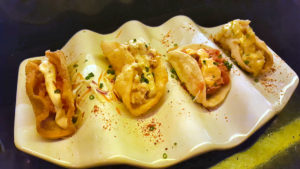 The spot is more a specialist, like La Mar, in Nikkei cooking rather than traditional sushi, or Peruvian food. Ordered up a gin and tonic to start the eve – it didn't arrive until after I'd finished my appetizers (which arrived within five minutes of ordering them – relax people, we're all here to enjoy the evening, not eat fast food).  A quartet of "tacos" made out of deep fried wonton wrappers that puff up. Tasty, creative – each one a different kind of fish, toppings, and seasonings – two different white fish, salmon, tuna – all quite good. Once I got my drink, I was happier.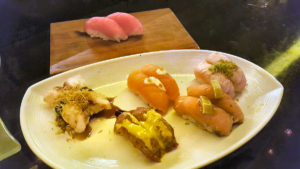 Decided to just get some of the more creative sounding nigiri sushi (plate of 10, 2 each of 5 different types from the menu, a flat 250 pesos), plus some fresh tuna. The fish nice and fresh, the flavorings excellent, but two drawbacks: they're really small, especially for the price, maybe 2/3 the size of traditional sushi; and, the rice is way, way, way too sweet – it tastes like it's drenched in mirin with nothing to balance it out. It was like candied rice. I don't know if someone just screwed up that night or if that's their way, but it really skewed the flavors off the rails. Left to right, top to bottom – octopus with black olive, salmon with salmon roe (those aren't salmon roe, and had there been more than two little beads atop each, I might have complained – they're using these jarred fake fish eggs made from algae and flavored to taste like different fish eggs – but either way, they shouldn't claim them on the menu as salmon roe), seared salmon with lime and truffle oil, steak with anticucho sauce, and another salmon one that I've forgotten now.
Overall, fun place, I could see it more of a trendy date night out (if Henry ate sushi). It's good, but not as good as La Mar, just a block away. Pricey, plus they have a 40 peso cubierto. All told – cocktail, tacos, 12 pieces of sushi, bottle of water, cubierto and tip and it came in at 825 pesos, or about $53. I think that's probably as expensive as it would be in NYC for the quantity and quality of food!
---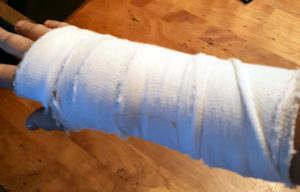 I know it may seem like I'm eating out a lot all of the sudden. I am. I've been putting off wrist surgery for awhile for a problem that developed about a year ago, and finally couldn't any longer. And Henry's away in Peru with one of the other members of his dance company doing some demos and teaching classes for about 8 weeks, so it was a good time to do it – close up Casa S for a few weeks – though I'll be reopening it on March 8 with some outside help until he gets back. Things are actually healing up well, and I'm now down to just a bandage and small ace wrap until later this week, and then hopefully back to normal. By the way, turns out that while I'm wobbly with spoon and fork, I'm a whiz at chopsticks with my left hand, without ever having tried that before. Who knows why? Maybe because I use things like tongs and utensils similar while I'm cooking.
---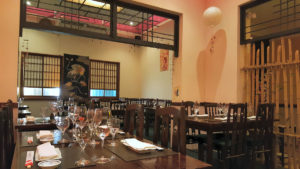 Sashimiya, México 1965, Once – I'd forgotten to "get back to" this place when I was looking at the different restaurants in the loosely defined Japan-town almost two years ago on my RamenQuest. Decided to give it a shot and see what the fuss is about, as it gets some pretty high ratings. It's a nicely design space, though there's something about it that doesn't feel overly comfortable. I think that's more a function of the staff – the waiter seemed clueless and inattentive, the young woman at the counter who seemed to be managing the place was stiff and unwelcoming (though later, when some regulars came in, she became very friendly with them, so maybe she's just not good with new people), and the couple of sushi and kitchen cooks who wandered in and out of view seemed to have a permanent scowl affixed to their faces, and just glared into the room as if we were all intruders on their day.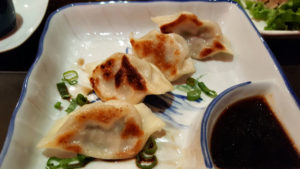 Gyoza – quite good actually, but a portion of only four for 70 pesos???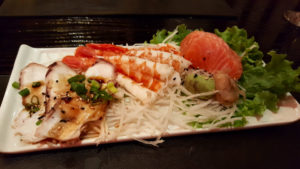 The sashimi mixto, supposed to be two each of the five different kinds of sashimi on offer, came with just three kinds – three each of shrimp and octopus and four of salmon. "Oh, we don't have any white fish today, none in the market." Come on, we've been through this before – it's complete and utter BS. They're just too lazy to pick up different kinds of fish, plus they know that locals pretty much only eat the salmon (two different couples came in and sat at nearby tables, and ordered up a variety of sushi preparations, but were clear about "salmon only"). I guess they just cater to the market they're in. Pretty messily plated too, no? It just looked like they don't care.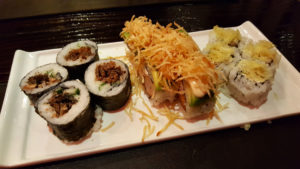 The maki fared a little better. I do like that all of their sushi rolls are available in half or full portions, with the half size (4 piece) rolls coming in at about 60% of the full size price. A salmon skin roll – a little dry and loosely rolled, not that good; a creative fried shrimp Peruvian roll with huancaina sauce had a nice kick to it and was the best thing out of the evening; the shrimp and lemon roll was a little odd – they really overdid the amount of lemon zest, and they grated it right down through the bitter white pith, so the whole thing had a weird bitter edge to it.
Overall – uncomfortable vibe, maybe they're better once you get to be recognized, but there's just an air of them not really wanting customers in the place. Big selection on the menu, but expensive – the food above, plus a small flask of sake, no cubierto charge, thank you, and tip came in at 990 pesos ($64)! That's ridiculous for a spot in that neighborhood of just good, but not great quality. You can eat far better for the same or less at nearby spots like Ichisou, Yuki, or Nihonbashi, all within a couple of blocks. I'll pass on a return visit.
---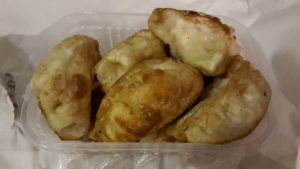 Rico, México 2088, Once – Now, I was full from the food above, well, more or less, but I realized that I was just a block away from a little takeout and delivery only Chinese spot that's on my list for dumpling diving, so I thought I'd grab an order to go, eat one, and save the rest for later or the next day. Nice people, a little slow – although that may be unfair – there were two people cooking, but from the looks of it and how often the phone rang and they also get online orders through PedidosYa, and two or three delivery guys constantly coming and going, I think they were just slammed with dozens of orders. It took about half an hour to get my dumplings.
They're big. Noticeably bigger than most potstickers, and they're plump, juicy, and filled with ground pork, cabbage and onions. They're really quite good. And they use some kind of dough that puffs up a bit almost like a layered empanada dough – I think they actually use the little mini-empanada puff pastry doughs that we have here to make hors d'oeuvre sized empanadas. They're also one of the few Chinese restaurants I've seen here that offers a whole roasted Cantonese style duck (order an hour before), and maybe the only one that delivers it – for 560 pesos. Oh, and they deliver all the way from Once to Recoleta, no problem. I may just be ordering from them again.
---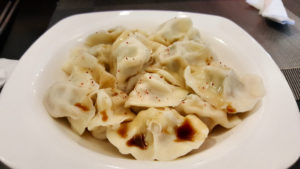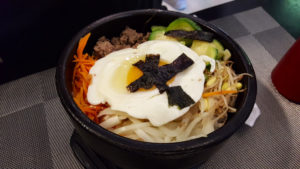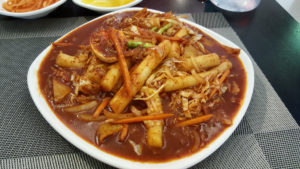 And just finishing off with a return visit to actually eat at Casa Feliz  from the last Chop Suey post. With the same friend from above – it's nice to find someone else here who likes going out and checking these places out, I wish there were more of you – maybe you're just nervous about accompanying me? Seriously, I love company on my explorations. Volunteer! A reprise on the boiled mandu-jin, and then a dol sot bibimbop, rice, vegetables, and meat in a piping hot cast iron bowl  – quite good; and one of my personal favorites, a moderately spicy version of dok boki (or tteokbokki), Korean rice cakes with vegetables and a really delicious sauce.
Oh, just a logistical tip – when you're ready to order, each table has a little doorbell mounted somewhere off to the side that you ring for the waiter. When we tried to flag ours down, he stopped a the table to explain that, and then walked away. So we rang it, and he just stood there a few feet away watching us for about a minute and a half and then sort of very deliberately picked up his order pad and sauntered over to take the order. Come on, we didn't know. If it says to do that somewhere, it's in Korean, and if it doesn't, how were we supposed to know?