Time for another focus on Nature's Most Perfect Food, the pizza, and a trio of offerings.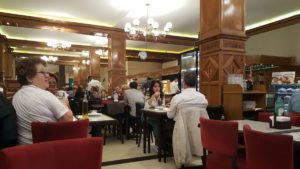 Los 36 Billares, Av. de Mayo 1271, Monserrat – It takes a certain amount of chutzpah to make a major change to a successful club after more than a century in existence. Opened in 1894, this bi-level space was designated years ago as one of Buenos Aires' most notable bars. The basement level is known for its, count them, 36 pool / billiards / snooker tables, as well as being an unofficial school for learning how to play, and while a place where adults have been coming for 123 years to play at the tables, it's also a spot for teens to gather and learn how to play from some of the best. Upstairs, at street level, was a bar, with a stage at one end for live music shows, and was "the" spot for local card sharks and those who wanted to wile away the hours to shuffle the decks for one game or another.
In 2013, the place changed hands from the family that had owned it for 118 years at that point. Deciding that the name and its associated tables below were too integral to alter, they focused on the upstairs, and went through the hoops to get permission to shut the bar down (being designated a historic landmark has some restrictions), remove the stage, and reopen as a pizzeria. The city agreed that the core part of its notability was the pool hall, and let things go forward. You'd never know that it hadn't always been a pizzeria – it looks tailor made the part. Service is swift and friendly and if a pizzeria can be elegant, this one pulls it off.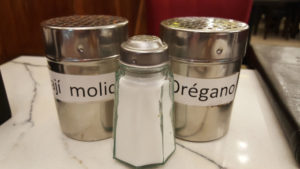 Points off the bat for these being brought to the table right after ordering pizza – chili flakes, salt, oregano.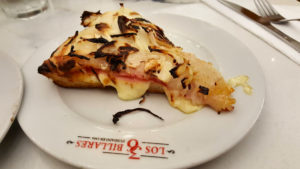 Fugazzeta rellena – My now regular "go to" of local pizza fare, this one is offered up in the "stuffed" version (it's also available in the non-stuffed, but only as a whole pie). The two layers of dough encase slices of ham, a lightly tangy tomato sauce, and "queso cremoso", which is a soft, creamy cheese that's quite popular here, akin to something like port salut. Then the whole thing is topped with mozzarella, because, hey, cheese and all that, and strewn with a good handful of onions, and then fired up until lightly charred. One of the better versions I've had! (34 pesos)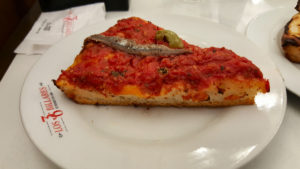 And an anchovy slice, which, as is typical here, comes without cheese – but a great way to try the tomato sauce. And the sauce is pretty good. As mentioned above, it's tangy, it could use a little more seasoning – some garlic and salt come to mind. Given the size of the slice, the single wan anchovy is, while traditional, a little too minimal. But I'd go back for the fugazzetta! (22 pesos)
---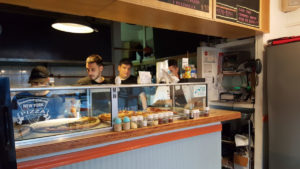 New York Style Pizza, Gorriti 5881, Palermo – Oh boy… where to go with this one. More than one American expat has touted the joys of this place since it opened a few months back (then again, several I know haven't, it gets mixed reactions). They hearken to wistful memories of pizza pies remembered from their last trip to New York City. Some of them have never actually been to NYC, but they have a vividly imagined taste memory of what a New York pizza is straight out of Moonstruck. And the owner, apparently, lived in New York and worked in a pizzeria for over two decades and lays claim to duplicating the style of pizza that is iconic for the city. I'm also not going to take the time to debate, here, whether NY style pizza is the best, or the be all and end all of norteamericano pizza – it's a matter of opinion, and for plenty of us, it just ain't so.
They claim to offer pies that are "twice the size" of the typical porteño pizza, thus justifying their exorbitantly high prices. Pizzas are only offered in one size and run 380-400 pesos each, and by the slice run from 35-50 pesos – let's just say that while New Yorkers may pony up $2.25-3.25 for a slice of pizza, or around $25 for a whole pie, we're not in New York and hitting those prices in Buenos Aires, even with our high inflation, is ridiculous. Still, the guys at the counter, including the owner, are really nice guys, they clearly believe in their product, and so I really wanted to say all good things….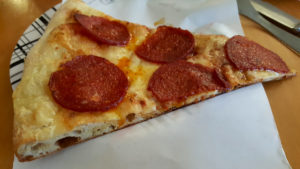 Pepperoni – Okay, the good stuff – the pepperoni itself, made by a local butcher in accord with a recipe that the owner brought from New York. The flavor is dead-on. The pepperoni's a little too big – it shouldn't be rounds the size of a salami, but that's more tradition than a rule. The cheese is good quality and a proper amount for a NY style pizza.
The flipside, however. The sauce… oh, the sauce… it's just lacking for me – physically, as is oh too typical of the Argentine style of pizza, but not New York – it's just barely a blush atop part of the dough. The crust is the biggest disappointment. It's tasty, don't get me wrong, but it doesn't taste of New York, well it does, but it tastes like soft pretzel dough, not like pizza dough. And while they tout that this is a pizza you can go all five boroughs on and fold down the middle and eat with your hands (locals eat pizza with knife and fork, virtually always), you pretty much can't. It's too thick, it's too crunchy, and it just breaks rather than folds.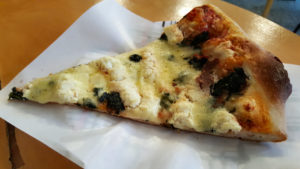 Spinach, Ricotta, and Mozzarella – Can I just put "ditto" and get away with it? I guess, this is one that shouldn't have tomato sauce, so on that count it's fine, but the few little bits of scattered spinach are too few and far between, and the ricotta was sort of bland and watery.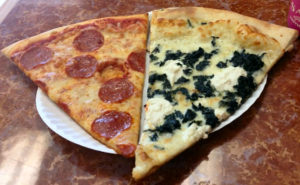 The real thing, from the isle of Manhattan. It's obvious immediately how much thinner the crust is on a proper New York pizza, and the relative sizes and quantities of things.
It's not that these guys aren't on the trail of something good, but thin that crust down so that it's actually foldable, be more generous with the toppings, add some seasoning, and slim down those prices. Now, the pizzas are larger than most typical large pies here – which run around 33cm/14″, but that's not set in stone, and I know plenty of places with larger pies, especially if they specialize in selling by the slice. These come in, just eyeballing it, around 18″, which at least meets the claim of double the surface area of the "standard" al molde, but again, not set in a pizza stone. Basically, it falls somewhere between porteño and neuyorquino style pizza – perhaps an attempt to appeal to locals as well as expats.
Overall, a good effort – and again, it's not bad pizza, it's just not great pizza – if they weren't billing it as NY style, my only real issue would be the price.
Edit: An interesting evening where this place came up over dinner at Casa SaltShaker. A Russian guy from New York turned out to be not only close friends with the owner, but his former business partner from NYC. His opinion on what his ex-socio is doing more or less reflected my own thoughts – good, but just misses the mark on New York style.
---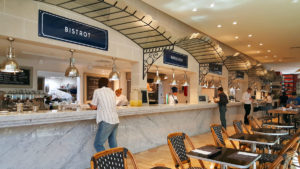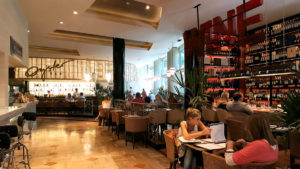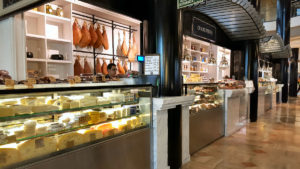 Gourmand Food Hall, upper level, Patio Bullrich shopping mall, Posadas 1245, Recoleta. This isn't strictly a pizza entry, but includes pizza, so I'll use it to close out this post. Over the last year or more, the whole center section of the food court at Patio Bullrich has been closed off behind temporary construction walls, and just a few weeks back was opened to unveil the new "food hall". The claim is that it's akin to something like Eataly. Perhaps in a pale imitative way it's inspired by that, but Eataly takes up an entire city block and has markets and restaurants and even a wine shop.
This place has a center island with eight puestos where you can order up a gourmet sandwich or a pizza or a burger or dessert. It has a cheese and cold cuts shop. It has a small "international imported food store" that has maybe a dozen things in it from outside of Argentina, the rest is stuff you can get in any gourmet shop and many a supermarket here in town. They hope to change that with time. And, it has a surrounding small group of restaurants including a wine bar and an oyster bar (though at 50 pesos an oyster and only one variety of oyster available, that's a stretch). It's also still surrounded by what remains of the old food court – so it's ringed in by a McDonald's, a Freddo, a premade sushi roll place, etc.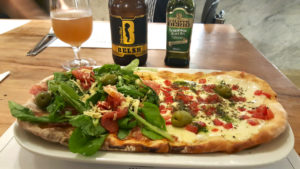 I wanted to try the pizza counter. They offer up a half dozen options, and they're willing to go half and half (and very nicely, though I wouldn't count on it all the time, they only charged me for the cheaper of the options, 160 pesos). I went half margarita and half prosciutto and arugula. It's a relatively thin crust, a rectangle, maybe just pushing the limits of being considered an individual pizza, but then, they don't make that claim, I think there's more of an idea that you'll split it and then maybe go to another counter and order something else to share.
The crust is good, well cooked, flavorful. There's not really any tomato sauce to speak of, instead, there's a lot of very stretchy, gooey, good quality mozzarella covering the dough and cooked along with it. Everything else is added after the fact and isn't hot. So the margarita has a handful of diced tomato and a spoonful or basil pesto scattered over it. The other has what amounts to a salad of undressed arugula, some whole slices of prosciutto folded over, and some shards of parmesan, unceremoniously piled atop. Cold. It's a little disappointing – perfectly edible, but not a pizza I'd go back for.
Surprisingly for a spot aiming for the gourmet market, most of the beer on offer from the birreria is just cheap local stuff that you can get in any local spot. The same with the taps (actually, I think there was only one tap). There's only one craft beer available, by the bottle, Belsh, and only their blonde ale. I think the beer is made here in BA province, though bizarrely, I can't find that info on their website or facebook page – still, all the outlets that sell it are in or around the city, so I'd guess that to be the case.
And hey, why not finish up with dessert? A lovely Paris-Brest, perhaps a touch less crisp than it ought to be – the pastries are all sitting unprotected in an open display case and I think are sucking up the summer's high humidity. And, pretty decent coffee to go with it.
It may not be Eataly but it's certainly better food than the typical shopping mall food court!