For anyone who doesn't in-depth read the occasional comments that pop up here on my posts (and why don't you? and why don't more of you comment here? (I actually get a fair number of comments on posts on my Facebook timeline – I think that's drawn away some of the interchange here.)) – on my last Chop Suey post I got challenged for my lack of political correctness. I felt, for a brief moment, like channeling my inner Milo Yiannopoulis and getting all "dangerous" in my response, but to sum it up, yes, I realize that Japanese and Korean and other Asian restaurants aren't Chinese. And that even most Chinese wouldn't recognize chop suey, at least not as we think about it (though it's not totally the American invention that you all think it is, it really does have its roots in Chinese cuisine, see the first post in this series). But my choice of the term isn't a PC-blind "they all look the same to me". As far as I'm concerned, it simply communicates the "little bit of everything" that I want it to, especially as it's an American English term, not a Chinese term. If that's just too non-PC for you, so be it.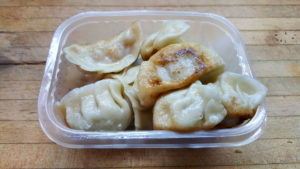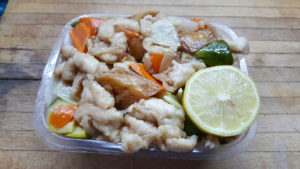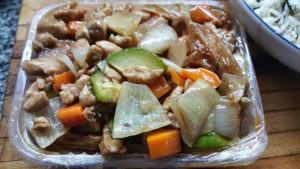 Rotiseria Casa China, Av. Raúl Scalabrini Ortiz 1434, Palermo – This one, so far, I've only tried via delivery when they popped up as the only place open on a Sunday afternoon. Relatively slow delivery, but then, it was a rainy day, and, it is in Palermo, roughly 4 km away (2.5 mi). Since this whole "project" is really about dumplings, those were my primary focus, and these pork and Chinese cabbage filled potstickers were cooked right, seasoned right, and delicious. Just on the strength of those, I put this place on my "to visit" list.
I wasn't in a spicy mood, so ordered lemon chicken for myself. One of the more "different" versions I've had, with no lemon sauce at all. Simply fried chicken (albeit the crust a bit soggy after steaming under plastic wrap during delivery) with some scattered vegetables, and a half a lemon to squeeze over it. Nada más. I ended up going spicy after all and splashed it with tabasco. It wasn't bad, it was just kind of uninteresting. Henry got his kung pao chicken which had a decent kick to it (requested extra spicy, no peanuts, as he generally does), and overall pretty good.
---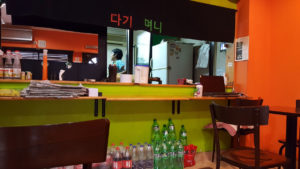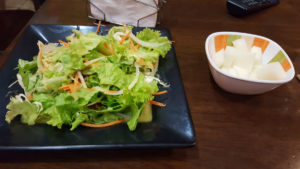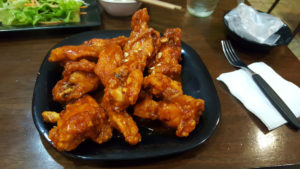 Dagi Myeoni, Campana 689, Floresta – Headed back into the northern Koreatown in Floresta for another stab at finding some great mandu. As I worked my way through my map, I found that many of the places that show up on Google and Foursquare and the like, simply don't exist anymore, and a few are only open at night. I spotted a new place, called Bueno, which I'm going to have to go back to – it was their opening day, and despite only being just after 1pm, they claimed they'd already run out of food. I'm not 100% convinced, the diners were 100% Korean (or at least Asian) in the place, and when I pointed out that food seemed to be flying out of the kitchen and it was hard to believe that there wasn't a single dish available, and perhaps it was because they didn't want to serve non-Koreans (a problem that has come up for me, and others whom I know, at some of the Koreatown restaurants here), they looked embarrassed. We'll see on a revisit.
Neither of the remaining two spots in the section of Floresta I was checking out offered dumplings, so I decided to just pick one. This place has no sign on the door, it just looks like a house with a buzzer, but I'd been clued in that there was a "Korean Fried Chicken" spot along that block (in fact, that's how Google Maps marks it, although they think it's across the street at 682, a vacant lot – I've tried to change it, but they haven't accepted the change). There is actually a restaurant sign on the house next door at 685, but it was locked up tight. I stood around for a few minutes figuring out my next stop, and luckily, a couple of businessmen came along, rang the bell, and went in, and I saw it was a restaurant. So, gave it a shot. They were quite welcoming, and let me know that at lunch they only offer the various iterations of fried chicken, or the stir fried noodle dishes, the rest of the menu is dinner only. The name, dagi myeoni, means tea ceremony.
I ordered the "Chicken Hot", to which my waitress replied, "But without the spicy sauce, right?" "No, I like spicy." "Okay…." Food arrives, a whopping place of wings separated into joints, in a sweet and sour sauce with no kick. "This isn't spicy, don't you have an actual spicy sauce like it says on the menu?" "Well, we gave you the sweet and sour because spicy isn't for you." "I want spicy." Heads to the kitchen, comes back with sweet and sour sauce with maybe a tablespoon of gochujang stirred into it. "Here's spicy sauce, but you won't be able to eat it." I ate it all (really good, could still use more kick), they were shocked. "How did you eat that, it's too spicy for you people?" "Not for me. Next time, spicy like Koreans eat it, okay?" She was so sweet about it all though that I handed her a decent tip and got an "Okay!" with a big grin. Oh, and they'd given me salad and sweet pickled daikon for my ban chan, while the tables around me got kimchi and other spicy dishes for theirs.
---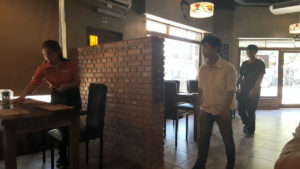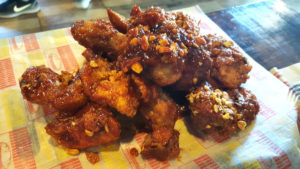 Chicken the pub, Balbastro 2105. corner of Av. Carabobo, Flores – Okay, I finally made it back. Not to Chicken the pub, but to the Flores Koreatown. Those who've followed along this series know I've been avoiding it after being robbed at gunpoint there a few years back. A friend wanted Korean food, the Floresta Koreatown is closed on Sundays as it's integrated into the commercial shopping area and nothing else is open, so it was time to suck it up and head back in. These days, at least, it's easier, because there's a direct subway connection now that the H connects home to the E, and at the "safer" end of Koreatown. We decided to just try the first spot we saw and explore places one by one over the next few weeks.
Not exactly a Korean sounding name, and no surprise, other than a few special order noodle dishes like ramen and udon, there's just one menu item. Korean fried chicken – nekkid, with soy sauce, or with hot sauce (again, the sort of hot, sweet, and sour). This time, no questioning our choice of picante.  And, in short order, we had a platter of chicken and a couple pints of craft beer on tap – normally they have several, our only choices that day were Heineken or a local honey beer that she didn't know the name of. Here, it's not all wings, in fact, it's just a flat price, (I think it was 290 pesos), for a whole chicken, cut up into serving size pieces (back and all), fried nice and crispy, and tossed in that same style sweet, sour, spicy sauce with peanuts. Quite good, though I have to admit, I kind of liked the all wings version at the previous place a little more, unusual since I tend to like dark meat chicken more, but maybe it was the sauce – this was good, but maybe a touch less good than the other. Still, I'd happily eat the stuff at either place.
---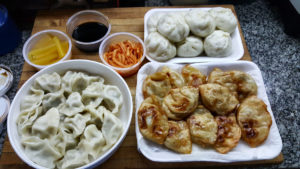 Jeul Geoun Jib (Casa Feliz/Happy House), Av. Carabobo 1537, Flores – Now, a half a chicken is nothing, come on, that's something I can polish off easily, especially when it's not accompanied by anything (we could have ordered fries to go with it, but didn't). I wanted dumplings. My friend begged off, comfortably sated I gather, and feeling like a nap. So I decided to get some to go and take them home for dinner (I'm solo for the next few weeks, Henry and one of the other members of his dance company are leading some seminars and demos in Lima). Went slightly overboard, so it became dinner last night to be carried over into lunch today.
A trio of mandu, steamed, boiled, and fried, and not all the same – each folded differently, different type of dough, and, at least slightly, different fillings. The steamed, almost like little steamed pork buns, are filled with a delicious pork and cabbage mixture, flecked with bits of carrot, and were my favorites. The fried, a mix of pork, garlic chives, and cabbage, are a little oily for my tastes, but still quite good, though my least favorite. The boiled, a whopping portion there (they were all whopping portions actually, and running around 130 pesos a plate), were filled with a savory pork and lots of garlic chive filling – several of them had split open and filled with water, a little disappointing, but really tasty. Accompanied by a soy and vinegar dipping sauce (I added chili), pickled daikon, and kimchi. Happy, happy house indeed!