More dumplings, and scattered across the city this time! I exhausted the Recoleta spots in the last post. I did try to go out one day on a dumpling diving adventure with a friend. We'd marked off a map that covered six Chinese spots in the San Nicolas barrio – the first one was gone, the second one had no dumplings on the menu, the third one was gone, and four through six were all steam table food by weight for takeout kind of places, which we decided to skip. We ended up wandering on into Once and going to Ajim for what turned out to be really good hot pastrami sandwiches albeit on baguettes.
---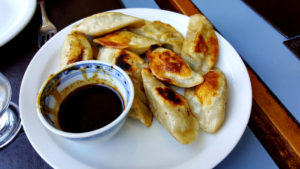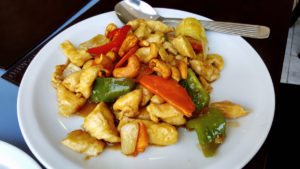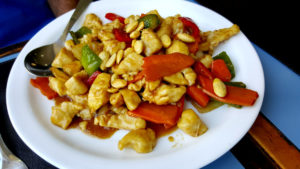 Puerto Bambú, Mendoza 1669, Barrio Chino – This is one of the spots in Barrio Chino that I've kind of ignored since it opened. There's always a shill out front trying to get you to come in, it seems a little pricier than the typical spot in Chinatown (though, it really isn't), and it's up a steep flight of stairs, so there's nothing (other than the shill) calling out to come in and eat. There's also no "bamboo door", so I feel cheated. A shame all that, because it turns out to be a rather good restaurant. Wandered in with a friend one day recently when the spot we were intending to meet at turned out to be closed for the day.
Quite good potstickers, loaded with pork, cabbage, and garlic chives, great flavor. Fantastic hot chili oil brought to the table on request – packed with fresh chilies and giving off a decent kick. And, fresh tasting, well seasoned almond and cashew chicken dishes, though both of them could have used more vegetable and a little less chicken. Still, we didn't leave a morsel uneaten.
---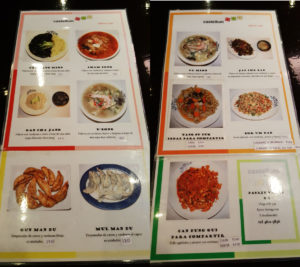 Castellum, Pasaje Valle Nº 3, Floresta – The Korean characters on the restaurant are jung gug seong, translating to "Chinese castle", so I suppose the Latin Castellum, for a Roman fortlet or tower, is more or less an appropriate Spanish name. It's also the name of a famed Chinese restaurant in Seoul. All that may account for why the word is spreading that this is a brand spanking new Chinese-Korean fusion restaurant in the heart of Floresta, the "other" Barrio Correa (which I'm intending to spend some more time exploring, since the Bajo Flores Koreatown still makes me nervous. It's not, however, a fusion restaurant, nor is there anything Chinese about it. The menu is, as best I can tell, 100% Korean, and looks rather interesting, even at a mere eleven items.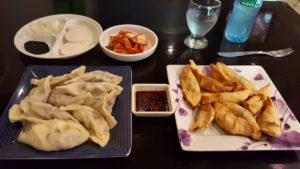 But, I was solo for the day, and decided to just go full tilt on the dumplings. Mulmandu and gunmandu – respectively boiled and fried dumplings (I'd hoped I'd learned two new words, mul and gun, as boiled and fried, but it turns out they mean water and pan). Ten to an order at 160 pesos each sounded a bit pricey, though it turns out these things are huge – each of them somewhere between two and three times the size of a typical Chinese potsticker dumpling. I was hard-pressed to make it through twenty of them, but I did. They're good. Not wow good, but really good. The waiter showed me how to make the dipping sauce (I already knew, but he was very earnest about showing a gringo how to do it, so I let him) – mixing soy sauce, rice vinegar, and chili powder. Perfect with the boiled dumplings, for the fried dumplings, I actually preferred the sweet, salty, sticky salsa negra chunjang, which is a fermented soybean paste that came with the pickled daikon and kimchi as complimentary nibbles. I'll definitely go back to try more dishes!
[Update: Revisit in mid-March to try some more dishes: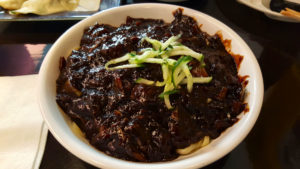 Chae jang meon, a very tasty dish of noodles topped with a meat and vegetable fermented black bean sauce. Yum!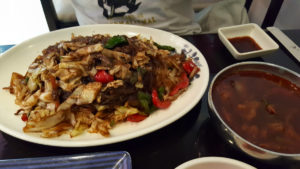 And, jap chae bab, with rice, yam noodles, and a stir fry of vegetables and meat, really delicious! So well worth it not just for the great mandu!]
---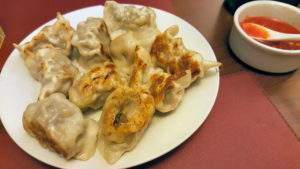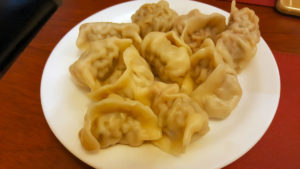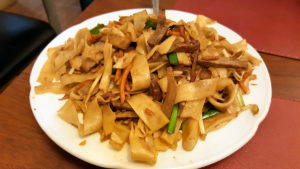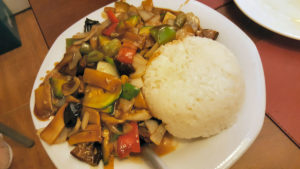 El Cisne Blanco, Arribeños 2328, Barrio Chino (Belgrano) – This is the place that was closed one day when we tried to go (above, Puerto Bambú review). And, bizarrely, ended up here after going to meet with a friend in Floresta's Koreatown area only to find the place that we wanted to eat was closed for vacation. Rather than searching around (it was late evening on a Sunday) for another spot that may or may not have been open, we decided to just cab it to Chinatown where pretty much everything was open. So, cute place, fairly small, seating maybe thirty people. Bustling at 10pm on a Sunday (then again, it was the close of the Chinese New Year festival, so there were tons of people out on the street). Settled in with the "The White Swan's" menu….
Three kinds of dumplings on offer, gave a shot at the potstickers and, lo and behold, soup dumplings, but turns out that they don't actually have soup dumplings, "except by special advance order, so they have time to make them". Something to keep in mind. So we went with boiled and fried "regular" dumplings, both quite good, wrappers nice and delicate, cooked right, and the filling a well seasoned blend of pork, cabbage, and garlic chives. I'd heard that their smoked pork noodles were excellent, so ordered up a plate of those (rice noodles, choice of thin or wide, these are the wide ones, or also sauteed with white rice). The pork could use a little more smokiness, but the dish was good. I wouldn't call it excellent, but I'd eat it again. A vegetable dish of sauteed mushrooms and bamboo shoots was overshadowed by more onion than anything else, and a bit too much ginger.
Big issue with timing. I know they were busy, but it's not that big of a place, and more than half the people in their had already eaten. The fried dumplings took 35 minutes to come out, were followed by the pork noodles at 45 minutes, the boiled dumplings at the one hour mark, and the vegetable dish at an hour and ten minutes. It seems like they push the orders in the dining room back in order to fulfill delivery and takeout orders, which were streaming out steadily. I'd probably avoid the place if it looks busy.
---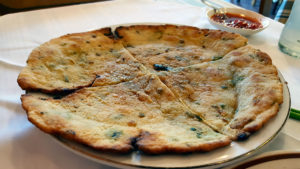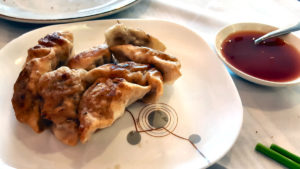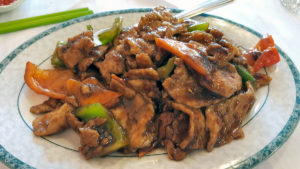 Hui Yang Xuan, Av. Diaz Veléz 4774, Parque Centenario – There are a lot of different ways the three characters that make up the name of this place could be translated, but the most poetic seems to be something to effect of "the meeting of the vast oceans". At least it sounds better than "exchanging silver dollars on a balcony". There's probably a better phrase translation, I'll leave that to comments from those whose Mandarin is far better than mine. From the front, this place looks battered and worn. Inside, it's at the least, clean and reasonably well maintained, though it has seen far better days. Service is prompt and friendly. The menu is mostly the usual suspects, with a few specialties of the house that aren't as often seen here.
The scallion pancake, defined on the menu as "Chinese green onion pizza", is, actually, more pizza-like than pancake-like. It's not a light, flaky, pastry type crust, it's a dense, chewy flatbread, sort of like pizza dough that they forgot to put yeast in and then griddled it to death. The flavor's not bad, but the texture will put your dental work to the test. The potstickers have a lovely delicate wrapper, but the filling seems to be nothing more than a sort of bland pork and onion meatball, and they've been fried to borderline burnt. The spicy pork dish (titled "jap chun yui", a dish I've not heard of, nor can I find anything online about it), wasn't spicy, just a very salty brown sauce of some sort – there was a hint of black pepper in it, but no more than that. And, the hot sauce provided on request wasn't any spicier, I don't know what kind of chilies they used, but they had no flavor and no heat. All in all, pretty mediocre.