January 31 Enero – February 3 Febrero 2017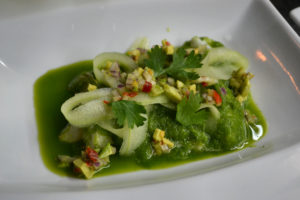 Sea Bass in "Chili Water" – Sea bass cut in thin strips, marinated for 15-20 minutes in a puree of lime juice, cucumber, jalapeño, cilantro, mint, onion, salt; cucumber ribbons; fine dice of avocado, red onion, piri-piri chilies; cilantro and mint leaves.
Aguachile de Róbalo – Róbalo en tiritas, marinado durante 15-20 minutes en puré de jugo de lima, pepino, jalapeño, cilantro, menta, cebolla, sal; cintas de pepino; daditos de palta, cebolla morada, ajíes piri-piri; hojas de cilantro y menta.
Bodega del Fin del Mundo Extra Brut, Neuquén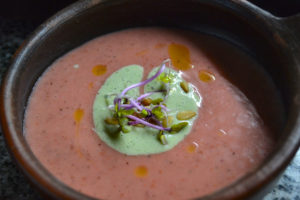 Strawberry Gazpacho – Puree of strawberries, cucumber, roasted piquillo peppers, red onion, garlic, balsamic vinegar, olive oil, salt and black pepper, strained and chilled. Rosemary infused whipped cream. Toasted pinenuts. Olive oil and reduced balsamic vinegar. Alfalfa sprouts.
Gazpacho de Frutilla – Puré de frutillas, pepino, pimientas piquillos asados, cebolla morada, ajo, vinagre balsámico, aceite de oliva, sal y pimienta negra, colado y enfriado. Crema batida infusada con romero. Piñones tostadas. Aceite de olive y reducción de vinagre balsámico. Brotes de alfalfa.
Doña Paula Estate Sauvignon Blanc 2016, Valle de Uco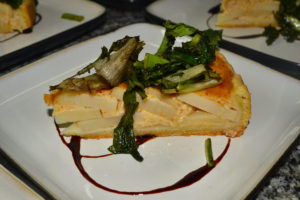 Palm Heart Tart – Sour cream crust (flour, butter, sour cream, salt); hearts of palm in a bechamel sauce flavored with smoked chili, salt, Romano cheese, and thickened with egg; reduced balsamic vinegar glaze; roasted kale.
Tarta de Palmito – masa de crema ágria (harina, manteca, crema ágria, sal); palmitos en una salsa blanca saborizada con merquén, sal, queso Romano, y espesado con huevo; glacé de balsamico reducido; kale asado.
Nieto-Senetiner Malbec Rosé Nouveau 2016, Mendoza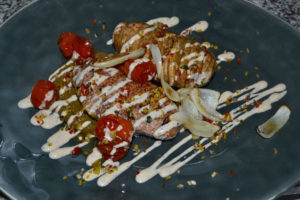 Pork Loin, Tahini Sauce, Hasselback Potato – seared and roasted pork loin medallions (the first night made this dish with quail halves, 3 per person, but I wasn't happy with the quality of the quail from a new supplier); pressure cooked fennel and squash puree with molasses; hasselback potato cooked in butter, olive oil, rosemary and sage; roasted cherry tomatoes and onion petals; tahini sauce (tahini, sumac, apple cider vinegar, cane syrup, olive oil, salt, white pepper); gremolatta (tiny dice of orange peel, garlic, parsley, limo chilies, black pepper.
Carre de Cerdo, Salsa de Tahini, Papa Hasselback – medallón de carré de cerdo dorado y asado (la primera noche elaboré este plato con mitades de codorníz, 3 por persona, pero no estaba felíz con la calidad de los codornices de un proveedor nuevo); hinojo, zapallo y melaza cocido bajo de presión; papa hasselback cocido en manteca, aceite de oliva, romero y salvia; cherys y petalos de cebolla asados; salsa de tahini (tahini, zumac, vinagre de manzana, miél de caña, aceite de oliva, sal, pimienta blanca); gremolatta (daditos finitos de cascara de naranja, ajo, perejíl, ají limo, pimienta negra).
Trapiche "Fond de Cave" Petit Verdot 2014, Maipú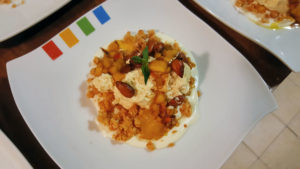 Peaches & Almonds – mint whipped cream; crumble of amaretti cookies (almond flour, sugar, egg whites); gel of lemongrass infused late harvest Torrontes wine; peach mousse (peaches, cream, egg whites, sugar, gelatin); diced peaches in brown sugar and lemon juice; almonds sauteed in oil, sugar, salt, chili flakes and then tossed with lime juice and chopped mint; mint leaves.
Duraznos y Almendras – crema batida con menta; galletitas amaretti desmenuzadas (harina de almendras, azucar, claras de huevo); gel de vino tardio de Torrontés infusado con hierbalimón; mousse de durazno (duraznos, crema, claras de huevo, azucar, gelatina); daditos de duraznos en azucar negra y jugo de limón; almendras salteadas en aceite, azucar, sal, ají triturado y después saltado con jugo de lima y menta picada; hojas de menta.
Latitud 33 Tardio 2015, Luján de Cuyo