January 13-17 Enero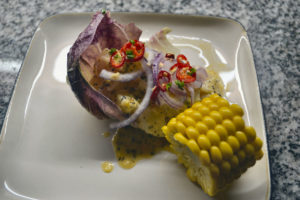 Sandperch Ceviche with Passionfruit & Rocoto – Fresh Brazilian Sandperch (one night Sole when there was no Sandperch available) cured in a puree of lemon and lime juice, passionfruit pulp, rocoto chilies, olive oil, salt and white pepper; served on a radicchio leaf and topped with red onions, limo chilies and chives; sweet corn.
Ceviche de Salmón Blanco con Maracuyá y Rocoto – Salmón Blanco fresco (una noche con lenguado cuando no había salmón blanco disponible) curado en puré de jugos de limón y lima, pulpa de maracuyá, rocoto, aceite de oliva, sal, y pimienta blanca; servido en hoja de radicchio con guarnición de cebolla morada, ají limo y ciboulette; choclo dulce.
Bodega Esteco "Don David" Extra Brut, Cafayate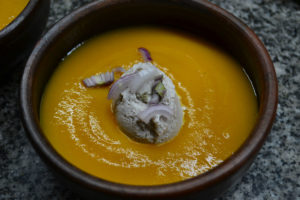 Chilled Carrot Soup, Coconut Sorbet – Chilled, pureed soup of carrots, onion, potato, garlic, jalapeños, orange juice, salt, white pepper, mace, and vegetable stock; sorbet of coconut milk, honey, Hesperidina (orange liqueur), garam masala, salt; green onions.
Sopa Fría de Zanahoría, Sorbete de Coco – Sopa puré de zanahoría, cebolla, papa, ajo, jalapeños, jugo de naranja, sal, pimienta blanca macís, y caldo de verduras, enfriada; sorbete de leche de coco, miél, Hesperidina (licór de naranja), garam masala, sal; verdeos.
Uxmal "Tilia Vineyards" Sauvignon Blanc 2014, Mendoza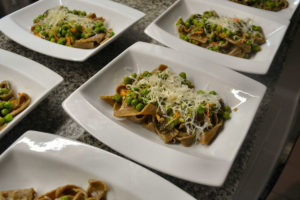 "Burnt Wheat" Pappardelle, Peas, Hazelnuts, and Mint – Pappardelle made with a mix of toasted semolina, semolina, pasta flour, and eggs; tossed with fresh peas, shallots, finely chopped hazelnuts, yellow Peruvian chili, mint, and olive oil; grated Romano cheese.
Papardele de "Trigo Quemado", Arvejas, Avellans, y Menta – Papardele hecho con mezcla de semolín tostado, semolín, harina para pasta, y huevos; saltado con arvejas frescas, echalotes, avellanas tostadas, ají amarillo, menta, y aceite de oliva; queso Romano rallado.
Sophenia "Altosur" Malbec Rosé 2015, Tupungato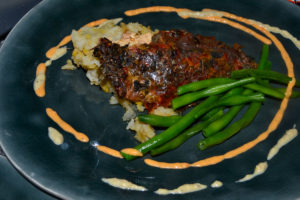 Milk Braised Pork Flank, Mujedra, Green Beans – Pork flank covered in garlic, yellow Peruvian chilies, mustard seeds, mixed herbs, and milk and cooked in a low heat oven for six hours; rice, lentils, and caramelized onions; green beans sauteed with garlic; emulsified sauce vierge (tomato, shallot, thyme, salt, sugar, oil and vinegar, xanthan gum); salsa negra.
Matambrito de Cerdo Braseado en Leche, Mugedra, Chauchas – matambrito de cerdo tapado con ajo, ají amarillo, mostaza en grano, varias hierbas, y leche, cocido en horno lento durante seis horas; arróz, lentejas, y cebollas doradas; chauchas saltadas con ajo; emulsificación de salsa vierge (tomate, echalote, tomillo, sal, azucar, aceite y vinagre, goma xántica); salsa negra.
Trapiche "Fond de Cave" Petit Verdot Reserva 2014, Maipú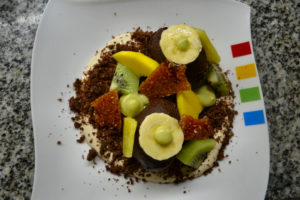 Chocolate & Coconut Soil, Cocoa Mousse, Tropical Fruits – Base of whipped cream with brown sugar and Chinese five-spice; chocolate coconut cake processed into coarse crumbs; cocoa, avocado, and honey mousse; avocado coconut lime cream; fresh mango, kiwi, banana, and pineapple; toasted coconut brittle.
Suelo de Chocolate y Coco, Mousse de Cacao, Frutas Tropicales – Colchón de crema batida con azucar negra y cinco especias chinas; torta de chocolate y coco procesado en migas gruesas; mousse de cacao, palta, y míel; crema de palta, coco, y lima; mango, kiwi, banana, y anana fresca; crocante de azucar y coco tostada.
Nieto-Senetiner "Emilia" Malbec Rosé Dulce 2016, Luján de Cuyo