What do we have for you so far this month? Bagel sandwiches, a burger, Venezuelan/Mexican street food, and a casual Peruvian lunch spot.
Ess-a-Bagel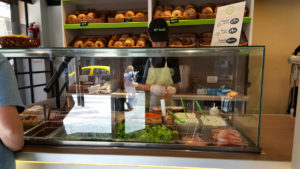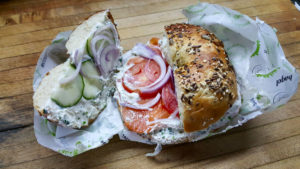 My Bagel, Azcuénaga 758, Once – The idea here is apparently a "New York style bagel shop", with healthy food. While not an oxymoron, those aren't synonymous. What it does mean is that the various spreads and things that can go on your bagel sandwich appear to be limited to vegetarian and fish options (and while I didn't see a kosher certification displayed, my guess is it is, both based on clientele who appeared to be orthodox Jews eating there, as well as that the place closes at 3pm on Fridays and doesn't reopen until Sunday lunchtime. A decent selection of bagel "flavors", though missing my three personal favorites from any decent NY bagel shop – pumpernickel, everything, and salt. The closest they get to those are a whole wheat, a mixed seed (no onion or garlic in the mix, which an everything bagel needs), and, no salt option. For a flat price you pick your "protein" – which is either smoked salmon, tuna salad, or one of the vegetarian salads, then you pick a spread – cream cheese in plain, chive, or dill, or a few vegetable spreads, and then a choice of three vegetable toppings from the array – pretty typical sandwich shop selections. I went with smoked salmon, chive cream cheese, red onion, tomato, and cucumber. 90 pesos, or under $6, so not bad at all. The bagel is good – decent flavor, a little softer than a real NY bagel, it's missing that real surface "chew", but at least it's not just a bread roll with a hole poked through the middle. And, it's easy walking distance from home. Mostly take out, but they do have a few seats. I'll be back.
What's the haps?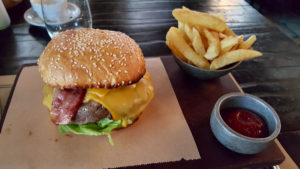 Happening, Av. Alicia Moreau de Justo 310, Puerto Madero – High end steakhouse, another place promising a premium burger, in this case of ground rib-eye steak, on a brioche bun, with cheddar, smoked bacon, lettuce, and tomato. They also have a lovely little chart explaining how to order steaks and burgers from "blue" to "well done" and all points in between. Ordered rare, the burger arrived medium well. There are no condiments other than some ketchup to dip the relatively good fries in – asked for mustard, never arrived (it also took over 10 minutes to even get a waiter to the table with a menu – they're pretty inattentive – I was actually just getting ready to stand up and walk out when one of them finally deigned to wander through the section). The bun holds up well, but it's rather sweet, as brioche is wont to be. The burger, albeit overcooked, is well seasoned and a good sized patty. The BLT part is delicious, the cheddar is waxy sandwich slices. It's all around not bad, but it's nothing special, and particularly not for the whopping 240 peso price, especially when you factor in a 50 peso cubierto charge, making it really a 290 peso burger. Good if you feel like overpaying just to be in a "happening" Puerto Madero restaurant (actually, at least at lunch, it's sort of filled with neighborhood business folk chowing down on steaks, fries, and salads).
Word on the Street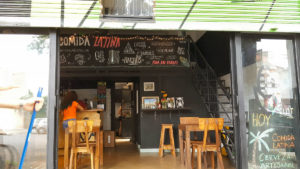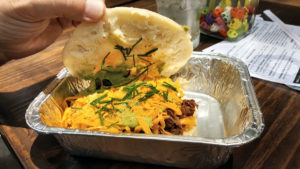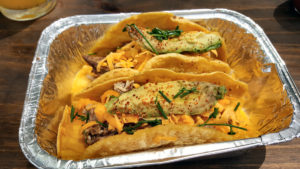 Elote, Av. Jorge Newbery 3791, Chacarita – With the move to legalizing food trucks here in Buenos Aires, and probably even more so, the economics of still rampant inflation and a steadily devaluing currency, "street food" is becoming the new "it girl" – expect to see more and more of it in 2017 (remember Kombinaciones in Bite Marks #31). It's an obvious progression from the gourmet casual of places like Nola, Kon-Kon, El Tejano, etc., that focus on a single or limited offering. Elote is the brainchild of a trio of friends, two Venezuelan and one Mexican, who, while offering touches of worldwide cuisine in theirs, are sticking doggedly to their roots in their presentation, using arepas, tortillas, and tostones (patacones) as the vehicles for delivering their flavors.
It's a simple, limited menu – a half dozen fillings (chicken, pork, beef, shrimp, hummus, cheese), and your choice of vehicle – a lightly crispy sandwich made of two thin white corn arepas (Venezuelan corn cakes), slightly spongy yellow corn tortillas (they're rolled out unevenly, so in some spots their almost crisp, in others, almost pancake like) to make tacos, or double fried plantains that have been pounded out into thin rounds to use in place of "bread" for a sandwich, a popular Venezuelan street snack. Having tried a trio of fillings with a couple of friends we're impressed with the flavors. A flat 100 pesos for any selection.
Not so much with the speed of the kitchen – an order of two portions of arepas and one of tacos took 50 minutes to arrive at the table. We'd arrived at the time the restaurant opened, and it seemed, so had the trio of partners, and they simply hadn't made either of the doughs before opening, so they were literally measuring, mixing, forming, and cooking while customers waited. They also didn't have any of the menu-offered craft beer (from Dust) available, nor one of the three housemade juice blends (and having had two glasses of their orange and rosemary blend, it was different one after the other, the first time having been blended with still mineral water, the second time, fizzy with sparkling. Hopefully those are a one-time misstep. Worth a revisit soon!
Why a Duck?
It's said there are around 200 Peruvian restaurants in the city – we're getting to them, one by one!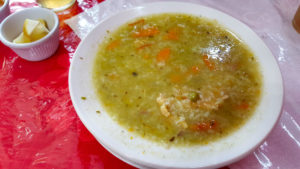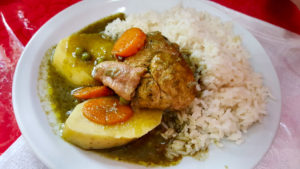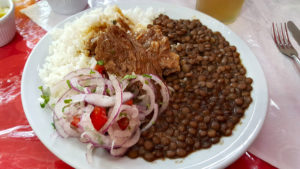 El Pato de Doña Esperanza, Av. Entre Ríos 659, Once – The place doesn't look like much when you head in the door, a little dreary, and steamy hot on this summer day, with no fan, and no breeze. About halfway through lunch the waiter had apparently had enough of that and turned on the AC, but it hadn't done a whole lot by the time we left. For a place named "the duck", we were hopeful that there might be some sort of famed duck dish on the menu, but there were just listed classic seco de pato and pato con arroz, and both had been crossed out as not available. We decided to go with the menú.
Rather good chicken and rice soup, flavorful and filling all on its own. And two great main course choices – a seco de pollo, chicken stewed in a cilantro sauce with potatoes and rice, and carne con lentejas, fork tender braised beef over perfectly cooked lentils, rice, and a red onion salad. Fantastic hot sauce – Henry says it's a traditional version from Cajamarca in the north, with fresh chopped chilies, green onions, and more – going to have to research that recipe. And instead of the usual refresco of what amounts to koolaid accompanying, this place serves up agua de linaza, a semisweet beverage made from cane sugar and flaxseed. 70 pesos/menu, a bargain!