January 11-12 Enero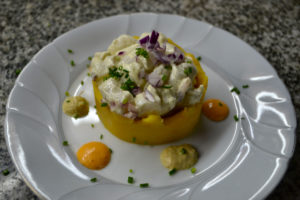 Sole "Causa" – Potato puree flavored with yellow chili, lemon, olive oil; sole and finely diced red onion cured in a dressing of egg, lemon, lime, Szechuan peppercorn oil, sesame oil, corn oil, salt, white pepper; sauce "vierge" emulsion – tomato, shallot, garlic, thyme, Torrontés wine vinegar, salt, white pepper, sugar, xanthan gum; hot sauce – charred rocotos, garlic, onions, blended with lime juice, olive oil, and salt; chives.
Causa de Lenguado – Puré de papa con ají amarillo, limón, aceite de olive; lenguado y daditos de cebolla morada en curado en aderezo de limón, lima, aceites de pimienta sichua, sésamo, y maíz, sal, pimienta blanca; salsa "vierge" emulsión – tomate, echalote, ajo, tomillo, vinagre de Torrontés, sal, pimienta blanca, azucar, goma xántica; salsa picante – rocotos, ajo, y cebollas quemados, puré con jugo de lima, aceite de oliva, y sal; ciboulette.
Bodega Chandon Cuvée Varietal Pinot Noir, Mendoza
Chilled Carrot Soup, Coconut Sorbet – Chilled, pureed soup of carrots, onion, potato, garlic, jalapeños, orange juice, salt, white pepper, mace, and vegetable stock; sorbet of coconut milk, honey, Hesperidina (orange liqueur), garam masala, salt; green onions.
Sopa Fría de Zanahoría, Sorbete de Coco – Sopa puré de zanahoría, cebolla, papa, ajo, jalapeños, jugo de naranja, sal, pimienta blanca macís, y caldo de verduras, enfriada; sorbete de leche de coco, miél, Hesperidina (licór de naranja), garam masala, sal; verdeos.
Uxmal "Tilia Vineyards" Sauvignon Blanc 2014, Mendoza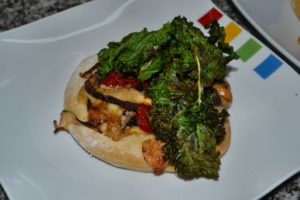 Mixed Mushroom & Goat Cheese Pizzetta – basic pizza dough of flour, yeast, salt, olive oil, water; covered with fresh goat cheese and chipotle chili powder, thin slices of button mushrooms, shiitakes, and portobellos, piquillo chilies, slivered garlic, rosemary, and a grating of goats' milk Chevrotin; roasted, crispy kale.
Pizzetta de Hongos Mixtos y Quesos de Cabra – masa pizza básica de harina, levadura, sal, aceite de oliva, agua; cubierto con queso de cabra fresco, polvo de ají chipotle, tiraditos de champiñones, shiitakes, y portobelos, pimientas piquillos, laminas de ajo, romero, y un rallado de Chevrotin de cabra; kale asado y crocante.
Sophenia "Altosur" Malbec Rosé 2015, Tupungato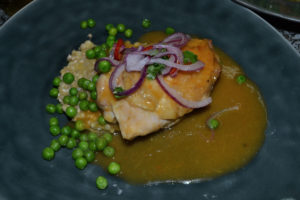 Hot Chicken Ceviche, Buckwheat, Squash, & Peas – Browned chicken thighs finished in the oven; "ceviche" sauce of orange and lemon juices, ginger, garlic, red bell pepper, red onion, rocoto chili, cumin, salt, white pepper – pureed and reduced to thicken; simmered buckwheat groats and butternut squash; peas; garnish of red onion, parsley, and limo chili salad in vinegar and salt.
"Ceviche" Caliente de Pollo, Trigo Saraceno, Zapallo, y Arvejas – Muslos de pollo dorado y asado; salsa "ceviche" de jugos de naranja y limón, jengibre, ajo, morrón, cebolla morada, rocoto, comino, sal, pimienta blanca – puré y reducido para espesar; trigo saraceno y zapallo hervido; arvejas; ensaladita de cebolla morada, perejíl, ají limo, vinagre, y sal.
Aristides Bonarda Reserva de Familia 2013, Maipú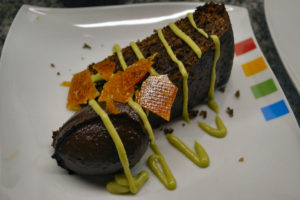 Chocolate & Coconut Torte, Chocolate and Avocado Mousses – cocoa and coconut cake; mousse of cocoa, avocado, honey, and vanilla; avocado cream – avocado, lime juice, confectioner's sugar, coconut liqueur; toasted coconut brittle.
Torta de Chocolate y Coco, Mousses de Chocolate y Palta – torta de cacao y coco; mousse de cacao, palta, miel, y vainilla; crema de palta – palta, jugo de lima, azucar impalpable, licór de coco; crocante de azucar y coco.
Nieto-Senetiner "Emilia" Malbec Rosé Dulce 2016, Luján de Cuyo