"The finest food is found in China. Among all nations under the heaven, only France is nearly as good as China in terms of culinary development and cooking skills. The other countries lag far behind."

– Cui Tongyue, Hua Ying Chu Shu Da Quan (Chinese-English Comprehensive Cookbook), 1910
I'm really going to town on Chinese and dumplings, aren't I?
Recoleta Spice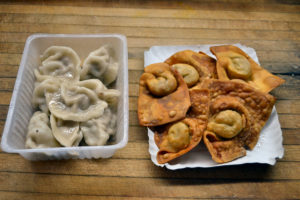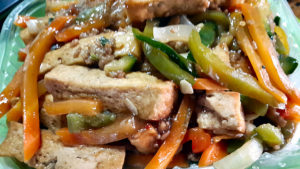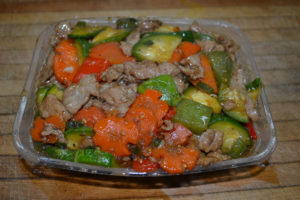 Fu Hai, Gral. Lucio Norberto Mansilla 2822, Recoleta – Takeout and delivery only spot. We've ordered from them a few times and always been happy. Fu hai is a province in Taiwan (as opposed to Fuhai which is a place in northwestern China, or fu hai which means "reimbursement" – I'm betting on the Taiwanese connection). One of the better ma-po tofu renditions that I've found in BA, and quite good yu xiang pork – when you ask for picante, they make it spicy! Wontons are available in soup or fried, they're packed with flavor, as are the steamed dumplings (no potsticker available). Neither comes with any sauces, and my recollection is that neither do the crispy springrolls, which is a bit strange, but so be it. Appetizers run around 60 pesos, main courses around 140, so not too expensive, especially considering they really pack the containers – we usually don't finish them at one sitting. Recommended.
Oil Me Up!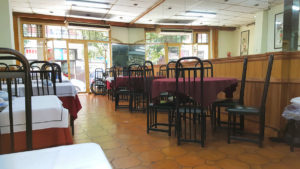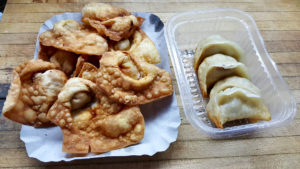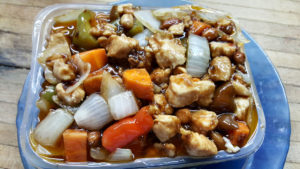 Jin Jiang, Azcuénaga 784, Once – Randomly stumbled on this one heading elsewhere. Nice looking place, at least a cut or two above many of the hole-in-the-wall spots. Unfortunately, the food and service go the other direction. A surly woman attended the counter, basically barking at customers and the chef. We ordered to go. A portion of potstickers, a mere four for 60 pesos, which would be pricey if they were good, is outrageous for the stale, chewy, tasteless pods that were in the order. The wontons, at 67 pesos for eight, might seem a bargain until you find that they're basically unfilled pieces of greasy dough fried in old oil, each containing at best a half teaspoon of again tasteless filling. But the bottom of the barrel, the oil barrel that is, was the kung pao chicken, which contained undercooked chicken and vegetables, a few desultory peanuts, a modicum of spice, all floating in more old, basically rancid, oil – we drained it off over a strainer and pulled out a full third of a cup of nothing but oil. After just a few bites of each, this whole haul went into the bin.
Enter the Dragon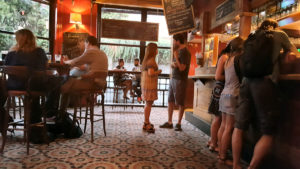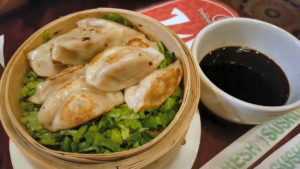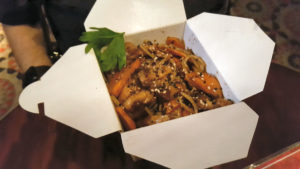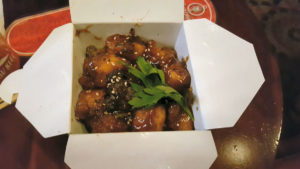 The Shanghai Dragon, Araóz 1199, Palermo – My first impulse is to call this place "Americanized" and to a certain extent that's true, but it's also "Argentinized", so it's a mix. Basically, it's a pub. Beer on tap, including, ostensibly, the full range of beers from Gambrinus (though, out of six beers of those listed, only three were available the night we popped in). And, well, Chinese-American-Argentine bar food (no table service, you order at the bar, and a food runner brings the food and utensils). Decent potstickers – thin dough, well cooked with just a touch of crispiness on the fried side, and good albeit bland filling – nothing to write home about, but acceptable. Why they serve it with a bathtub of soy sauce I'm not sure, there's enough there for ten orders of dumplings, and it left me wondering if they "re-use".
Pad thai, as it so often is, a bit too sweet here, mostly because it's made with absolutely no spice, and the same is true of the General Tso's chicken (this is, as far as I know, the only place in BA that offers up that Chinese-American specialty, unless you count P.F. Chang's "spicy chicken" which is a spin-off of it). But, sriracha sauce is available to spike things up, and albeit not Chinese in flavor, it does the trick – still, personally I'd rather have a good Chinese hot chili sauce to mix in. I do like the fun of eating out of the classic norteamericano Chinese food takeout containers – I wonder where they found them here since as far as I know, no Chinese restaurant here uses them? Portions are a little skimpy, especially for the price – those 7 dumplings (why not 8, since most people are sharing?) run 95 pesos, and the main courses are 130 – but figure that half that takeout container is rice underneath the dish. I, at least, left hungry. Still, recommended, and I'd go back (they also take credit/debit cards, which is cool).
[Edit: I forgot the forgettable version of General Tso's Chicken at Tao-Tao, I guess because it was so forgettable.]
Clash of the Northeast vs the Northwest!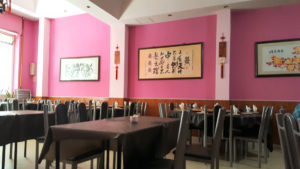 Shan Dong, Vera 468, Villa Crespo – Long a mainstay of the neighborhood, I'm told that this place recently came under new ownership and revamped the menu with some hot and spicy specialties from Szechuan, the famed province in the far northwest with our favorite spicy Chinese cooking. The name of the restaurant is the name of a province the northeast of China (some folk refer to the place as Shan Dong Fan Dian, which just means Shan Dong Restaurant, others as Da Dong Fan Dian – but the Chinese character says "shan" unless it's "da" in another dialect, but then that would likely change the pronunciation of the other characters too). It's very pink. And very dim during the day, as they leave the lights off, so there's just some light from the front window. Service is moderately friendly but rather inattentive, and the kitchen is a bit slow.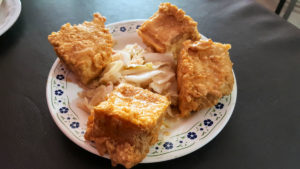 Good fried tofu with pickled cabbage – everything right about the dish, and one for even folk who don't like tofu all that much.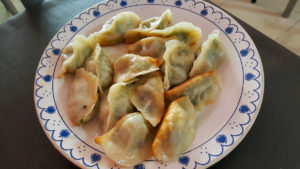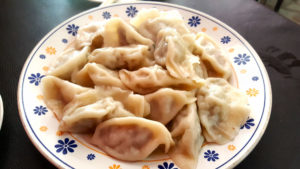 The one negative when it comes to the dumplings, which are available in five different types (vegetable; pork and cabbage; pork, shrimp and green onion, all available steamed, the latter two available fried), is that they're huge portions. Steamed, they show up with 20 dumplings, and fried, with 15. And they won't mix the types, nor offer smaller portions – I tried. From the top, these are the fried San Xian, the pork, shrimp, and green onion (traditionally, San Xian dumplings also include dried shiitake, these don't seem to) – excellent filling, flavorful, delicious, the wrappers delicate and perfectly formed and cooked. The second plate are the steamed or boiled (they're not clear) Shan Dong dumplings, packed with pork, Chinese cabbage, and garlic, and just as delicious. They don't serve the dumplings up with any sauces, so you have to ask – and they'll bring a little double dish with soy on one side and fresh chopped chilies in oil on the other. Oh, and quite reasonable, all of the dumpling platters running either 85 or 90 pesos, which makes them the cheapest, delicious dumplings I've found in town!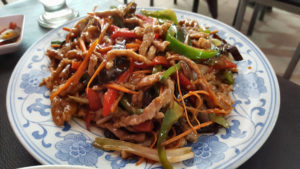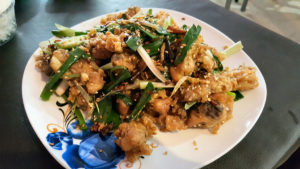 A couple of main courses – first up, pork yu xiang, a classic Szechuan preparation with ginger, garlic, dried chilies, and hot bean paste, and really just perfectly cooked. One of the best we've had in town. And, the crowning glory as far as I'm concerned, the simply named "Spicy Chicken", which I'd say in English we generally call something like Spicy Szechuan Peppercorn Chicken. Nuggets of chicken, lightly coated in cornstarch and fried, then stir-fried with a whopping amount of Szechuan peppercorns, dried chilies, sesame, and green onion. I want to move in with this dish. Easily the best plate of Chinese food I've had in Buenos Aires in 12 years. Respectively 160 and 200 pesos, and worth every centavo.
Why Ask Why?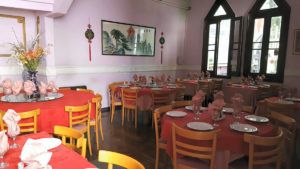 Los Chinos, Av. Federico Lacroze 2121, Palermo – Second place in a row where pink was the overwhelmingly dominant color. Thankfully, here, if the weather's nice, there's an outdoor wraparound porch on the converted home that houses the restaurant, and it's nestled in a garden and all rather nice to sit there. The menu is extensive, the translations into Spanish are reasonably accurate, those into English could use some serious work (they have an apology at the front of the menu for that – along with an entire page of rules, regulations, and notices – the first time I've seen a menu with what amounts to a full scale legal disclaimer for whatever might occur). One thing that does occur, and rather annoying – they make a point on their website, facebook page, menu, and the doors, that they accept credit cards (minimum 300 pesos). What they don't tell you anywhere is that they refuse to accept them at lunch, no matter how high your bill is. That's just a lack of hospitality, there's no logical, nor reasonable explanation for it, and they don't try, it's just "no, we only take them at dinner time".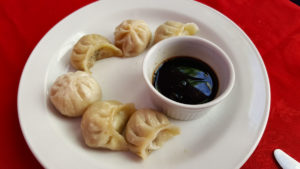 A sextet of empanaditas chinas a la plancha, a.k.a. potstickers, are lovely and delicate. Nice filling, and it's a rather distinctive and positive touch that they serve up two different kinds (albeit it was supposed to be 3 and 3, not 4 and 2) – one with pork and Chinese vegetables, the other with just pork. Why? "Because there are a lot of Argentines who don't like vegetables, especially Chinese vegetables, and they won't eat the ones with vegetables." Lightly browned on the underside, and then beautifully steamed to finish.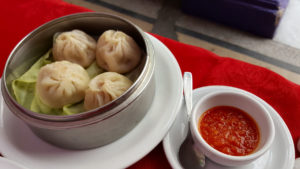 Behold, xiao long bao, or, as we know them, soup dumplings. But only sort of. They're the right form. They have a perfectly seasoned and cooked little pork meatball in the center. And maybe, if I were generous, a half teaspoon of soup, more likely a quarter – just enough to get a sense of a squirt of moisture, but none of the wonderful soup slurping goodness of the classic soup dumpling. Still, tasty enough. Asking the man of the house, who I got to chatting with on a second visit, his response was, "You've been in Argentina for twelve years and you haven't noticed that they hate soup? We used to make them traditionally with the gelatinized pork soup that melts when you steam them, and the Argentines would make faces, they'd spit them out, and they'd curse at us for serving them soup. It was easier to adapt."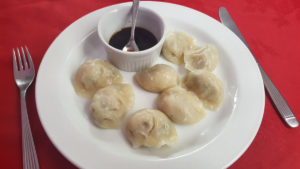 Interestingly, unlike many places, the dumplings offered up boiled aren't the same dumplings as those used for the potstickers. Different form, different filling. And all the same, delicious as can be. By the way, the hot sauce in the photo above with the soup dumplings is housemade. It's a style that seems more similar to something like a southeast Asian sambal than a typical Chinese hot sauce or oil, but it's fiery and and nice match with the food.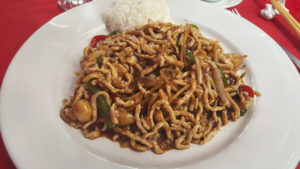 One of the house specialties, Yu Xiang Lao Si, or Pork Yu Xiang, and so different from the versions I've tried before – either at Shan Dong above, Mei Gui Yuan in the first of these posts, or, anywhere else I've had it. Chatting up the gentleman, he imported a special machine from China that can take raw, fresh pork, and turn it into thin noodles like this by the way it cuts it. The sauce is beautifully balanced, the texture is amazing, and the pork is offset by slivers of different kinds of mushrooms and peppers – love the dish. He asked me if I'd tried the dish elsewhere and I mentioned Shan Dong, which we did really like, and his comment was, "Oh yes, them. They precook the pork and then cut it after it's already cooked into slices and then throw it back into the stir-fry at the last minute. It comes out chewy, doesn't it?" Since it was Henry's dish, I didn't note that, but there's no question that these "noodles" of pork are delicate, light, and juicy.
Overall, highly recommended.
And that seems a good stopping point for this time around. I mean, two spots that move into my top five list for Chinese restaurants, after one that moved in on the first round. That's pretty darned good for a quest!