Downtown Fish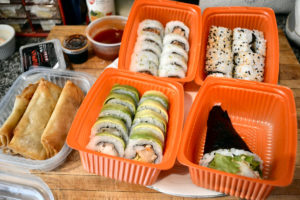 Haru Sushi, Carlos Pellegrini 953, Retiro – Part of a small chain of sushi shops with locations in various parts of the city. I ordered from them once way back in August 2012, but for whatever reason never wrote them up. My recollection is it was decent, but nothing special – I clearly went to town on different makis. Still, passing by one day I thought I'd pop in and give it a try at lunchtime. Mostly this location seems oriented around takeout – there's a whole display of premade rolls and combos for people to grab, pay for, and go. But, there's also a menu and a few high communal tables to sit at. No gyoza on the menu to add to my dumpling quest, which not only surprised me, but seemed to surprise all three women at the counter, who kept looking at the menu and saying, "they should be there". The kitchen said no, they don't make 'em. Odd all around. I wonder if other branches offer them and this trio have rotated in from other spots.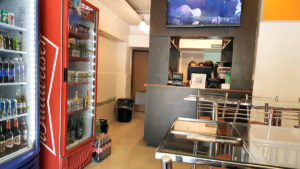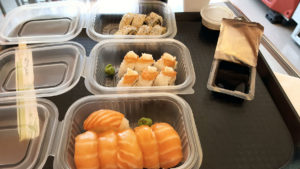 You order at the counter and they bring it when it's ready. It takes awhile. I ordered two half-rolls and some nigiri sushi (they only had salmon, no other fish (the usual "there's none available" – B.S.), which you know is a pet peeve of mine, plus a couple of cooked shrimp options), and it took 20 minutes to get it. It also seems silly to me to serve people who are eating in at the restaurant in takeout plastic containers, not to mention a big anti-ecological approach. The sushi is fresh, well made, perfectly acceptable, but, nothing special, as I recalled. And the lack of options, and too many rolls with cream cheese, gets this one nothing more than an okay rating.
Chinatown Japanese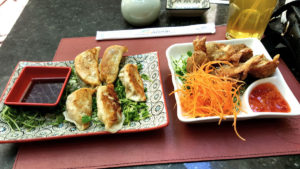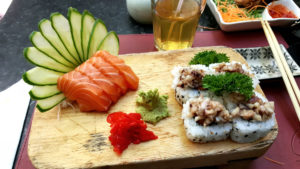 Nobiru Izakaya, Mendoza 1627, Belgrano – Going on five years ago I gave a brief lunchtime review to this spot. It was good, but didn't wow me, though it did start me off on RamenQuest. And, I haven't been back since. Thought I'd stop in and see how they fare with dumplings and sushi, since those are more recent explorations. On the former front they offer up gyoza, packed with pork, garlic chives, and Chinese cabbage. They're well made, but they're a bit greasy, still, acceptable, although the 130 peso price tag is less so, especially for a measly five of them. On the latter side, they have deep-fried wontons that are packed with shiitake and button mushrooms and taro root. They're odd. The texture is a strange chewy rather than crispy one, and the insides taste like nothing but unseasoned, somewhat gummy mushrooms, and another skimpy five  for 120 pesos. The sushi fared far better, although still pretty pricey, especially for the neighborhood – 4 pieces of good quality salmon come in at 85 pesos and a four-piece half tako roll of fried shrimp and teriyaki octopus, while delicious, tops out at 125 pesos. All those and some iced tea (not iced, just vaguely chilled) came in at over 500 pesos. Service absolutely sucked on this visit – no friendliness, no attention, just very blasé about it all. Good (except the wontons), but not worth it.
The Best of Paternal?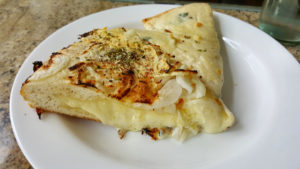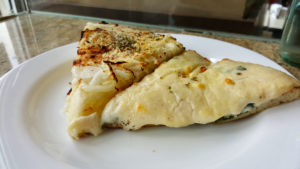 Torino Norte, Av. Juan B. Justo 3995, Paternal – Several sites tout this spot as the best pizza in barrio Paternal. A few claim it as Villa Crespo (the corner it's on is the meeting point of four barrios – those two plus Villa General Mitre and Caballito, but the particular corner it's on is the Paternal corner). More of the recommendations than not specified that the plain mozzarella pizza was fine, but not outstanding, and gave the high points to the fugazzetta rellena and the spinach/white pie. And, they're right, both are quite good. The fugazzetta rellena could use a bit more onion topping, but it's flavorful and certainly has enough cheese for anyone, and the spinach pie, while no match for El Cedrón's spectacular version is up there among the better ones. Is it the best pizza in Paternal? I don't think I've tried any other pizzas in Paternal, so I can't answer that, but at least for these two slices, it's damned good.
Wrap That Up To Go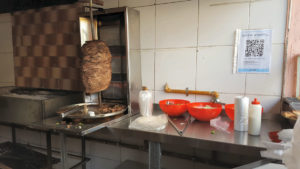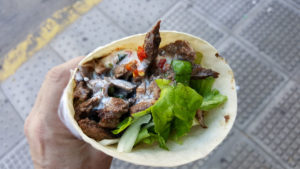 Los Armenios, Av. Raúl Scalabrini Ortiz 328, Villa Crespo – A new (I think) takeout only spot (okay, they have a rickety little table on the sidewalk out front to sit at, but the delivery guys sit there, and then there's a bus stop right there, so you could sit on the bench at the stop as I did) for a short menu of Armenian fare. The menu offers shawarma in both beef and chicken, but at least the day I was there only beef was available, and they only have one rotisserie spit…. Heavily meat packed, with a bit of lettuce and onion, an automatic offer of hot sauce, which was a nice touch, along with the yogurt sauce. Nicely spiced, the beef quite tender and just lightly charred on the edges – though much of that may be due to the steady stream of shawarma being ordered, there's little time for the surface to get that really nice char. Friendly service. They need to give napkins out with the food, one shouldn't have to ask, and they shouldn't have to search. Overall, rather good! I'd grab another one if I was nearby.