I've decided to get back to posting writeups of our menus at Casa SaltShaker. In general, I'm going to keep them brief, just a photo and a description. Now and again, a more detailed recipe or discussion about how a dish came about.
He decidido volver a publicar informes de nuestros menús de Casa SaltShaker. En general, voy a mantenerlos breves, sólo una foto y una descripción. Una y otra vez, una receta o una discusión más detallada sobre cómo un plato se produjo.
January 3-4 Enero
Sole in "Chili Water" – sole cured in lime juice, cucumber, onion, garlic, jalapeño, cilantro and mint, salt; cucumber strips; finely diced salad of avocado, red onion, piri-piri chili; mint and cilantro leaves.
Aguachile de lenguado – lenguado curado en jugo de lima, pepino, cebolla, ajo, jalapeño, cliantro y menta, sal; tiras de pepino; ensalada de daditos de palta, cebolla morada, ají piri-piri; hojas de menta y cilantro.
Bodega Chandon Cuvée Varietal Pinot Noir, Mendoza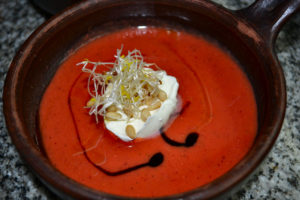 Strawberry Gazpacho – because, why not? Puree of strawberries, cucumber, roasted piquillo peppers, red onion, garlic, balsamic vinegar, olive oil, salt and black pepper, strained and chilled. Rosemary infused whipped cream. Toasted pinenuts. Olive oil and reduced balsamic vinegar. Alfalfa sprouts.
Gazpacho de Frutilla – porque, por qué no? Puré de frutillas, pepino, pimientas piquillos asados, cebolla morada, ajo, vinagre balsámico, aceite de oliva, sal y pimienta negra, colado y enfriado. Crema batida infusada con romero. Piñones tostadas. Aceite de olive y reducción de vinagre balsámico. Brotes de alfalfa.
Lagarde Viognier 2016, Luján de Cuyo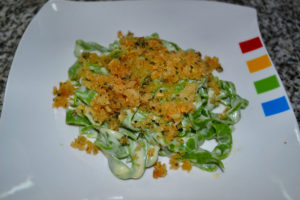 Green Tagliatelle with mascarpone and "pangrattato" – homemade spinach tagliatelle tossed with a sauce of mascarpone, egg yolks, garlic, Romano cheese, salt and white pepper; sauteed panko in olive oil with garlic, thyme, and oregano.
Cintas verdes con mascarpone y "pangrattato" – cintas caseras de espinaca volteada con salsa de mascarpone, yemas, ajo, queso Romano, sal y pimienta blanca; panko rallado saltado en aceite de oliva con ajo, tomillo, y orégano.
Agujón de Abeja Malbec Rosé 2015, Mendoza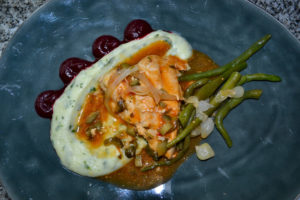 Tuscan Piquant Chicken – chicken and onions braised in a sauce of white wine, reduced red wine vinegar, and chopped homemade gherkins, capers, anchovies, garlic, and parsley; basil mashed potatoes; beet puree; lightly charred green beans and cocktail onions.
Pollo Picante Toscano – pollo y cebollas braseados en salsa de vino blanco, vinagre de vino tinto reducido, y picada de pepinillos caseros, alcaparras, anchoas, ajo, y perejíl; papas aplastadas con albahaca; puré de remolacha; rollizas y cebollas cocteles ligeremente quemadas.
Lamadrid Single Vineyard Reserve Cabernet Franc 2013, Luján de Cuyo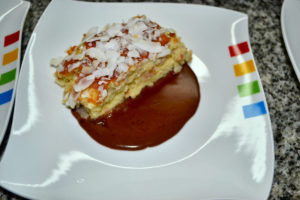 "Three Milks" Cake with Mocha Sauce – traditional white cake flavored with orange, soaked in a blend of milk, condensed milk, and coconut milk; flaked coconut; sauce of thickened cream flavored with espresso, dark chocolate, cinnamon, merquén (mild smoked chili), vanilla, and sugar.
Torta de Trés Leches con Salsa Moka – torta blanca tradicional saborizada con naranja, mojada con mezcla de leche, leche condensada, y leche de coco; coco en escamas; salsa de crema espesada y saborizada con espresso, chocolate amargo, canela, merquén (ají suave ahumado), vainilla, y azucar.
Amalaya Blanco Dulce de Corte Torrontés-Riesling 2014, Valle Calchaquí