Third Time's the Charm?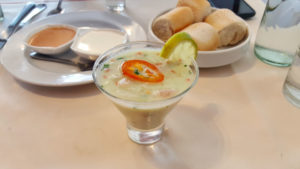 Inka Si Señor! III, Av. Scalabrini Ortiz 1227, Palermo – The original spot, #I, I've reviewed briefly before, and as I mentioned then, it was primarily a spot where we'd meet up with friends for pollo a la brasa, which they do quite well (Google Maps now says it's closed, so I'll have to check that out). On that visit we had an excellent leche de tigre, and a so-so plate of anticuchos. Spot #II is out in Floresta at the corner of Lamarca and Juan B. Justo, and I have yet to go. Spot #III, this one, opened up early in 2016. I visited it once shortly after opening with one friend, and then just recently with another. Why I didn't include it in a Bite Marks then, who remembers?
Bigger space than the original, and obviously newer. Blaring TV tuned to a music video station both times, and both times had to ask to have it turned down a bit. Service is friendly. The kitchen is slow. Really slow. Both times. Tried the leche de tigre here, and obviously if you look back at the linked photo, something completely different from their other spot – here it's little more than liquid – delicious liquid unquestionably, but no pieces of seafood, not packed with onion, no cancha to give it crunch. And, it's the same price as at their other place, where it's packed with all of that. Obviously a different color, too, though that could simply be red versus green rocoto chilies and that this one is loaded with pureed cilantro. Again, delicious, but a little pricey (76 pesos) for being not much more than a large cocktail shot.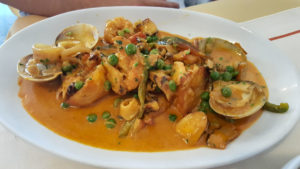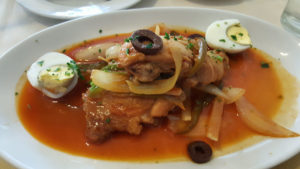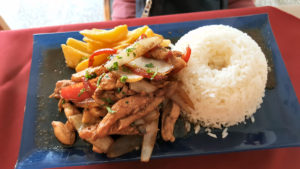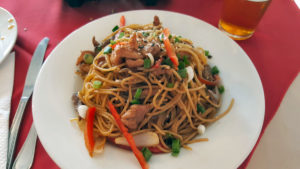 On neither visit the menú ejecutivo for the day held anything of interest. I don't recall the specific dishes, but they didn't grab us. So we ordered up main courses off the menu. Starting from the top, the two from the most recent visit – picante de mariscos – not particularly picante, but a delicious blend of seafood, and escabeche de pollo, quite good chicken in a lightly vinegary onion sauce. The latter was missing batatas, sweet potatoes, listed on the menu, but the waiter asserted that the dish doesn't come with them, on the menu or not. Interestingly, rice served in separate bowls, off to the side – unusual for a Peruvian restaurant. The first visit, the plates were a decent lomo saltado, basically stir fried pepper steak, and tallarines mixtos, linguine with a little bit of everything, which was pretty darned good. Note that the rice at that time was on the plate. I don't know if it's the difference of the particular dishes, or a change of chef or restaurant style.
Overall – quite good. Nice space, decent service, albeit a slow kitchen. I'd say the two dishes on the latter visit were better than on the first, so maybe it is a change, and for the better. A spot I'd go back to without hesitation.
---
The Little Chili Meets the Locals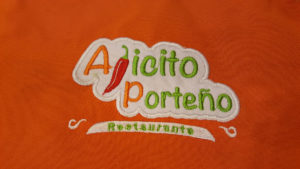 Ajicito Porteño, Av. Juan B. Justo 3447, Villa Crespo – for many years this was a forgettable little spot called Luchito, offering up the most basic of Peruvian homestyle cooking. Less than two months ago it was taken over by a new family and reopened with the oxymoronic name linking hot chilies with local palates – or maybe implying that the level of spice would be toned down for the latter. Mostly I think it's because while the new menu has a couple of pages of classic Peruvian food, it also has an entire page devoted to local minutas – one plate dishes like milanesas and the like, that are classics of Argentine lunch fare. Given the neighborhood, they may just be trying to draw in a clientele from both communities. Cute, small place, service friendly but scattered and inattentive.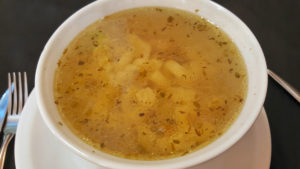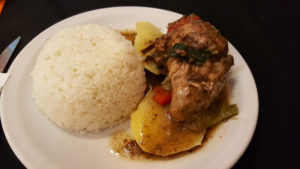 A lunch visit with a friend, and we both decided on the menú, which started with an acceptable beef and noodle soup – packed with two different kinds of pasta, and stringy piece of beef, and a rather good meatball as well. The broth tasted a little artificial, and I have the feeling they use either canned stock or stock cubes. On offer for the main courses that day were pollo al sillao – chicken in soy, which we both got, as the other was clearly aimed at Argentine palates, with a milanesa being the option. Disappointing – way overcooked chicken in a thin, vaguely soy flavored sauce over undercooked potatoes and accompanied by rice that tasted as if it had been sitting around at least a day. It seems they've continued the style and quality of the previous occupants of the space. At least based on this visit, not recommended.
---
Flapping in the Breeze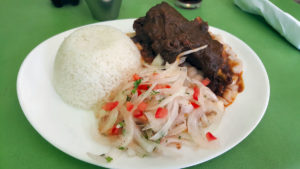 Brisas del Mar, Av. Jujuy 946, San Cristobal – On a little buying trip to the restaurant supply district along Av. Jujuy, I'd had this place on my map of things to check out, though I had it located on Cochabamba off of the avenue. And, indeed, the spot is there on Cochabamba, but boarded up. So, I wrote it off, and then was walking down the avenue and spotted it. Turns out they moved three years ago (Google maps and Foursquare now updated…). True hole-in-the-wall, with a few crammed together tables, a TV on high volume off in one corner, a kitchen that isn't as big as mine here in the apartment, and half their ingredients stored out in the dining area due to lack of space.
The menú didn't sound interesting, a choice of a churrasco steak with rice or chicken with rice. So I turned to the full listing. Out of the first four things I tried to order, they didn't have three of them (no huancaina sauce, so no papas a la…, nor  ají de gallina), no anticuchos. On an oddball chance, I asked if they had either the seco de pato or cordero – duck or lamb cooked in a spicy cilantro sauce, and it turned out "we have one portion of duck left". I wasn't sure if that boded well, as it sort of sounded like it might be something stuck in the back corner of a refrigerator that just hadn't gotten fuzzy yet, but gave it a go.
And, it wasn't bad. The sauce was actually very good. The piece of duck remaining was a section of the back with thigh attached, and the bones were all broken up, so I had to pick pieces out of it. But it was tasty, and the beans and rice were quite good, as was the little onion salad. Service was initially a bit guarded and standoff-ish, as if I didn't really belong there, but once I got to talking to the waitress about the food, she lit up and we had a nice conversation. I mean, the place isn't going to win any awards for their food, but I'd stop back if I was in the area shopping for stuff again.