After the previous post I realized that I may as well check out the rest of the Chinese takeout/delivery spots here in the 'hood. Some of them we've tried once or twice. Until late last year we always ordered from Casa Roja – they'd been our spot for nearly 10 years and we just hadn't bothered to try any others – two blocks from home, good food, they made it spicy on request, hell, we watched their kids grow up in the restaurant. Then one day one of the kids showed up at the door carting a box of wine, said they were closing and leaving Buenos Aires and wanted to give us a bunch of bottles that they hadn't sold. The location is now where Abocado Cantina is, so at least it was replaced with something we like! So on and off we've dabbled, but truthfully, our Chinese food consumption via delivery dropped from once a week to about once a month or less. Mostly we eat it when we go to Barrio Chino. So let's see what's out there.
The Viscid Circle

Garden, Riobamba  1156, Recoleta – We pass by this one regularly, and we both have this vague remembrance that we ate there once when we first moved into the area. We're not 100% sure, but we think so, though there's no write-up from the early days of the blog, so maybe not. We always had a vague, "nah, not there" when we'd look at it, which was enough to have us not check it out. We'd also never tried them for delivery because out of all the Chinese spots in the area, they're the only one that charges for delivery (25 pesos, and it doesn't go to the delivery folk, so they still expect and deserve a tip).
It's a good sized restaurant, seating maybe 60, it's clean, well lit. On two visits, one solo, one with Henry, I'd say that while the staff (which at least on those visits seem to consist of a single waiter, the same one, and a couple of guys behind the counter who never budge from there except to watch television on the blaring monitor), are amiable but not particularly welcoming. The menu is relatively extensive and includes a few dishes that aren't the usual suspects, including a trio of duck dishes – a rarity for restaurants here outside of Barrio Chino. And, hey, there's that same 25 pesos, tacked on as a per person cubierto charge, pre-tip as well.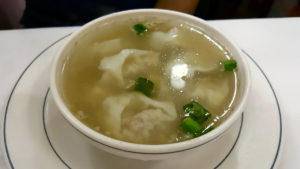 Since part of my hunt for good Chinese food includes a more critical component of a hunt for really good dumplings, we've ordered up three out of four of what they offer. Empanaditas al vapór, or steamed, are served up with a bottle of soy and a cruet of duck sauce that's actually pretty good – not overly sweet and has a nice vinegar tang to it. And the waiter brought a little dish of fiery fresh chili sauce on request. The dumplings themselves are good, not great – the filling is quite tasty, the dough is a little thick, though cooked through, so not chewy. The same dumplings are also offered up smothered in a curry sauce that's a little gloppy but really quite good. They also have wontons, something I hadn't even been thinking about when I first thought about a dumpling search. They're a little raggedy, but flavorful, and they come either in soup, or deep fried, the latter we haven't tried. Overall, decent marks.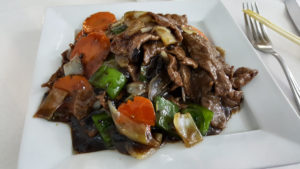 Beef and black bean is one of the specialties of the house. Decent sized portion, packed with beef and just a few vegetables. – carrots, peppers and onions. The black bean sauce is a little thick, something we found on all three main courses, plus the curry sauce above – an overuse of cornstarch in the sauces, they're a bit past clingy into the claggy point. But great flavor, and a dish I don't see often here. Salty, but I chalked that up to the fermented black beans.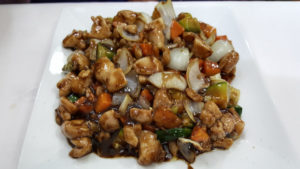 Kung pao chicken – again, meat-centric with just a bit of vegetables, the sauce heavy as above, and just a whisper of spice to it, but at least we had that bowl of chili sauce. And, once again, salty – though here, bordering on too salty.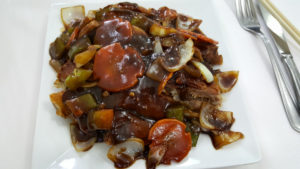 This one was a disappointment – not that it wasn't reasonably good (though again salty), though easily our least favorite of all the dishes – a whole duck breast, and a very large one at that, in salsa de mariscos, or shellfish sauce. Now, my first thought was, oh, they mean oyster sauce, but salsa de ostras appears throughout the menu on chicken, beef, pork, etc. So I asked, and the waiter assured me that no, it wasn't oyster sauce, it was duck covered with a medley of shellfish. Sounded interesting, different, something I've never seen. And what I got was duck in oyster sauce. He'd never seen the dish before, so just made it up. Strangely, the duck was cooked by breading the underside of the breast and cooking that to get a crispy breading crust on that side and then just seared on top to cook the skin – I've never seen anyone just bread half of something they're frying like that.
Overall – nice room, okay service but no better than that. And food that's decent, though we found everything heavy. The kitchen uses both salt and cornstarch far too liberally. And, with already being more expensive than most of the places in the area (main courses 150-300 pesos, dumplings 75-80 pesos), they tack on a table or delivery charge. So, not going on our repeat list.
The Mandarin Candidate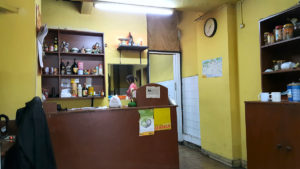 Mandarín, Laprida 1712, Recoleta – This one we've tried before, just getting delivery, and while not excited by anything, we've been reasonably happy with a few deliveries. I decided to visit and check it out. It's pretty much just takeout and delivery – they do have two tables that each seat four in the place, though one of them is taken up by the staff, who when not cooking, serving, or delivering, just use it as a place to hangout. I imagine they'd move if the table were needed. No charge for delivery, and they're usually quite fast – they seemed on both visits to have three different guys coming and going making deliveries as fast as the kitchen could churn out the food, and they were all kept busy, so it's popular.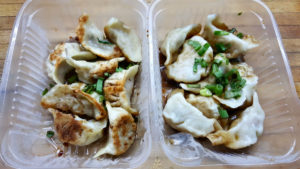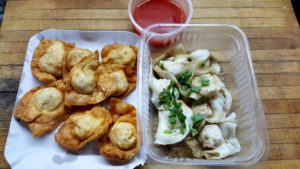 They offer up two types of dumplings, kuotie and wontons. Kuotie or Guotie literally translates as "pot stick", and generally would, at least in my past (and not vast) experience only refer to potstickers, or shallow fried dumplings, so it was surprising to see the name used for the steamed ones as well (usually jiaozi). I asked, and the woman who runs the place said that where she's from, in Canton, they use the name for both (which is even more surprising because in Cantonese the same Mandarin characters, hmmm, the place is called Mandarin and she's from Canton… read as wor tip). But let's get back to the dumplings themselves – really quite good, a nice thin wall, properly cooked, decent pork and green onion filling. She recommended just soy sauce for them, though I added hot sauce. The wontons were pretty good as well – I think the same filling, just a different shape and dough – light and delicate on the steamed ones, and nice and crunchy on the fried. The duck sauce way too sweet, we stuck with soy and and hot sauce.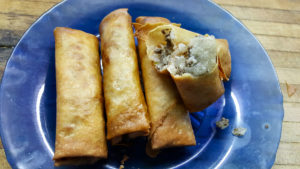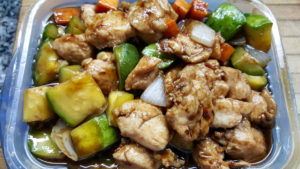 And a delivery order of fairly good crispy springrolls – a little sparse on the filling I thought. The pollo saltado al picante, or spicy stir fried chicken, isn't kung pao, and isn't particularly spicy. It's mostly just a stir-fry of chicken and zucchini with a little bit of onions and carrots, and maybe a large pinch of chili flakes, but no more. And that was after asking for it "extra picante".
So, there's not much of the physical space to really like or dislike, it's there, it's mostly for takeout or delivery (mostly the latter). The staff are friendly, and talkative, which is nice. I know the delivery guys have been pleasant as well. They're fast when we want delivery, usually taking under half an hour. The food is good, and definitely recommended. Pricing is quite reasonable – appetizers running 55-70 and main courses mostly around the 120-140 range with a few seafood dishes that come in around 170-200.
So that seems a good stopping point for now. More to come!