Chop Suey: Americanization of zá sui, literally, "assorted pieces", and anecdotally, deriving from a Taiwanese tradition, tsap seui, "miscellaneous leftovers".
While not giving up on pizzas and burgers and all the stuff I've been posting way too much about (or, can you post way too much about such things?), it struck me recently that this isn't the way I eat. I mean, other than the occasional pizza, I'd never make any of these sorts of things at home. And if I think back to two decades plus in NYC, I probably average a burger every six months, pizza, other than maybe the occasional try at somewhere doing something different, was limited to a now and then late night slice after hanging out at a bar or club with friends, I almost never ate shawarma (then again, I'm not sure my neighborhood had any shawarma shops, thought it must have).
I did eat a fair amount of sushi and ramen. I also ate a lot of other Asian food, in fact, it was pretty much the staple of my diet other than whatever staff meal was in whichever restaurant I was working in. I think I moved away from that early on in my time here in BA because at that point, there wasn't all that much of it that was worth eating. In fact, local newspaper La Nación had a whole section devoted to Asian cooking one weekend, that I did my best to translate in my rudimentary Spanish at the time, here. It's worth a read, if for nothing other than face palming.
So, while not giving up on the various quests I've been out and about on over the last few years, I'm pushing them more towards the back burners and at least for a bit, I'm going to focus on some of the things I always liked to eat, and see how the local Asian food scene has (hopefully) improved over the last decade or so. I also have, as you've seen in my travels, a love of things dumpling, so I'm going to make sure that those are a part of the various visits, because, dumplings.
The Original


Central, Av. Rivadavia 656, Monserrat – Claiming to be the first and oldest Chinese restaurant in town, this place has apparently been a mainstay since, I understand, the late 50s or early 60s. The Chinese characters translate as "Central Restaurant".
It's kind of elegant in contrast to most of the Chinese spots here in town. We've visited twice now, once on a weekday lunchtime and once on a weekend lunchtime, and both days, few people were there. The staff are attentive, friendly, charming, and efficient. The menu is more extensive than many, and includes a fair number of dishes I haven't seen in many other places here.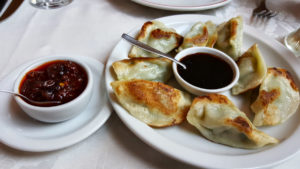 I do love my potstickers, or as Central terms them, ravioles a la plancha, griddled ravioli. These are some of the best I've had here – the dough perfectly cooked and the right thickness, a filling that's primarily thinly shredded Chinese cabbage with a hint of pork in the background. The dipping sauce provided is a little sweet and thick – it's oyster sauce – but on request our waiter brought a great little ramekin of fiery hot sauce – the combination of the two was perfect.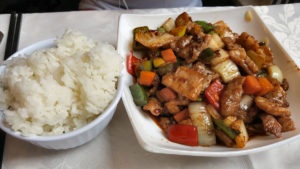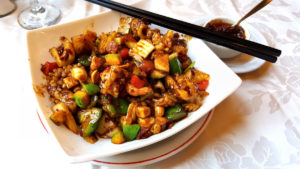 Classic kung pao chicken (albeit Henry orders his without peanuts), and a kung pao calamari, and when we asked for "extra spicy", the waiter's response on the first visit was "Chinese style rather than Argentine style?" Yes please. Oh my. These aren't just the best kung pao dishes I've had here in Argentina, but among the spiciest things I think either of us has ever eaten here.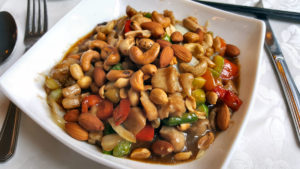 And, just to try something different, the house special Chino Central Chicken, a flavorful wok fry of chicken, vegetables, almonds, cashews, and peanuts. Added in a good dollop of the chili paste and wow that was good.
Central is a little pricey, main courses running around 200 pesos (actually, the calamari kung pao ran 275) and the potstickers coming in at 90, and they have a 25 peso/person cubierto, which is annoying. They do take credit cards. And, we'll be back.
Hole-in-the-Hole-in-the-Wall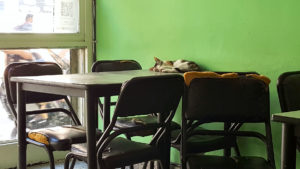 Mei Gui Yuan, Pasteur 654, Once – translating as El Rosedal, or The Rose Garden, a name that couldn't possibly be further from reality, at least in appearances. That's not true, it could also be dirty. Instead, it's clean, but completely rundown, with tables and chairs that are quite literally falling apart. Mostly it's a place for takeout and delivery. We've actually gotten delivery from them in the past, but it seems I never took any photos, and it's been awhile – I know Henry likes their kung pao chicken and I remember liking their ma-po tofu. Here, one visit and one delivery order. You have to order at the counter even if you're at a table, they don't take orders at the tables.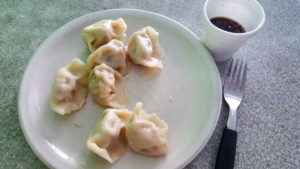 Not exactly the best presentation – an octet of dumplings dumped unceremoniously on a plate. Nothing was brought to the table with them, I had to ask for chopsticks (she brought a fork and walked away) and hot sauce – which is a very interesting one, not particularly spicy, it's a blend of soy sauce, vinegar, chopped onions, garlic, and a small amount of chilies. Actually rather good even if not picante. The dumplings themselves, delicate, light, and properly cooked, the filling a ball of well seasoned pork and slivers of cabbage and onion. All in all, quite good.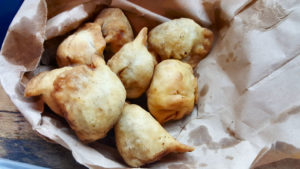 The fried dumplings fail by comparison on the delivery order. Same dumplings, but rather than being cooked potsticker style, they're deep fried, and just a little bit too crunchy and dry. And, no sauce sent with them, despite asking for some of the hot sauce.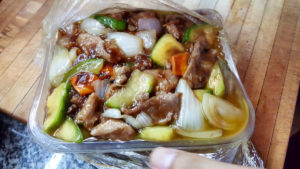 The spicy pork, cerdo al tirilla, which translates as "neckband style pork", I assume it's intended to indicate the long flat strips of pork, isn't particularly spicy, though has a light kick and plenty of fresh vegetables. It's cooked well, though the sauce has a touch more sweetness than expected. Although it doesn't say on the menu, I'd venture that this is yu xiang pork, a classic.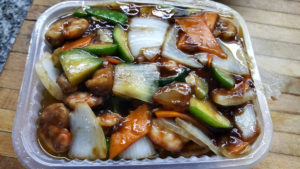 The kung pao calamari arrived as shrimp rather than squid, I went back to the menu to see if I'd gotten it wrong, but no, there's no kung pao camarones on the menu. I didn't call to ask, though I may if we order from them again. Flavors good, but the shrimp were way over cooked and rubbery hard. And, same issue with the sauce, it's bordering on sweet, rather than spicy (and we did order "extra spicy please").
Wouldn't eat at the place again, it's just too uncomfortable. And, we've got better local delivery spots, so likely this one will just go by the wayside. Still, it is pretty cheap, with the dumplings coming in at 60 pesos an order and main courses running around 100-130 each.
So, one major thumbs up and one so-so, that's a good start, no?