Sometimes I have to mix it up a bit rather than going all pizza, all burger, or all… whatever. And, I haven't done a "Bite Marks" in awhile. So, a little of a bunch of things once again.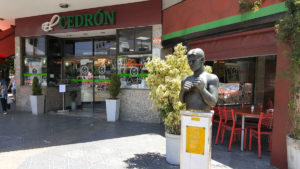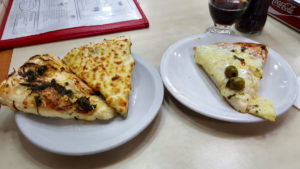 El Cedrón, Av. Juan Bautista Alberdi 6101, Mataderos – There was a time, many moons ago, 1908 to be a bit more precise, when the public transit system of the city consisted of a good number of streetcars, or trams, and at the corner of Alberdi and Murguiondo, where the #40 and #48 lines came together, one Ambrosio Cremella opened up a sort of after-office bar and eatery, La Primera Curva, "The First Bend", where those on their way home from the city center could grab a bite or a drink with friends before continuing home (Mataderos was, at the time, perhaps a bit more desirable part of the city to live in). For two decades it was "the place" in the area. In 1930 he retired and sold the bar and over the next five years it lost its luster. In 1935 it was sold again to one Don Manuél Cedrón who restored it to its preeminence and ran it successfully until 1966, when he and his family decided that the era of the bodegón had passed, and spiffed the place up, modernized it, and converted it to a pizzeria, now known as El Cedrón. Apparently a big fan of lightweight boxing champion Justo Suárez, there's a bust of him out front. I've been hearing about this place for years, and it makes it onto a good number of "best of" lists, but it's kinda out of the way and all that, so I've just never made it there.
And, that's a shame, because, damn, it's good. It's really good. The plain mozzarella slice isn't all that to get worked up about, but it's well made, it has enough sauce, and a good one, to taste, it's got good cheese, pitted olives, and great crust. But the two slices that get touted over and over are the fugazzetta, and the espinaca. You've already met the former in my recent writings, but El Cedrón takes it into completely new territory. I couldn't tell you exactly what's on it, but if I were to guess, they've topped the dough with a sort of tangy creamy cheese, maybe cuartirolo, then a layer of mozzarella, then liberally strewn with thin slices of onions, and then the crowning touch, they cover the whole thing over with spoonfuls of housemade chimichurri and stick it in the oven to brown and get pretty amazing. The latter slice, the spinach, comes with "white sauce", a bechamel, then a layer of finely chopped cooked spinach, and finally a thin layer of mozzarella over the top, which once again is broiled to perfection (why can't they do that to the mozzarella slice, it would be so perfect?). Easily the best white spinach pie I've had since, well, this will mean nothing to most people, Jan Tropean used to make them at The Eagle's Nest gay bar in West Orange, NJ, back in the 80s. And those were some good pizzas.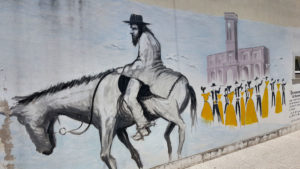 As long as I was out this way, I thought I'd do a little exploring. I'd read about a small street or alley called Pasaje Pola, which was described as having beautiful flower-boxes and murals that were borderline surreal for the neighborhood (lower middle class and below housing for the most part these days). I couldn't find any place called Pasaje Pola along the entire length of the street called Pola (I guess that's not an actual requirement, it was just a guess), but I did find Pasaje de la Misericordia, which more or less seemed to fit the base description. It may not be the place described – but, flower-boxes, albeit scraggly and poorly attended, and tile murals. Definitely some place that's seen better days, but you can imagine it must have been rather pretty at one time.
---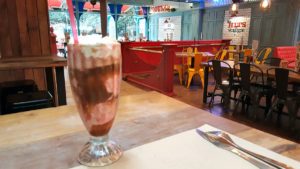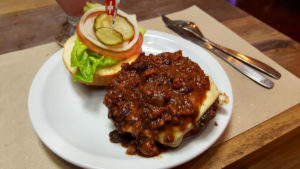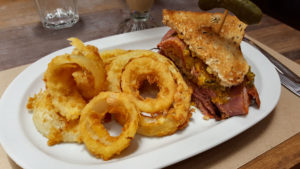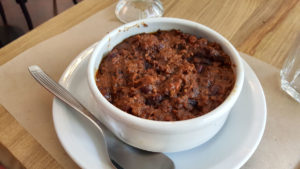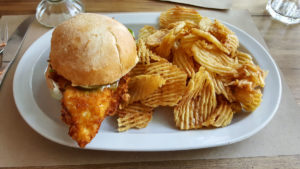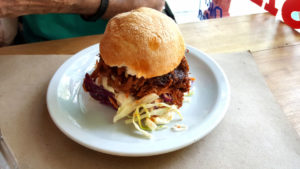 The Embers, Pres. Roberto M. Ortiz 1865, Recoleta – The original The Embers was one of the first spots that made it into my hamburger roundups, way back in 2008. It's up in Acassuso, one of the northern suburbs of BA. I've gone back there many a time since, usually once or twice a year, mostly because… chili cheeseburger. Over the last couple of years, with the burger craze, they've expanded, opening up locations in Tigre and Tortugas outside the city, Villa Urquiza here on the west side, and then, suddenly, a few weeks back, I noticed that one was opening in a space abandoned by a local cafe in the Village Recoleta strip opposite the cemetery. It's now open and going strong! It doesn't have the hanging baskets to sit in, which were always fun, you'll just have to trust me on that or go to the original.
Three visits so far…. The chili cheeseburger is still pretty much the reason to go, it's not an amazing burger, but it's a good solid one, and the chili is just the right sort for ladling across it. The bun holds up straight through – they know what they're doing. But there's more on the menu than just that. The chili itself is available in a big, piping hot bowl – on its own it's a touch saltier than we like, but it's good, and they bring tabasco to go with it. A decent pastrami sandwich, good but not great quality pastrami, inexplicably they only serve the sandwich cold, no option for hot. It's got great whole grain mustard and pickle relish on it. And really good onion rings – those are some of the best onion rings around town. There's a pulled pork sandwich with great smoky flavor, and a not-too-sweet barbecue sauce. And, a crispy chicken sandwich, coated in cornflake crumbs and topped with pickles and relish.
They have milkshakes and floats, though the latter they haven't quite gotten down – a float should be mostly the soda, with a scoop of ice cream – they pack a sundae glass with ice cream and then just pour a little soda over it. And the Black Cow, which should be Coke and vanilla ice cream, was made with strawberry ice cream. Let me tell you – cola and strawberry? They don't work together, there's a reason there's a cherry coke, but not a strawberry one. The waitress asked, I told her, they replaced it with a vanilla one. Some things just shouldn't be messed with, but if you order one – make sure to specify vanilla…. They have pancakes and waffles, eggs, a few main dishes, salads, sandwiches, hot dogs. Overall, solidly good, just what you want from a "diner".
Did I mention chili cheeseburgers?
---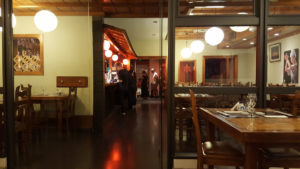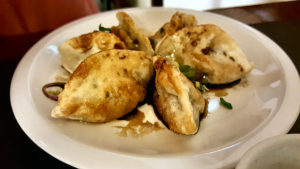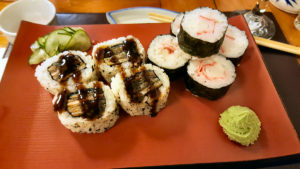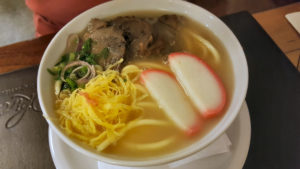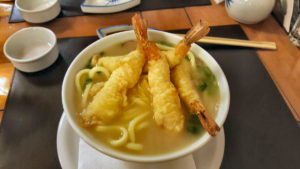 Okiren, Av. San Juan 2651, 1er Piso, San Cristobal – Located inside the Okinawan Cultural Center, right off the corner of Av. Jujuy, this place has been on my list for a long time. In fact, I've made three previous reservations there over the years and twice they cancelled the reservation and once I had to. Finally, Henry and I decided to just go and take our chances and if we couldn't get in, we'd just go somewhere else. Pretty room. Gruff, no, actually pretty downright unpleasant greeting from the trio of staff members on the floor, as if we were some sort of imposition. There was no one else in the place, and during the hour or so we were there, only two other parties came in, and both seemed to be treated the same way. Not a gram of hospitality – had I been solo, I'd have probably just left and written the place off.
Henry ordered up some gyoza, they were good, but we've both had better. I ordered a mix of nigiri sushi and a half roll of salmon skin. A few minutes after ordering, the waiter returned to say that they didn't have any fish but salmon, so they'd have to make an all salmon nigiri plate and charge me accordingly (50% more than the mixed). I declined, and oh, I don't consider a "mixed selection of sushi" to be two different kinds, even if it's technically accurate. As it turned out, the only things they had available for making sushi at their sushi bar were salmon, canned tuna (I asked the waiter if it was canned or fresh tuna, his reply was, "what's the difference?"), and kanikama, fake crab sticks – so I got a half roll of that. Well made, but not exactly what I was looking for.
No ramen on the menu to try, but a few different versions of soba and udon in soup – all either pork or prawn. Curious as to some of the differences, since they're not well spelled out, I tried my luck with the waiter again, only to get, "I don't know, it's probably something like a different broth. The Okinawan soba is popular." <sigh> So we got one of those, and one tempura prawn udon, and the broth and noodles were identical, only the garnishes different. And for prices ranging between 150-250 pesos, these are small bowls. But then, they were both as bland and uninteresting as the staff, so maybe that's a good thing. Overall, mediocre food, no hospitality, and, with prices coming 700 pesos for two with as little as we ordered, turns out they're cash only. Pass on this place.
---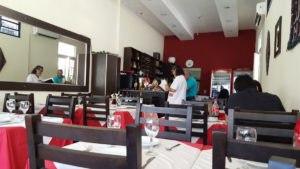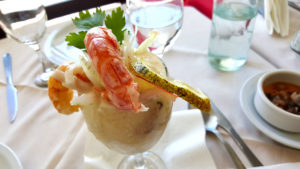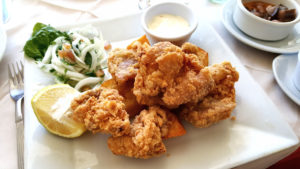 ZMP, Av. Dr. Ricardo Balbín 2875, Coghlan – I actually set out to try a different Peruvian restaurant in Belgrano, but it was closed the day I was out there, a holiday, so I wandered over to this one. An unusual name, no? Zona Mística Peruana is what it stands for. Cute place. Friendly owner, he and his family from Arequipa, in southern Peru, and there are a few dishes on the menu specific to that region (why didn't I try those? I don't know, I was going for my standbys…). Being a holiday, no menú for lunch, so it was a la carte ordering.
Tasty leche de tigre, packed with fish and shellfish, albeit a pretty small portion in a small white wine glass. Lacking heat – but I asked and got some rocoto chili puree – he seemed surprised, I probably should have specified when ordering it to make it picante, I think they made it porteño or gringo style rather than Peruvian style. Excellent chicharrón de pollo, a big heap of boneless dark meat, crunchy and perfectly cooked, great roasted potatoes. All in all, a quite good experience, and it had me back there a few days later to try a couple of them.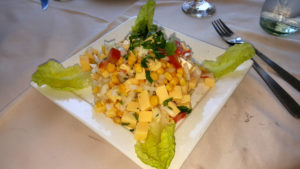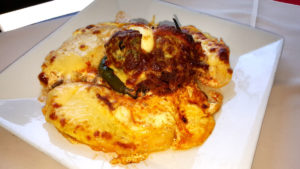 A solterito, the classic vegetable and cheese salad of the region (you might remember I made a fancied up version of it for our dinners recently and share that way of making it here. This is a much simpler version – just a straightforward oil and vinegar dressing on cubes of cheese, corn, onion, tomato, and parsley. Refreshing and light. The rocoto relleno, another classic of the region, was fiery, as requested – originally, the waitress on my second visit wanted to have them stuff a couple of bell peppers instead of chilies, and leave out the chili sauce because, you know, "picante". No, no, no! A bit overwhelming, not the heat, but the size of the dish – with four large slabs of potato topped with scrambled egg and browned cheese, and two whopping big rocotos filled to overflowing with a spicy saute of meat, onions, and chili sauce. Not the prettiest dish in the world, but I'd happily eat it again.
And that's a wrap for this round of bite marks.