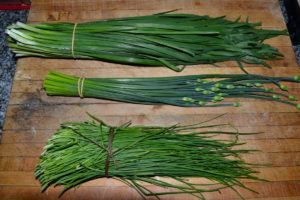 Some people just don't know their schoenoprasum from their tuberosum. We've all had days like that. Now, most of us are pretty familiar with the type of chive at the bottom of the picture (click on it to get a better view of the three types here), the common "French" chive, your Allium schoenoprasum to get all Latin on it. But if you've shopped in an Asian grocery of pretty much any sort, though most particularly Chinese, you may well have seen the other two, the Allium tuberosum, the top one being the "garlic chive" and the middle one being the "flowering garlic chive". They're actually the same plant, the former are the leaves and the latter is the bud stalk of the plant prior to the buds opening into flowers. The Chinese call these gau choy, the Japanese call them nira, and the Koreans refer to them as buchu.
Common chives are thin, usually about 6-12″ long; in cross-section, they're hollow, round tubes, and probably best known as a simple garnish, either finely chopped or in short little batons, and, they basically taste… oniony. The garlic chive, not surprisingly, tastes, well, garlicky. The leaves, the ones above, are flattened in cross section, maybe ¼" wide, and usually about 12″ long; the bud stalks are hollow tubes, and in cross-section are vaguely triangular – the length varies mostly because it depends how close to the bud they get cut off, but usually from base to tip are about 8-10″.
Let's get on with the cooking, and more importantly, the eating!
---
Chive Feta Biscuits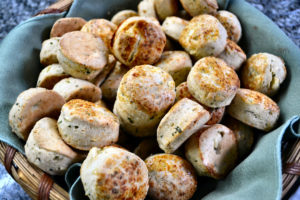 If you go searching for chive recipes everything seems to come down to using them as a garnish or stirring them into something like an omelette or a cream sauce. There are few recipes where chives seem to really be the stars. This, however, is one that I love, and not only shows up the flavor of the chives, but pairs it beautifully with salty feta cheese. It's not my recipe, the one I use comes from the Jo Cooks blog. The only change I've made is that I find it needs a touch more salt, and use 1 teaspoon rather than ½ teaspoon, and I make the whole thing pulsing it together bit by bit in the food processor. If you like biscuits, you'll love these.
---
Nira Pesto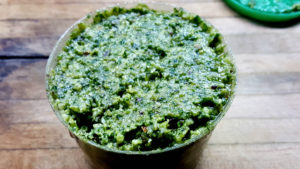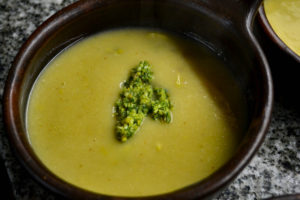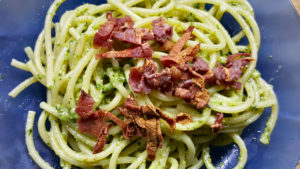 This is one of my favorite things to make with garlic chives – it's so simple, and so fresh. About a dozen of the flowering chive stalks, along with a handful of celery leaves (something to do with them rather than throw them out; or, if you don't have them, parsley leaves), a handful of toasted pistachios, a small wedge, maybe 60 gm/2 oz of lightly salty semi-hard cheese – in this case we used Sbrinz, but a really good Pecorino is another great choice, 60ml (¼ cup) of good, spicy olive oil, two garlic cloves, two green chilies (we use ají limos), and roughly ½ tsp of salt (you may need a little more, depending on how salty your cheese choice is. Blitz these all together in a food processor until it's all basically the size of breadcrumbs.
In the first dish, we've place a heaping tablespoon of the pesto into our Fava Bean Soup. Saute in a soup pot: 120 gm of chopped smoked bacon, 3 stalks of celery (save the leaves for the pesto!), 1 white onion, 2 crushed garlic cloves, 2 tsp salt, 1 tsp medium hot smoked chili (we use merquén) over high heat until vegetables are softened and bacon is browned. Add in 250 gm peeled fava beans, 250 gm peeled and diced potato, and roughly 2 liters of vegetable stock (enough to cover the vegetable mix by about 1 cm. Bring to a boil, reduce to a simmer and cook until potatoes are soft. Puree until smooth. Return to pot and add in another 250 gm peeled and parboiled fava beans. Serve hot with a dollop of the nira pesto.
And, of course, what's better than pasta with pesto – in this case, tossed with foratti, a sort of very thick spaghetti, and then topped with a crumble of crispy prosciutto. The latter, easy to make, chop the prosciutto up, or leave whole and break it up later, sandwich it between double layers of paper towel, and put it in the microwave on high for 1 minute – experiment with yours – obviously different microwaves have different power levels, and prosciutto (as well as bacon, etc.) can be sliced different thicknesses – for this dish I ended up tacking on another 10 seconds to get it nice and crunchy.
---
Garlic Chive Pancakes
First off, garlic chive pancakes are one of the most addictive things known to humanity. If they're made right. If they're not, they're oily, unpleasant, and could turn you right off the whole concept. There are both Chinese and Korean versions that are common enough, made with different kinds of doughs, and different processes. This version is sort of a combo of the two, coming up with one that we love.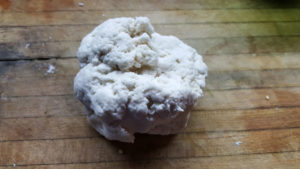 First off, a "hot water" dough – 110 gm (1 cup) pastry flour, 30 gm (¼ cup) cornstarch, ½ tsp salt, 60ml (½ cup) boiling water. Mix the dry ingredients together well, then pour in the boiling water and combine just until it comes together in a rough dough – you don't want to develop the gluten by kneading this. Let sit for about 15 minutes.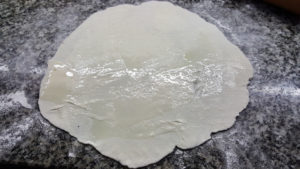 Divide in four equal portions, roll into balls, then roll out into a flat circle about 20 cm (8″) across. Brush with melted fat – traditionally it would be lard, but melted beef fat, vegetable shortening, even butter, will work.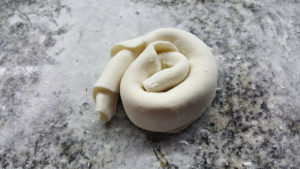 Roll up into a log, then coil the log into a spiral and set aside. Repeat with the remaining three pieces of dough.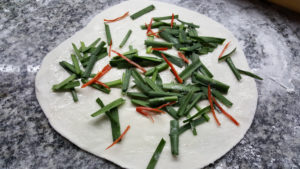 Flatten the spiral out a bit, and then roll it back out into the same sized round. Brush with more melted fat (basically we're creating a sort of Chinese/Korean puff pastry), cover with short lengths of the flat garlic chives, and some thin threads of hot red chilies (again, we use the ají limos).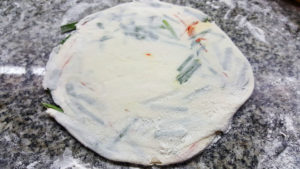 Once again, roll up into a log, then coil into a spiral, let sit for a few minutes, then roll it out flat again to the same size.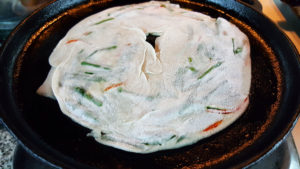 On a griddle with about a tablespoon of oil, fry these to a golden brown on one side, add another tablespoon of oil and fry the other side. Repeat for the other three pancakes.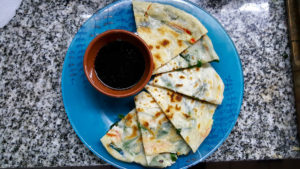 Cut into triangles – usually six per pancake. The dipping sauce is roughly 30 ml (1 oz) each of soy sauce, water, and black vinegar, with a small knob of ginger grated into it, along with a tablespoon of sugar – all whisked together until the sugar is dissolved.
Happy Eating!