With all the various reviews, you'd think I wasn't cooking anymore, but, it's not true, I swear!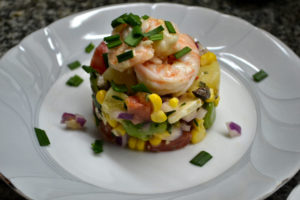 There's a traditional Peruvian salad from the area around Arequipa called a solterito. Classically, it's a simple oil and vinegar dressed salad of cooked broad beans, potato, and corn, tossed with fresh tomato, onion, rocoto, olives, cheese, and parsley. Sometimes it gets fancied up a little with some cooked shrimp or octopus. I've kept the base ingredients the same and focused on the dressing. Starting with fresh prawns, I peel them – the heads, along with all their juices, go into a bowl and then I squeeze over those the juice of a bunch of lemons and limes, like I was making a ceviche, along with a big splash of Chinese black vinegar.
Perfect moment for a little Ingredients 101! What is Chinese Black Vinegar? It's a very dark, almost black ink colored vinegar made most traditionally from fermenting glutinous rice. Also called Chingkiang Vinegar (the city from which it supposedly originated, or is at least most well known from, these days called Zhenjiang), it can also be made from other types of rice, or from sorghum, a grain that is used mostly for animal fodder, but can also be used to make sorghum molasses. It's got a rich, complex flavor that some liken to a good balsamic vinegar, and it's sometimes used as a cheaper substitute for that. To me, the flavor is so completely different from balsamic that while it may work to make a dish, it's pretty much like comparing apples to oranges and switching one out for the other in a recipe. While the most traditional black vinegars don't use them, some of the less expensive ones "stretch" the more expensive glutinous rice with some millet or wheat, so if you need a gluten-free vinegar, you may need to research a particular brand. In addition to being indispensable in a lot of southern Chinese cooking, it's also marketed as an anti-cholesterol and anti-hypertensive tonic (I'm not endorsing either of those claims).
Back to the dish… I let the prawn heads infuse into the citrus juices and vinegar for about six hours, every now and then mashing them down a bit. Essentially I'm creating a leche de tigre. I then strain it off and discard the solids, after mashing as much juice out of them as possible. The resulting liquid goes into a blender with olive oil, salt, and black pepper, and a touch of xanthan gum to keep it emulsified, then chilled. Meanwhile, I make the salad and keep it cold (the cheese I use is a beautiful, salty feta from Quesos Juan Grande, which is the best feta I've found here), and clean the prawns (remove the digestive tract), and cook them for about a minute in boiling salted water, to just cook them through, then into ice water to stop the cooking, and into the refrigerator to chill. When it's time to serve the dish, I toss the prawns with a little of the dressing, and the rest goes into the vegetables. Mold the vegetables in a ring mold, place a few prawns on top, and scatter some chopped green onions over it all.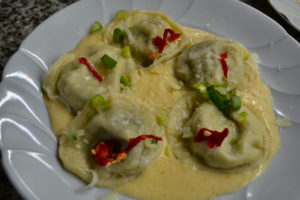 Awhile back, Rodrigo Castilla, the chef/owner of Las Pizarras Bistro, posted an Instagram photo of a dish of orzo pasta with artichoke puree, a roasted onion broth, and Sbrinz cheese. I told him I was going to steal the idea. Not of the dish itself, but the flavor combination. After playing around with the combination for weeks, on and off, I finally settled on this dish. Plump, round semolina ravioli filled with a simple puree of steamed artichoke hearts, Sbrinz (from Quesos Don Atilio de Tandíl), olive oil, salt and white pepper. The sauce is made similar to the way I make an al ajillo garlic sauce (which isn't remotely traditional). Here, I roast a whole onion in the oven until it's well browned on the surface layers and soft and sweet all the way through, then I put it in a pot with a rocoto chili, a good amount of butter, olive oil, vegetable stock, and mirin, a Japanese sweet rice wine, salt, white pepper, cumin, and coriander seeds. Simmered together for about 20 minutes, then pureed with a little xanthan gum to keep it emulsified, and strained. The ravioli are served over the sauce and topped with grated Sbrinz, some green onion, and sliced ají limos.
So, why not another one (o one)? You've probably heard about Mirin and weren't quite sure what it was.  At its simplest, it's a Japanese wine made from fermenting rice – kind of like making sake, except it's sweet – having a higher sugar content and a lower alcohol content. There are three types of mirin: hon mirin, which literally means "true mirin", is the highest level of alcohol, somewhere around 13-14%, shio mirin which means "salt mirin" and is used primarily as a seasoning, having an alcohol level around 1.5-4% (this one in the photo that we use has 3%), and shin mirin, meaning "new mirin", which is described as "mirin-like seasoning", having less than 1% alcohol. It's not a wine that's traditionally drunk, though I suppose you could – it's got an awfully strong flavor for that, though I could see a small after dinner shot of it as something sweet, kind of like some places serve plum wine. Mostly it's used as a finishing agent, splashing a little bit into a sauce to brighten it up and give it some sweetness. It's also used as the base for teriyaki sauce, and is often used along with rice vinegar in making sushi rice (not always, some use sake and rice vinegar instead).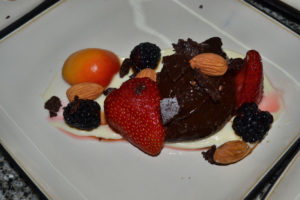 And, let's finish off with something sweet. I was inspired a bit by my chocolate and fruit dish that I had at Alo's during my northern 'burbs burger quest a week or two ago. And, I wanted to do something that wasn't another cheesecake or tart or cake. Here, our dairy-free chocolate "mousse" – it's my adaptation of a vegan recipe, though not vegan because I use honey in it rather than agave syrup, though you can use the agave and make it vegan – it's one of the simplest things to make – two ripe avocadoes, 1 cup of bitter cocoa powder, 1 cup of honey, and ½ teaspoon each of vanilla and almond extracts. Blended together and then chilled. That's all there is to it. A little more complicated, underneath, a white chocolate fluid gel – 200 gm of white chocolate, 200 ml of milk, and 1 teaspoon of agar, simmered together until the chocolate is melted and the agar blooms, then blended, chilled until solid, and blended again – by keeping the amount of agar low, when it's reblended it becomes soft and spreadable. Accompanying it, strawberries macerated in strawberry liqueur, blackberries that spent the day bathing in Pineral, and apricots in sugar and brandy, toasted almonds, and a dark chocolate brittle. The latter is one of those things you can find instructions for online, it's usually labeled as "chocolate soil". It's bluntly, a pain to make. Essentially you caramelize sugar to a medium caramel and then whisk in chopped dark chocolate while you cool it, for about two minutes. It crystallizes the chocolate and if done right supposedly ends up with a soil like texture. I've never been able to get it to do that instantly, but I do end up with the chocolate equivalent of peanut brittle, which I can shatter into little pieces.